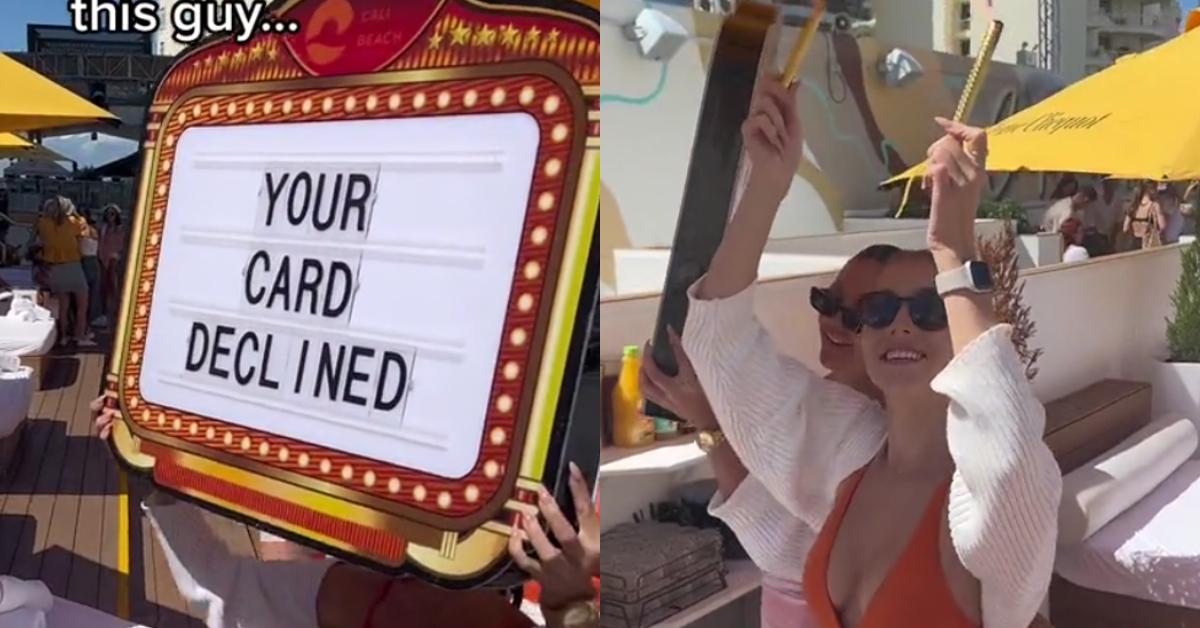 Bar Finds Evil Way to Embarrass Customers Whose Cards Get "Declined"
A viral TikTok shows how a restaurant embarrasses customers: with a massive sign that says their card's been declined, accompanied by sparklers.
It's hard to argue that there are bigger scams people get roped into believing are worth the money than bottle service at an expensive bar. With massive mark-ups on liquor, you could pretty much buy anywhere else, dumping thousands of dollars into getting a table with servers running up to you to get a piece of the cash you're throwing away, you're ultimately paying for the experience of looking like a baller around a bunch of strangers and a few of your friends.
Article continues below advertisement
Some would argue that if the folks you're hanging out with are really your friends then they wouldn't care about getting bottle service and could have a great time pretty much anywhere, but there are still tons of people who love to get themselves some bottle service.
The trouble is, not all people who like bottle service necessarily have bottle service money, either that or their credit card companies are automatically programmed to decline massive transactions out of suspicion of fraud.
And the Cali Beach Club on the Gold Coast in Australia has a surefire way of ensuring folks who get their cards declined never forget the ignominy of this occurrence: by putting them on blast with a large sign and fireworks.
Article continues below advertisement
In a TikTok uploaded to the Cali Beach Club's account (@calibeachclub), a group of female servers walk out holding a marquee sign that reads: "Your Card Declined" as if they were presenting the title of a Broadway play.
Article continues below advertisement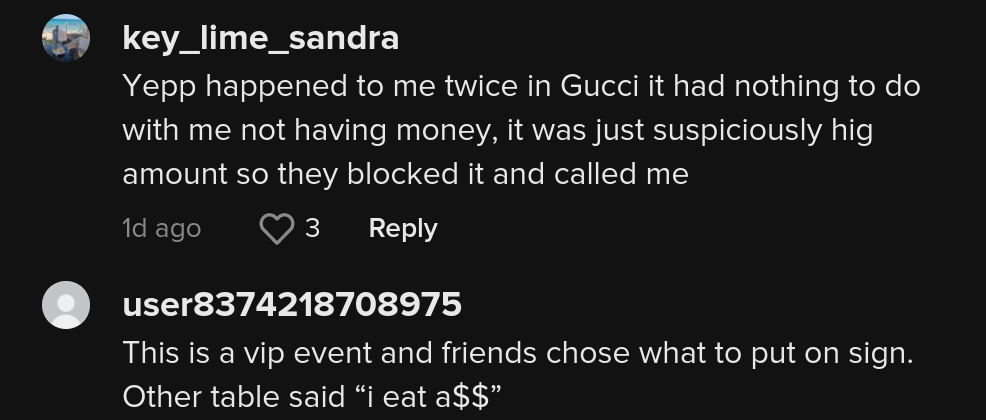 Two of the other servers carry sparklers out to the bottle service table, where a group of guests laugh at the sign and record the embarrassing moment. Judging from the smiles on everyone's faces, however, it appears that this is a gag pulled by the bar on customers.
Article continues below advertisement

However, some TikTokers weren't laughing. One commenter penned, "I wouldn't pay if they came back with a sign like that!"
Another speculated why they believed the customer's card declined: "Probably bottles marke[d] up to 1000%"
Article continues below advertisement

Another person wasn't too thrilled about being put in a potentially embarrassing scenario such as this one: "This is pathetic. Banks block transactions all the time..."
Article continues below advertisement

Another thought that the servers were ultimately harming their own potential take-home pay by walking out with the sign, writing: "Good way to f**k up your tip."
Article continues below advertisement

However, there were other viewers who believed that the sign was indeed a joke, which it probably is given the fact that one of the servers holding a pair of sparklers was also carrying a large blue bottle above her head while walking towards the table.
Article continues below advertisement

"People need to take a joke-- it's obviously a setup," someone wrote. Another remarked, "I have seen this before where friends wanted to embarrass them by the sign no their card actually declining."
Someone else said: "I would imagine you can pay extra to embarrass your friend."
Article continues below advertisement

One commenter thought that the sign itself was irrelevant, writing: "Sign or no sign, still a bunch of douchebags who gotta show people they have money when they don't."