This Customer Was Kept Waiting for Their Food Order While Employees Made out in the Kitchen
Is this a fast casual restaurant or a fast casual hookup joint? One woman had to wait for her order while two employees madeout in the back.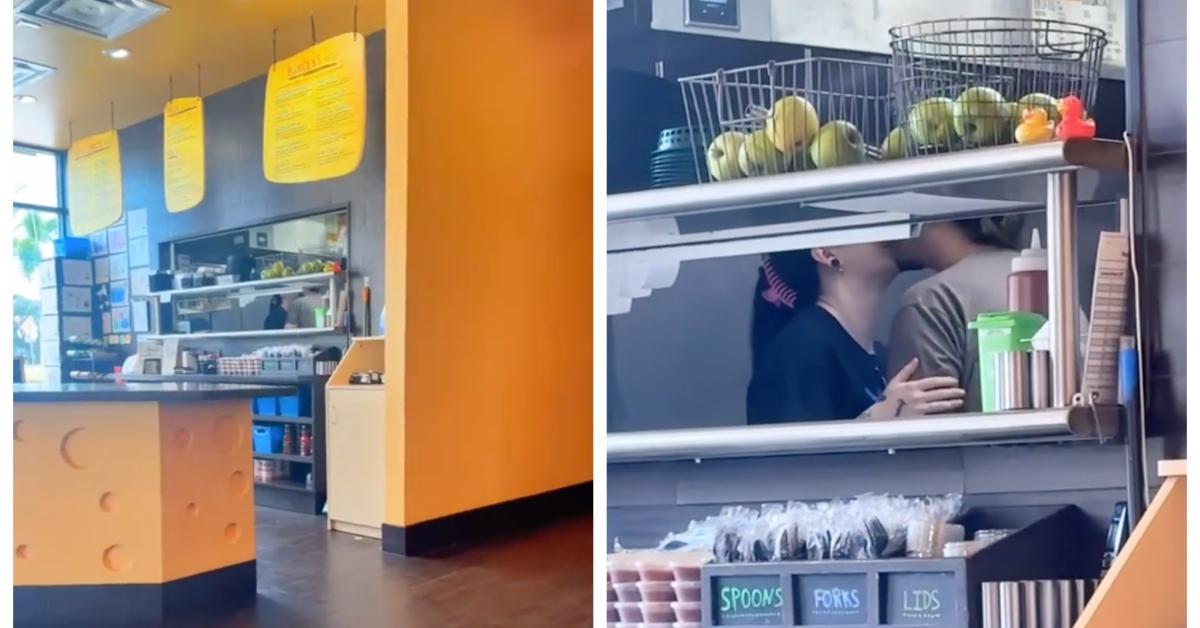 Is there anything more scintillating than a workplace romance? I'm not talking about the flirtations that go on between a work wife or a work husband (terrible titles, by the way). I mean someone you actually start dating, who you get to exchange covert glances with over a vat of hot oil. Honestly, the oil isn't the only thing heating up.
Article continues below advertisement
This is especially common in restaurants where apparently the stress of food prep can lead to cooking-related coquetry. Of course this is all well and good until it gets in the way of your actual job. Take Kam, aka @kam.michel on TikTok, for example. She was just trying to grab a bite to eat when she bore witness to two employees grabbing something else. Does that violate any health codes? Let's get into it.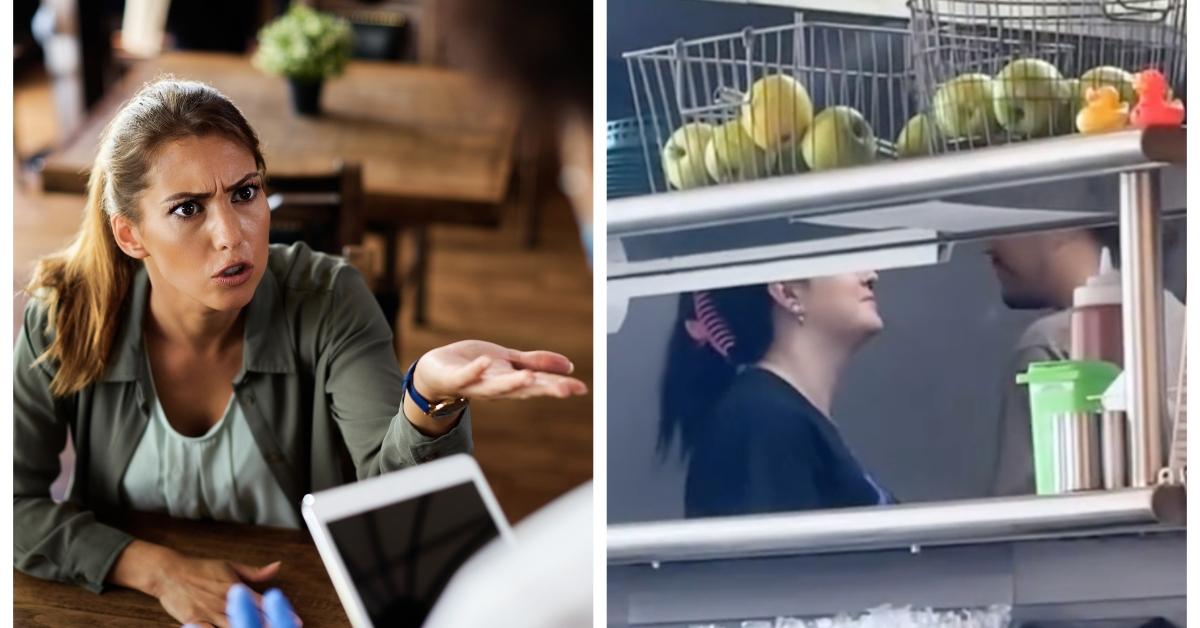 Article continues below advertisement
These restaurant employees kiss while a customer waits, and kissing isn't on the menu.
First of all, the main thing that jumps out at me about this TikTok is the restaurant's decor. The counter is clearly supposed to be cheese, which tells me cheese is favored heavily in this establishment. I would like to go to cheese heaven, even if I have to watch two people kiss in a kitchen when I get there. But, I digress.
"Is someone gonna make my food?" asks Kam as she zooms in on the kitchen of the dairy food-themed dining spot. "I'm a little hungry," she adds. Apart from waiting for one's food while two people suck face, I also want to point out the woman's hair. Yes, her hair is up but it's up in a clip and is so long it's still hanging down her back. I would be more concerned about that versus a little nookie.
Article continues below advertisement
This is clearly one of Kam's canon events.
More than one person in the comments is referring to this moment as a canon event for Kam. In TikTok terms, a canon event is something that happens in one's life that will change them forever and is completely unavoidable. Is two people getting it on in a restaurant kitchen canon or, is Kam's hunger the event. Who can say? What we do know is, no one can interfere with a canon event.
Article continues below advertisement
One TikToker astutely pointed out that in this scenario, the food was literally made with love, so Kam shouldn't complain. "Maybe I'm just jealous because I need someone to kiss me in the window like this," Kam fired back. It sounds like Kam needs a window and someone to come to it!
Article continues below advertisement
Anything can happen at the Toasted in Windermere.
Eagle-eyed commenters figured out that this went down at the Toasted in Windermere. The cheese mystery has been solved as according to the menu, this place serves every kind of grilled cheese sandwich you could ever possibly want. I'm talking gouda, goat, harvarti, provolone, muenster, mozzarella, and more. They also have burgers. No wonder this restaurant inspires love!
Because I'm curious by nature, I phoned up the Windermere Toasted to find out if the two workers were still employed. I spoke with one person, who remained mum on the subject. "I don't know if the owner has seen the video," they said. "I know the GM [general manager] has seen it." When asked specifically if anyone was fired, I was told they "aren't at liberty to tell me that."
Article continues below advertisement
People really seem to love Toasted.
Apart from the employees who clearly love working there, or work there because of love, the Yelp reviews of Toasted are pretty good. As of the time of this writing, it has 562 reviews with a four star average. I took a quick peek to see if anyone else encountered the kitchen kissing but didn't immediately see anything.
Article continues below advertisement
Most people applauded their menu and said it was a great spot for lunch. Apparently they have a lot of vegan options, which is great because vegan cheese is not super common. Apparently the fries are a big hit. If you like shoestring fries, then this is the place for you.
One review jumped out at me, not because it was particularly mind-blowing. The person who left it comes from Kissimmee, Fla. How could I not defer to this person when reviewing the restaurant where kissing is a feature, not a bug? "It never disappoints," writes Jordan. "My only complaint is I wish Toasted was my neighbor at this rate, LOL." Toasted sounds like the kind of place where relationships are born!