Restaurant Charges "Bad Parenting Fee" for Customers Who Don't Control Their Kids
A restaurant is making headlines for its controversial charge to customers who bring their kids who aren't on their best behavior.
It's always disheartening whenever you go out in public and see a bunch of unruly kids running around while their parents sit back and do nothing to correct their behavior.
Article continues below advertisement
You're just trying to enjoy a walk in the park with your significant other, buy some tangerines in the produce aisle, or maybe enjoy a trip to the movie theater without having to worry about a gaggle of screaming banshees being reared by folks who don't believe in policing the inconsiderate and unchecked behavior of their bodily secretions that have unfortunately morphed into the deranged individuals they're on track to become.
But a restaurant in North Georgia has decided it has had enough of these little monsters and the feckless parents who entitle them to their disturbing behavior by charging a "poor parenting" fee against any parent who can't keep their child in line.
Article continues below advertisement
According to local news outlet WSBTV, Toccoa Riverside Restaurant just outside of Blue Ridge, North Carolina is apparently tacking on charges for crumby kids' behavior to their bills at the end of their meals.
Article continues below advertisement
The restaurant clearly states its policy on its menu, where it advertises that diners can enjoy the "PEACE" of the river during their dining experience. As of this writing, Toccoa has accrued over 2,100 Google Reviews, with 4 out of 5 stars.
A screenshot of the policy from the restaurant's menu was posted to Reddit as well. A specific surcharge amount isn't listed for those found transgressing the "bad parenting" rule, however, the verbiage does indicate guests will have to shell out more cash.
Article continues below advertisement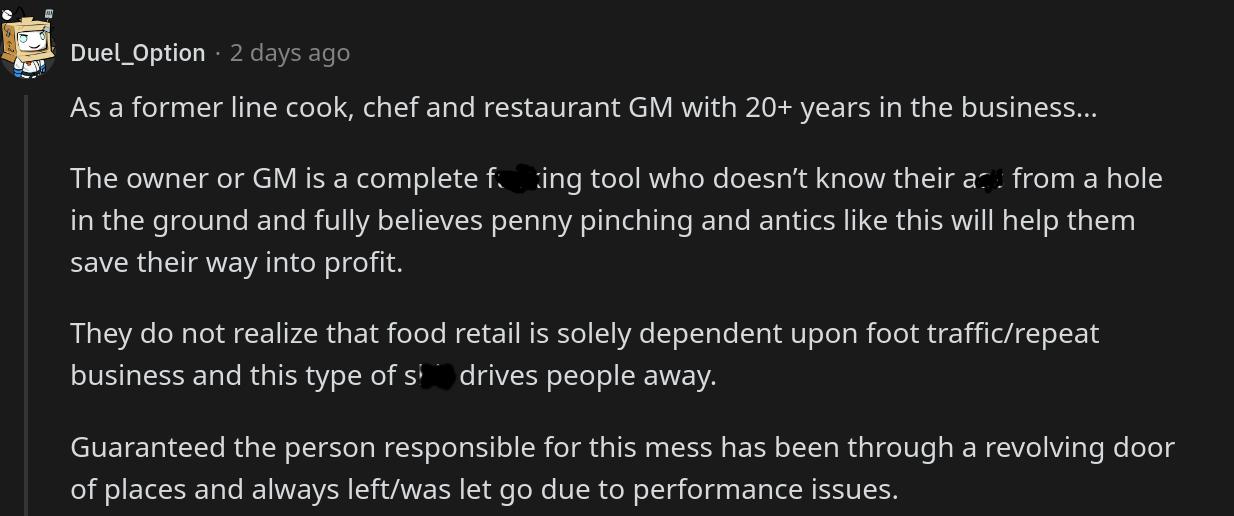 "For adults unable to parent $$$"
Several folks on Reddit criticized Toccoa's policies, like offering a discount for paying with cash, or the way that the menu is formatted, including one person who said that they were a line cook with 20+ years in the restaurant business who had some unsavory things to say about Toccoa's owner.
Article continues below advertisement
They seemed to think whoever was implementing policies like this probably didn't have the best business acumen: "Guaranteed the person responsible for this mess has been through a revolving door of places and always left/was let go due to performance issues."
According to another Redditor who said that they sifted through and compiled several Google reviews from Toccoa customers, they penned that one diner complained about being charged $50 for the bad parenting fee, however, by their account, it just seemed like a way for management to steal money from customers.
Article continues below advertisement

"The owner came out and told me he was adding $50 to my bill because of my children's behavior. My kids watched a tablet until the food arrived, ate their food and my wife took them outside while I waited and paid the bill. Pretty sure the owner is doing drugs in the back. Disappointed by the experience."
Article continues below advertisement
Another customer's assessment of the establishment seems to indicate that the atmosphere and staff are pretty great, it's the owner that's the problem: "If you have children, absolutely avoid this place at all costs. Holy moly - the most disrespectful owner made a huge scene in front of the entire restaurant because our children were 'running through the restaurant' - they were down by the river.. we were told we needed to 'go to Burger King and Walmart' and that we were bad parents. They have a $50 surcharge for 'bad children'. We were a group of 21 and our server was AMAZING and was overly apologetic. Terrible business practice, we will never be back."
Another person wrote that they would simply call up their credit card company to reverse the charge on their bill as they wouldn't believe that a financial institution would think a "bad parenting fee" would be a valid charge: "If they upcharged me $50 for just having a kid there, I'd be asking Capital One to charge it back."
Article continues below advertisement

Tim Richter, Toccoa's owner, told WSBTV that the surcharge was more of a warning to help "parents be parents" and that he only ever brought up the charge to a family of 9 he said had their "kids running all over the restaurant."
Article continues below advertisement
Diners that the outlet interviewed seemed divided on the policy, one woman said that she thought the surcharge could possibly motivate some parents and guardians to teach their children to be more mindful of their surroundings: "Parents need to teach kids etiquette. They need to teach kids to behave. There are other people in the world, so they should have fun in the right place."
Another, however, said that if they were ever slapped with a fee after bringing their toddler with them to Toccoa, they would steer clear of the spot and certainly wouldn't recommend it to anyone else: "I feel that if I were charged, I would be very unhappy about it and probably never recommend the place to somebody."