If You're a Server at a Restaurant You'll Definitely Need These Dad Jokes
Being a server at a restaurant can certainly become repetitive and boring. Why not break things up with these hilarious dad jokes?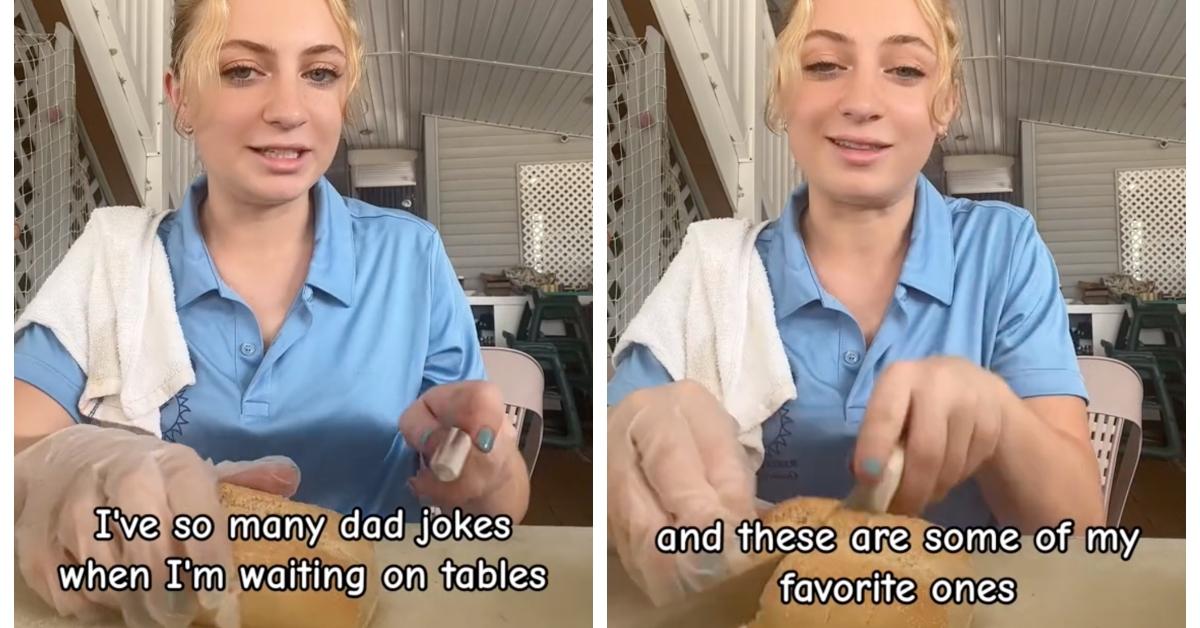 Waiting tables is an unforgiving job. By the end of a shift, you suffer both physically and mentally as you limp home using what's left of your exhausted body. At some point during the day or night, you've undoubtedly been yelled at by either a customer or a member of the kitchen staff. If you've seen The Bear, you know what to expect.
Article continues below advertisement
In times of need, try turning to Alexa Johnson, who appropriately goes by @alexxajohnsonn on TikTok. She is a server who has learned to dish out dad jokes when interacting with customers. They get a laugh, and hopefully, she gets a bigger tip. Speaking of tips, here are some of hers. And if you don't know your own father, think of these as rad jokes.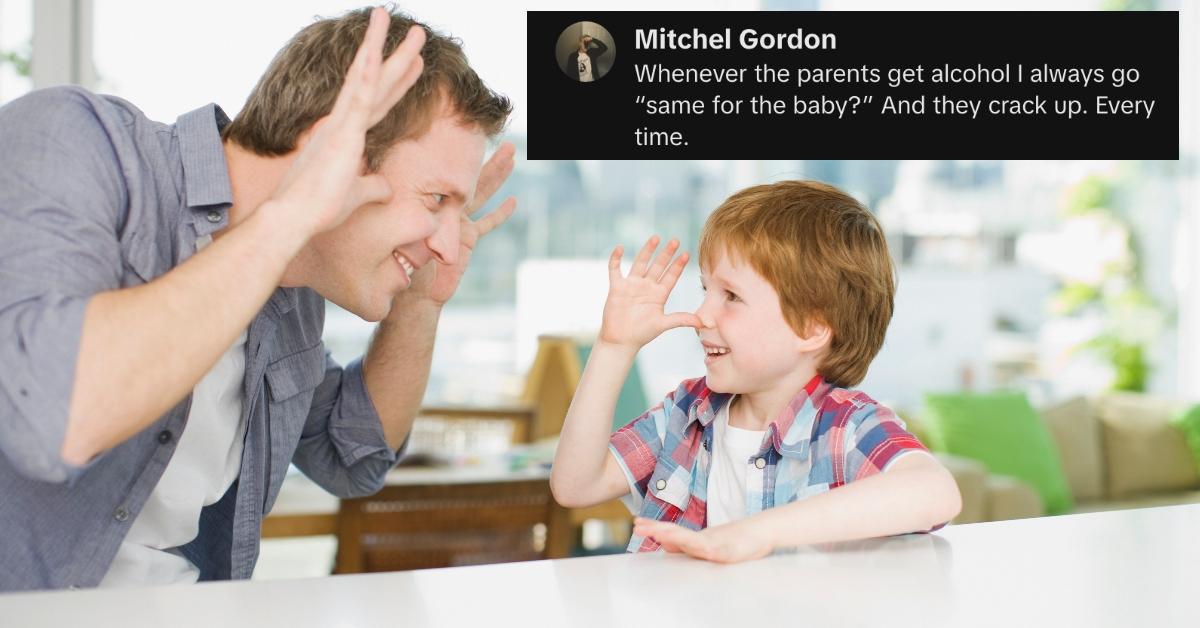 Article continues below advertisement
Did someone order a big plate of dad jokes?
While expertly slicing up bread in a way that makes me concerned for her fingers, Alexa drops some of her tried and true dad jokes. "I have so many dad jokes while waiting on tables," she shares. "These are some of my favorites ones."
If a baby comes to your table, ideally with its parents, this has the potential to be loud. Thankfully, Alexa has the perfect quip to diffuse any situation: "Whenever there's a baby at the table, I always hand the check to the baby and say, 'Looks like it's on him tonight!'"
Article continues below advertisement
When in doubt, throw out a funny line about the weather. The restaurant where Alexa works is partially outdoors, so she really gets to lean into her environment. "Whenever it's raining, I always ask if they're enjoying this beautiful beach weather." I can sea how that would work.
Article continues below advertisement
You can also never go wrong with a prop comic. Just ask Carrot Top who has been in the game for decades and is apparently always going to have a show in Las Vegas. For Alexa, she uses napkins. "Sometimes I pick a person and I'm like, 'You look like the messy one,' and hand the napkins to that person." She also asks who the messiest person is, and hands way too many napkins to them.
Article continues below advertisement
If anyone at the table is a member of the clean plate club, Alexa has an obvious but still delightful barb you can trot out. This line should be delivered way over the top. "Ah! So you hated everything," she says with gusto.
People are loving these jokes because comedy is not dead!
"The baby one will probably always be funny to me," commented on user who clearly discerning taste when it comes to comedy. Someone else chimed in with, "I used to love pretending to hand the biggest beer to the baby. Gets me every time." If it were me, I'd ask how many bottles that baby has had today.
Article continues below advertisement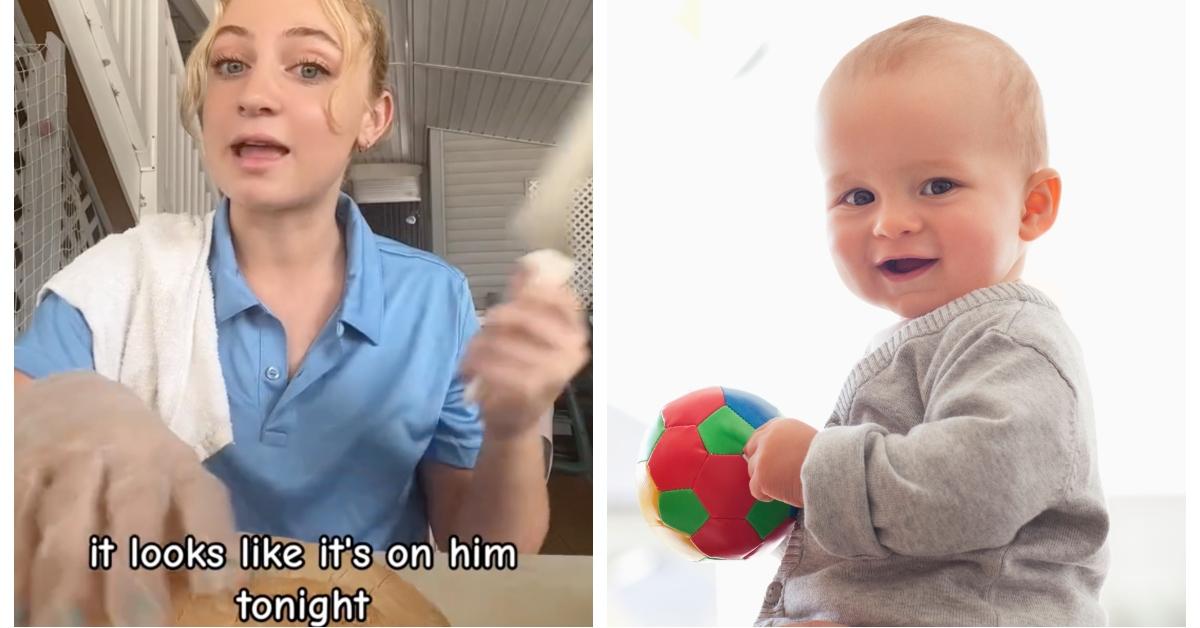 Fellow former and current servers delivered a few more gems in the replies. I love this one from Em: "I'm a hostess, and when it's a group of elderly women and one older man I ask, "And do we want a kids menu for him?" They always think it's funny. This is basically an M. Night Shyamalan kind of twist except in this Sixth Sense, I've been bread the whole time.
Article continues below advertisement
There are even jokes for specific restaurants. If you've never been to Olive Garden, please rectify that mistake immediately. Maybe you'll be blessed with this joke that TikTok user @hal.marshmallow gifted the world. "I work at Olive Garden and will go, 'Does everything taste like pasta?' when I check on my tables. Middle-aged dads go nuts for it." Call me a middle-aged dad with an affinity for peanuts, because I just went nuts for that.
By far and away my personal favorite is a witty little gag about my favorite soda, Dr. Pepper, the only beverage with a PhD. When TikToker Alex Irwin is asked if his restaurant has Dr. Pepper, he says they "only have Mr. Pibb but he's working on the degree." I am deceased and would never be able to tip enough.