"This Is a Genius Idea" — Woman Buys Flowers and Makes Her Husband Give Them to Her
In a viral video, a woman reveals she bought flowers for herself — but she made her husband give them to her as a "gift." Read on for details!
Although many loathe cheesy gifts, others are all for the clichés. Take it from TikTok user @brittthebubblybarista, who just wants her husband to get her flowers every once in a while.
Article continues below advertisement
Sadly, he never gets the hint — so the TikToker has to take matters into her own hands. You may be wondering, "What does that even mean?!" Well, it means she bought flowers so her husband could give them to her.
Read on for the full story! Plus, stick around to hear what the internet has to say.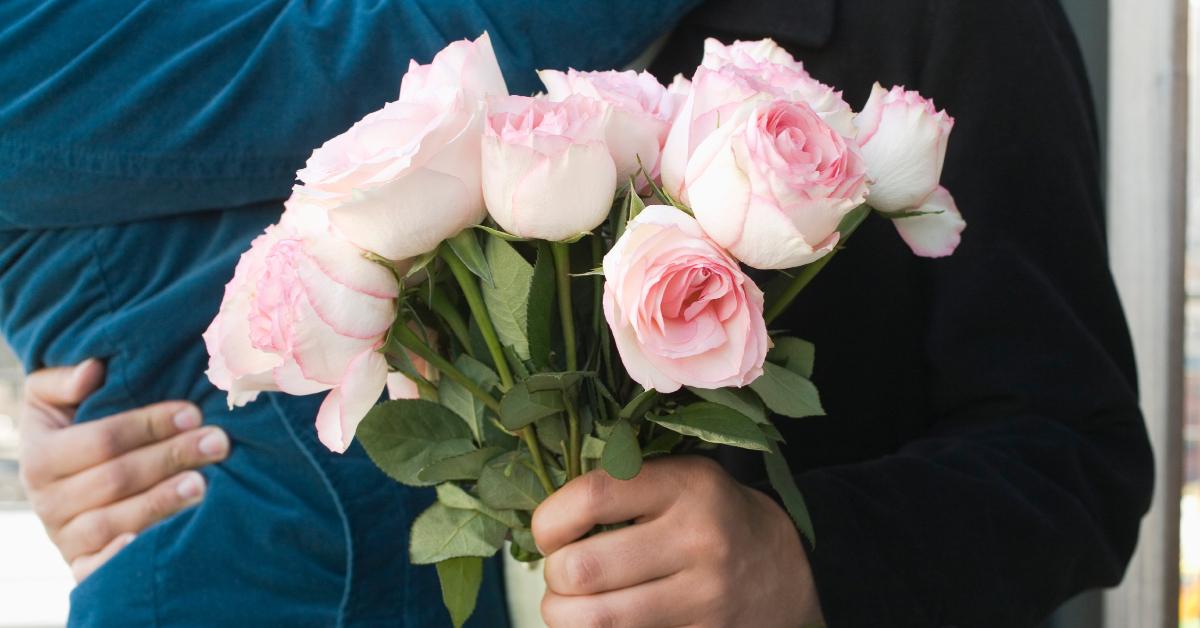 Article continues below advertisement
This woman bought flowers and made her husband give them to her.
"When you just want flowers from your husband," the creator, Brittany, captioned the post.
In the viral video, which has amassed 12.1 million views, Brittany holds a bouquet of flowers while standing at the front door. When her husband gets home, Brittany quickly shoves the flowers in his hands and kicks him out. A few seconds later, he tries his luck and opens the door again.
With a smile on his face, he offers Brittany the flowers — and she's overjoyed. The couple hugs, with Brittany thanking her husband for going out of his way to do something nice for her (he didn't, but at least he went along with it!)
Article continues below advertisement
Many fellow TikTokers took to the comment section and agreed that Brittany is a "genius."
"This is actually a good way to say you want flowers without directly saying it," one person said, while another TikTok user wrote, "This is a genius idea! I love it so much!!!!"
Article continues below advertisement
A third commented, "Not him embracing the hug with a back pat like he actually [brought] the flowers."
"I [saw] this from another couple earlier this week," added another. "The men are so accepting after it dawns on them."
"Plot twist he was waiting for you to give him flowers this whole time" a TikToker joked.
Someone else penned, "LOL, yes! It's such a small [effortless] gesture but means so much!"
Article continues below advertisement

After another TikTok user suggested that Brittany get a "ring doorbell so we could see his reaction when you shut that door," she replied via a follow-up video that featured footage from her ring doorbell camera.
Article continues below advertisement
Once he was kicked out of the house, Brittany's husband looked visibly confused. However, it didn't take him long to understand what was going on; he set his Amazon package off to the side, grabbed the flowers in both of his hands, and opened the front door with a big smile.
"He knew right away," one TikToker commented, while another said, "he understood the assignment."
Article continues below advertisement
"His smile though! He's genuinely so happy just to see you! Like, you brought a huge smile to his face!" a third sweetly wrote, while a fourth joked, "Imagine him thinking the flowers were for him, and that's why he's cheesing so hard."
Someone else pointed out how he smiled the entire time, and Brittany responded, "He's such a good sport, I couldn't have asked for a better man." Ugh — how stinkin' cute!