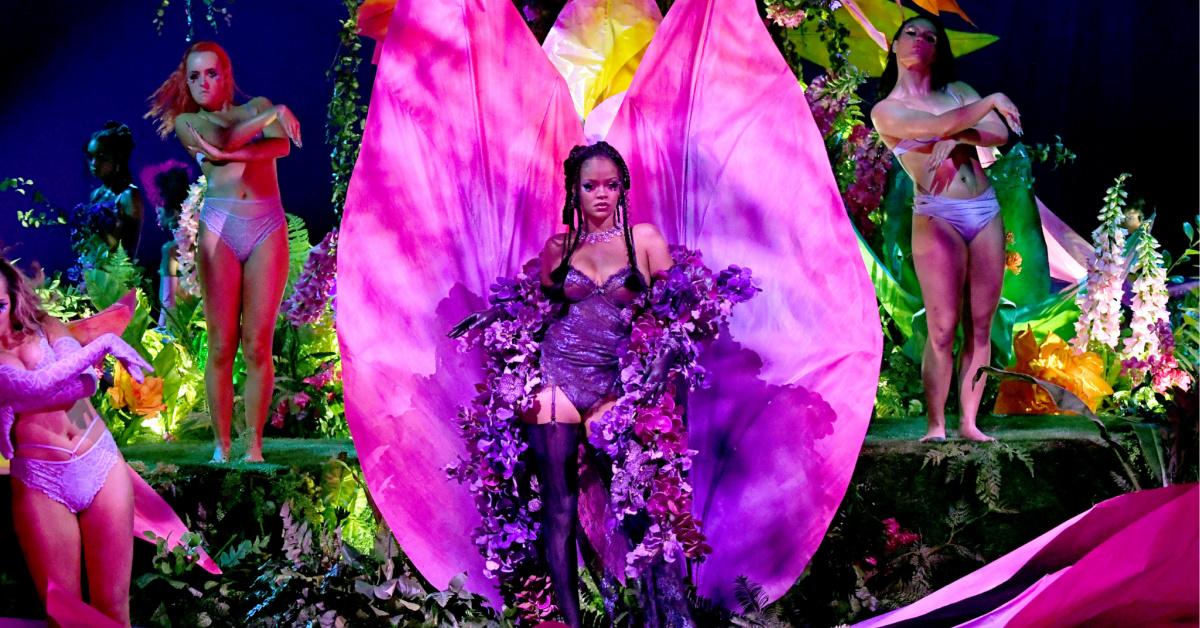 Here's Why People Are Saying Rihanna Is Canceled (and Islamophobic)
There was definitely a lot to love about Rihanna's Savage x Fenty fashion show. The lingerie was incredible, the models were AMAZING, and the overall vibe was, honestly, just impeccable. That being said, there are some people who are actually very unhappy with the show and are even going so far as to call for Rihanna to be canceled.
Article continues below advertisement
That's because one song featured in the show sampled a Hadith. If you're confused about what that means and why people are outraged as a result, read on. We've got ya covered.
Article continues below advertisement
One of the songs in Rihanna's fashion show used a Hadith.
First of all, we should explain what a Hadith is. The word "Hadith" is Arabic for "News" or "Story." In Islam, it is used to refer to the collection of sayings from the Prophet Muhammad which were spoken by the prophet and written down by followers. The Hadith is sacred to Muslims and is considered to be a major source of religious law and moral guidance, second only to the Quran. In short, it's very, very important.
One point during the Savage x Fenty show was accompanied by the song "Doom" by French music artist and producer Coucou Chloe. The song features a remixed sample of someone saying something. And, as it turns out, they're saying a Hadith. That's definitely not something most people would consider appropriate for a lingerie fashion show, it's safe to say.
Article continues below advertisement
While online reactions to the fashion show were largely positive, there were some people who were appalled by the fact that Rihanna would elect to use such a song. Some referred to Rihanna's actions as appropriating Islam.
Article continues below advertisement
So, is Rihanna canceled?
At this point, Rihanna has not publicly addressed the fact that a Hadith was used in one of the songs from her show. However, Coucou Chloe has addressed the controversy on Twitter, claiming that she had no idea her song sampled a Hadith.
"I want to deeply apologize for the offence caused by the vocal samples used in my song 'DOOM.' The song was created using samples from Baile Funk tracks I found online. At the time, I was not aware that these samples used text from an Islamic Hadith."
Article continues below advertisement
"I take full responsibility for the fact I did not research these words properly and want to thank those of you who have taken the time to explain this to me. We have been in the process of having the song urgently removed from all streaming platforms," she wrote in a series of tweets.
Article continues below advertisement
Rihanna's social media accounts have been flooded with comments from people expressing their disappointment in her actions, while others have been quick to leap to the singer's defense.
Speaking to The New Arab, a Muslim woman named Ruqaiya Haris said, "I think [the clip] was offensive, but I don't feel personally offended by Rihanna, because I think it is easy to miss the fact that it's a Hadith. If I, as a Muslim, did not immediately recognize that it was a Hadith, then its very likely that the people involved in the production and Rihanna herself would have missed that, because it was not very clear."
Article continues below advertisement
It's very unlikely that Rihanna set out to offend Muslims with her fashion show song choice (if it was her song choice), but that's what happened, and her fans — particularly those who are Muslim — want an apology. In this day and age, there really isn't any excuse for using the Arabic language or Islamic religion purely as an "aesthetic" choice. Even if the song was used completely by mistake, it's important to focus on the impact of people's decisions rather than just their intent.