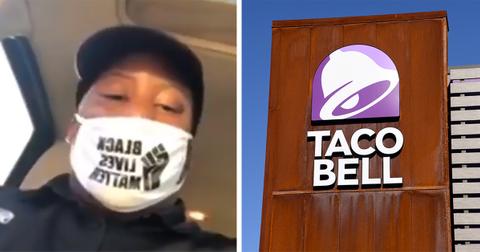 People are Boycotting Taco Bell After Worker was Allegedly Fired for Wearing 'Black Lives Matter' Mask
By Mark Pygas

Updated
The Internet is calling on people to boycott Taco Bell after a video appeared to show a worker being fired before wearing a mask that read "Black Lives Matter." After the video went viral, #RIPTacoBell began to trend on Twitter, with users calling on people to avoid the fast-food chain.
The video, which has been shared in many different places, appears to show an argument between a Taco Bell worker and his manager.
"You just fired me because I got a Black Lives Matter on," the worker states as the video begins. "You just told me I had to go home because I have a Black..."
A woman off-screen, identified as a Taco Bell manager by social media users, interrupts, and states: "You told me you weren't going to take it off."
The worker continues: "I'm not. I'm not. Because I'm standing up for what's right, I'm not taking it off."
The video then cuts forward in time, with the worker claiming that someone called Tammy said he could wear the mask.
"No she did not," the woman states. "She said it had to be plain. You can't bring politics into the building."
The worker interjects: "Bro, I'm not bringing politics in, this is what I'm standing for. Like how is this considered politics?"
"How is it not, Denzel?" the woman asks before the video skips forward again.
"I'm not taking it off," the worker states.
"Ok, then there's nothing I can do for you," the woman responds. "I'm just doing my job."
The worker retorts: "I'm doing mine, standing up for my peoples too."
After another skip forward, the woman states: "You don't get it."
"You don't either," the worker responds.
"No I do get it," the woman retorts.
The worker states: "No you don't, because if you did, this wouldn't be a problem."
"It's not that it's a problem with me, Denzel, it's a company thing," the woman adds.
"I ain't trying to hear that," the worker responds.
After another cut, the woman states: "You let someone wear something that said something about white people on it?"
"Bro, if that's what they stand for, yes," the worker responds.
The video ends with the woman stating: "I'm not against what you stand for either, but I have to do what the company states."
It's worth noting that Taco Bell's employee handbook does not appear to make reference to wearing "political" items.
Starbucks recently found itself in hot water after prohibiting its staff from wearing any Black Lives Matter clothing or accessories while at work. The company quickly changed course following online backlash.
Now, Taco Bell appears to have attracted the ire of the Internet. After the video went viral, many social media users called on others to boycott the brand, with #RIPTacoBell trending on Twitter.
One user wrote: "I can completely empathize with the young man at Taco Bell. As an operating room nurse, I was told by my managers that I couldn't wear this mask at @BonSecours so I left as well. Stand for something or fall for anything."
"Fighting for black lives is not a political issue," one user added. "This is really not complex, I don't get how people (& million dollar corporations) don't understand this. Fighting for basic human rights is not a political issue!!!"
Others shared a statement by Taco Bell CEO Mark King, which stated that the company was "committed to being part of long-term solutions."
While one user concluded: "SERIOUSLY!?? Supporting BLM isn't political, it is the moral thing to do. Are you against human rights now?"
Hopefully companies will start to take a less corporate response to these kinds of matters.