So Let's Finally Break Down the Whole "Lesbian Cousins" Thing in 'Sailor Moon'
The "lesbian cousins" controversy in 'Sailor Moon' is a product of questionable Western censorship of anime leading to ridiculous results.
As an icon of the 1990s that seemingly transcends generations, Sailor Moon remains a beloved franchise among anime fans as a pillar of the magical genre. Based on the manga by Naoko Takeuchi, the anime follows Usagi Tsukino, a young and goofy girl who unwittingly gains the power to transform into a superhero named Sailor Moon. With the help of her fellow Sailor Guardians and their feline companions, they defend Earth from a variety of evil forces.
Article continues below advertisement
The first anime series debuted in 1992 in Japan and ran for five years. Having become an overnight success in Japan, it received further popularity and acclaim when it was dubbed and aired in international territories. It eventually arrived in North America in 1995 with an English dub.
However, the first English dub was subject to vast amounts of censorship, particularly against its LGBTQ+ themes and imagery. One of the most infamous examples comes in the form of the dub's lesbian cousins. So... what was that all about?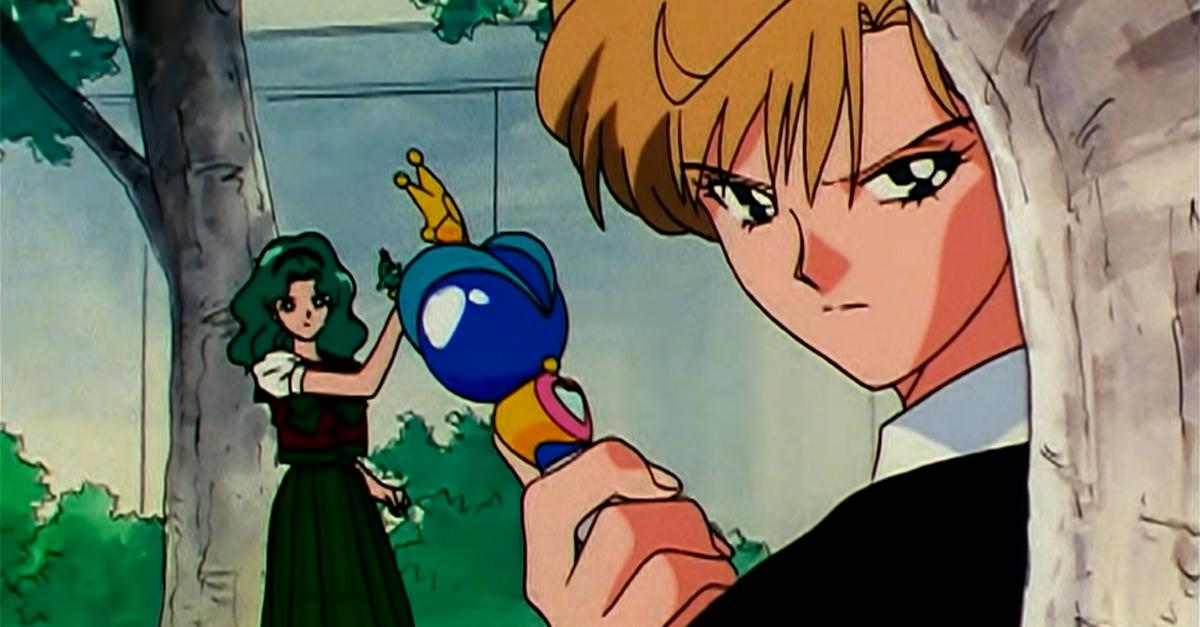 Article continues below advertisement
Let's break down the "lesbian cousins" controversy in 'Sailor Moon'.
Though international censorship of Sailor Moon ran rampant in several countries outside of Japan, the original English dub by DIC Entertainment (later Cloverway) makes an enormous amount of changes to the source material as a series aimed for young children. The Japanese names of several characters are changed to English names, and many shots of characters' bodies are heavily edited. Perhaps the most egregious change of all was the censoring of the lesbian relationship between two of the Sailor Guardians.
In the original Japanese dub of the anime's third season — Sailor Moon S — Haruka Tenoh/Sailor Uranus and Michiru Kaioh/Sailor Neptune are introduced as an openly lesbian couple, who are often seen casually flirting with each other both in and out of combat. Due to rampant homophobic censorship in several countries, the nature of their relationship is edited in various dubs of the anime. In North America, however, the English dubs sent some absurdly mixed signals.
Article continues below advertisement
The English dub describes Haruka and Michiru (renamed Amara and Michelle, respectively) as close cousins, with several characters mentioning their familial relationship at almost every opportunity. However, in an effort to preserve the original Japanese narrative in ways that the first two English-dubbed seasons hadn't, the dub for Sailor Moon S doesn't eliminate any of their intimacy or flirtatious dialogue while also trying to censor the lesbian overtones.
Article continues below advertisement
This combined with the nigh-aggressive need to label them as cousins within the dialogue inadvertently created a narrative for the English dub in which Sailor Uranus and Neptune are cousins who are still in a relationship. This absurd circumstance has since grown into a laughable in-joke for longtime fans who grew up with this form of the dub.
Thankfully, a more-concerted effort to restore the integrity of the Japanese dub in other countries has been made in the years that followed. In 2014, North American manga and anime distributor Viz Media acquired the rights to the original Sailor Moon anime. They would subsequently release a brand new English dub that preserves the original scenes, character names, and especially the romantic and non-incestuous relationship between Uranus and Neptune.
We now live in an age where LGBTQ+ storylines and issues are more visible in children's media. To that end, Sailor Uranus and Sailor Neptune are remembered as a lesbian power couple and an iconic example of diversity.
However, the original English dub remains a product of its era of old-fashioned Western localization, an era in which implied incest was deemed more appropriate for children than overt gay romance.