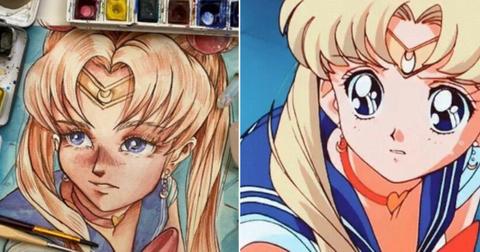 The Sailor Moon Redraw Challenge Is Taking Over Twitter — Again
By Abi Travis

Updated
Have you ever seen someone do something and thought to yourself, "I could have done a better job"? Of course you have. We all have. That's exactly how the Sailor Moon Redraw Challenge got started. The challenge is basically what it sounds like: People are redrawing a specific frame from the anime show Sailor Moon, and the results are really quite stunning. Or stunningly hilarious, depending on which submissions you're looking at.
What is the Sailor Moon Redraw Challenge?
In order to participate in the Sailor Moon Redraw Challenge, all you have to do is redraw a single frame from the show Sailor Moon. It's not just any frame, though. It's specifically a frame from Episode 125 of Sailor Moon S, entitled "A Bright Shooting Star! Saturn, and the Messiah." (Man, Sailor Moon sure did go hard when it came to episode titles, huh?)
In the episode, Mistress 9 tricks Sailor Moon into protecting her from Sailor Uranus and Sailor Neptune. Sailor Moon receives the attack and is thrown to the ground. Upon realizing she has been tricked, she looks up at Mistress 9 with tears in her eyes. And that's the exact frame you're looking for if you want to participate in the Sailor Moon Redraw Challenge: Sailor Moon, eyes welling with tears and feeling betrayed.
The Sailor Moon Redraw Challenge got its start back in 2019.
The Sailor Moon Redraw Challenge isn't exactly a new phenomenon. The earliest example of someone completing the challenge appears to be from July 2, 2019. Twitter user @O_NL44, a Korean artist, posted their own version of the betrayed Sailor Moon. The tweet has nearly 80k likes, but that was just the start of the challenge.
For several months after the first image was uploaded, people created their own submissions and shared them on Twitter. Eventually, the #SailorMoonRedrawChallenge and #SailorMoonRedraw hashtags were appended to the submissions, making them easier to search for by other people who were either participating or just interested in the challenge.
The trend appeared to have died down a bit, but then had a massive resurgence in May of 2020 — the internet sure is weird sometimes, huh? In 2019, the challenge had been most popular among Korean artists. In May 2020, Japanese artists on Twitter joined the challenge, causing its popularity to skyrocket again. Now, it seems to have crossed over to American Twitter artists as well.
The Sailor Moon Redraw Challenge submissions seem to fall into two camps.
If you're scrolling through Sailor Moon Redraw Challenge submissions, you'll start to notice that most of them typically possess one of two qualities. They are either 1) Meant to be taken seriously as art, or 2) A hilarious joke submission. Don't get us wrong — some of the jokey ones obviously took a lot of talent and effort! They're honestly some of our favorites.
Honestly, it's things like the Sailor Moon Redraw Challenge that remind us how cool and interconnected the internet is. Want to try flexing your own art skills as part of the challenge? Go for it! You don't even have to watch Sailor Moon first — but if you do want to, it's currently available to stream on Hulu!