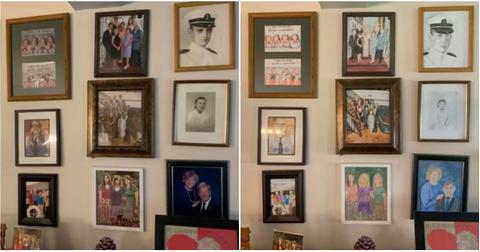 Woman Gradually Replaced Parents' Photos with Crayon Drawings and It Took Them 11 Days to Notice
By Robin Zlotnick

Apr. 27 2020, Published 3:40 p.m. ET
Folks, I simply love a prank where a young person manipulates their parents' home, which has probably remained unchanged for decades, and sees how long it takes them to notice. First, there was the woman who tacked a Cheez-It to the wall in her dad's place, where it went unnoticed for four years.
Article continues below advertisement
Now, Kristen Vogler joins the hall of fame with her quarantine prank, in which she replaced one picture a day from her parents' picture wall with a crayon drawing of that picture. She nearly got through the entire wall, and then she went viral on Facebook. It's the best.