Sara Smith stuck a Cheez-It to her dad's wall on November 26, 2015, nearly four years ago. And it wasn't until October 6, 2019 that he was finally made aware of his presence. Sara posted Cheez-It updates in a viral Twitter thread that is truly one of the greatest things I have ever seen. It wasn't like the Cheez-It was hidden. It was tacked right in the middle of the wall. For years. Sara even changed it out a f ew times because it got too gross and rotten.
The story of the Cheez-It on the wall is one of perseverance, dedication, and one truly oblivious dad.
It all started with one tweet.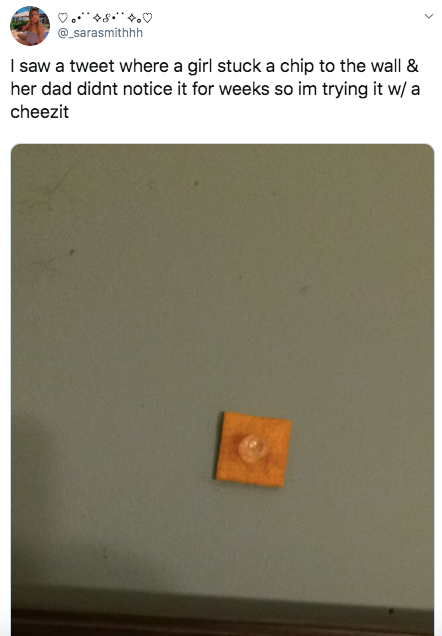 Sara saw a story where a girl stuck a chip to the wall and her dad didn't notice for weeks, so she thought she'd do the same thing with a Cheez-It. Little did she know that this would turn into a years-long project.
She probably thought her dad would notice within a reasonable amount of time. After all, the Cheez-It is right there.
And by right there, I mean *right there.*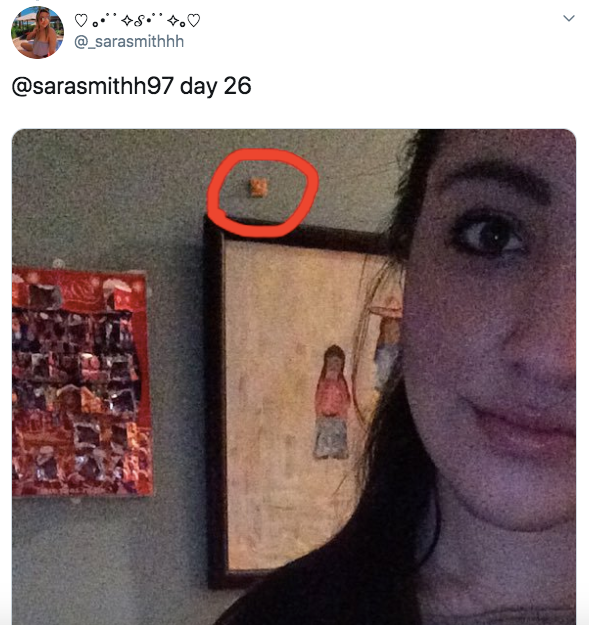 Right over a framed painting. In the middle of the wall. A single, solitary Cheez-It. You would think that would catch the eye of a grown man. It's his own house, for goodness' sake!
But on day 26, the Cheez-It was still holding its ground. Sara was still going strong. My question is, aren't those things really greasy? Was Sara concerned it would leave a grease spot on the wall? I bet she thought her dad would notice before that happened. But he did not.
On day 122, Sara's dad even rearranged the furniture in the house and still didn't notice the Cheez-It.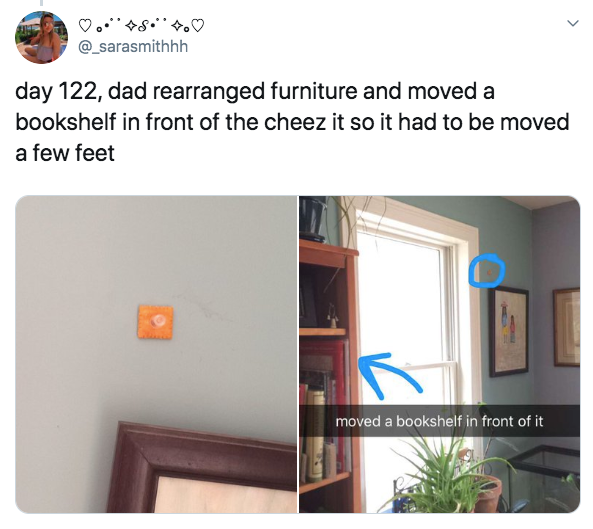 He moved a bookshelf right in front of the Cheez-It and didn't even notice then. How?! How is that possible? But Sara wasn't about to let the Cheez-It fall into oblivion. So, she decided to move it.
But she wasn't about to cheat and keep it hidden somewhere. It went right above the same painting, in the spot to which the painting had been relocated. Certainly, her dad would notice it soon enough, right?
Wrong. About a year-and-a-half later, the Cheez-It was still going strong.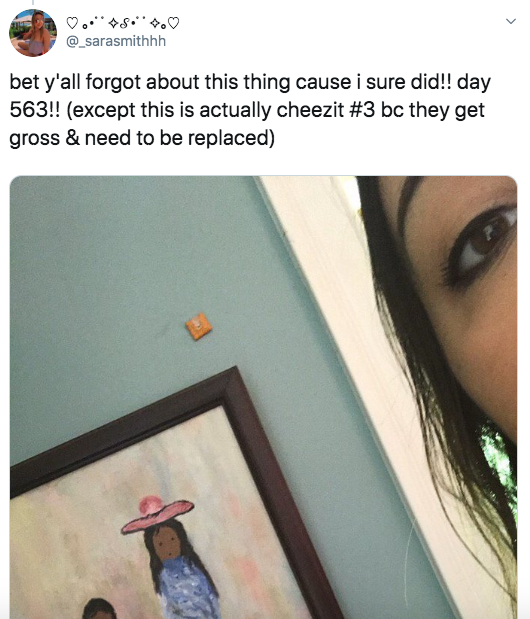 It wasn't the original Cheez-It, Sara explains, because they get gross and have to be replaced. Every six months or so, she replaced the old, crumbly Cheez-It with a fresh new one.
And still, nothing from dear old dad.

Sara actually moved out of the house while the Cheez-It was still stuck to the wall. Two years after she took a thumbtack and stuck a Cheez-It to the wall, her experiment was still going strong.
Her dad was oblivious, and at this point, the rest of her family were in on it, too. She got regular text updates from her stepmom about the Cheez-It's status. Even after she moved out, it seems her father remained completely oblivious to the Cheez-It on the wall. At this point, thousands on Twitter were following along on this journey.
Sara even trolled her dad by giving him a box os Cheez-Its as a gift for Christmas. He didn't get it.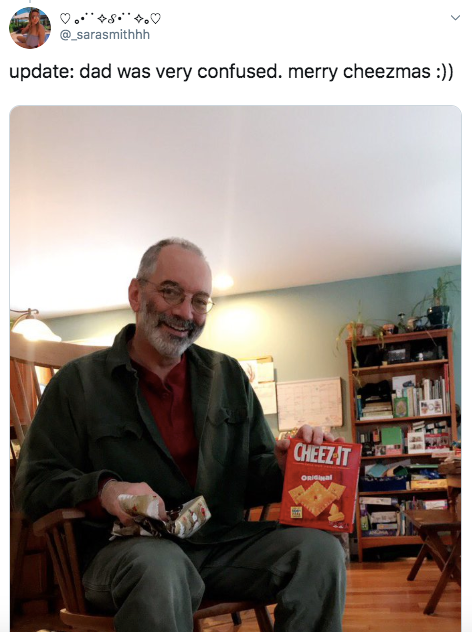 Look at his face! He's so completely confused about why his daughter bought and wrapped a box of Cheez-Its. I'm also pretty sure he's sitting in front of the bookshelf that he moved in front of the original Cheez-It.
This is priceless. This is why the internet exists. This is so good.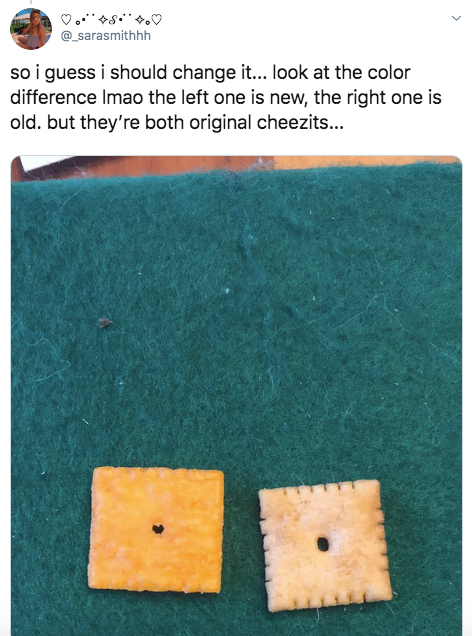 At the end of December 2018, Sara decided to change the Cheez-It once again, and she posted a side-by-side of the new Cheez-It (left) and the one that had been tacked to the wall for months (right). They are both the same kind of Cheez-It. Science is crazy, guys.
Finally, after 1,410 days — nearly four years — the great Cheez-It experiment ended.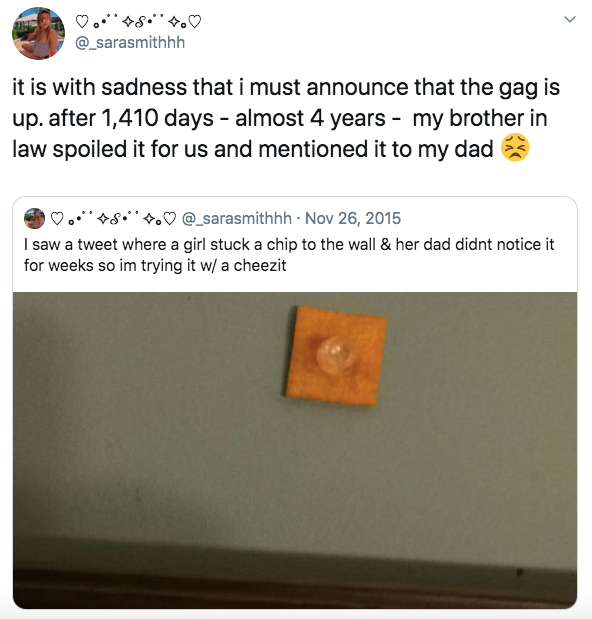 But, insanely, it wasn't because her dad finally looked up and was like, "Hey, what's that cracker doing stuck to my wall?" Instead, the years-long experiment was accidentally ruined by Sara's brother-in-law.
In a subsequent tweet, she explains that he looked up and saw that the cracker was gone, so he said to Sara's dad, "Oh, you found the cracker." But her dad had no idea what he was talking about!
Turns out, the Cheez-It got so stale that it fell off by itself. If Sara had been around to change the Cheez-It, the experiment might still be going today. She's terribly mad that she'll "never know just how unobservant" her dad is, and so am I. But even with the somewhat anticlimactic ending, this is the funniest, most purely entertaining Twitter thread of all time.