15 Kid-Friendly Jokes to Help Weather the Coronavirus
With a bit of humor, everyone's day during the coronavirus quarantine can get a little better. These jokes for kids, and adults, will cheer you up.
We'll be the first to admit that there is nothing funny about the current situation we find ourselves in this 2020. But considering the fact that laughter is nature's free version of therapy, we figure it's worth giving it a shot.
Article continues below advertisement
While COVID-19 has effectively shut down everything we enjoy — from concerts, to gathering with friends and family, and of course, sports—there is something to be said for trying to get a smile in whenever possible, especially when the news around us becomes so absurd, we can't help but laugh at the bizarreness of it all.
Quarantine jokes for kids:
Anyway, as people are forced to change up their lives and ways of living, here are some kid-friendly coronavirus jokes that will pepper your day with some humor and help get you and your family through the rest of the quarantine. Keep scrolling for a little bit of levity in these confusing times!
1. The virus police.
Adam Bedders shared what's going on at his house right now, and it sounds like his toddler is giving everyone in the neighborhood the talking to they need.
2. Mother's Day comes earlier in Ireland.
Kids always tell the truth, even when others don't want to hear it. That's why when a 7-year-old showed her mother how she wanted to wish her grandma a happy Mother's Day in Ireland (which is on March 22), the mom made her draft up a couple more options.
Article continues below advertisement
3. Practice makes perfect.
This made us laugh so much when we came across it. The attention to detail is absolutely out of this world, not to mention the fact that you can probably find these tools lying around the house.
Perhaps you can urge your child to try this project, and then enjoy the fruits (pun intended) of their labor (pun intended) together.
Article continues below advertisement
4. Now we're talking.
Article continues below advertisement
5. Spot the lie.
This person had to jump on Imgur to share the story of their cousin's hilarious cake order. It seems like the cousin wanted a cake, but told the cake shop people to write whatever they wanted on it, since it was just for her anyway. They managed to deliver in more ways than one.
Article continues below advertisement
6. Is this pup your hero? He is our hero.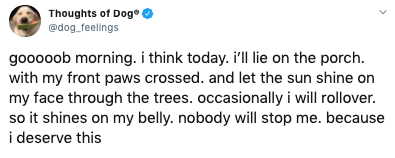 We should all take some inspiration from this pup. Come to think of it, letting the sun shine on our faces through the trees and occasionally rolling over sound like the best ever weekend plans.
Article continues below advertisement
More coronavirus jokes for kids.
7. Q: Why do they call it the novel coronavirus?
A: It's a long story…
8. Q: Why don't chefs find coronavirus jokes funny?
A: They're in bad taste.
9. I'll tell you a coronavirus joke now, but you'll have to wait two weeks to see if you got it.
Article continues below advertisement
10. Q: Where do sick boats go to get healthy?
A: The dock!
11. Q: What do you call panic-buying sausage and cheese in Germany?
A: The wurst-käse scenario.
12. Q: What did the man say to the bartender?
A: I'll have a Corona, hold the virus.
13. The grocery stores in France look like tornadoes hit them. All that's left is de brie.
Article continues below advertisement
14. Q: What types of jokes are allowed during quarantine?
A: Inside jokes!
15. Q: You know what they're saying about 2020?
A: It went viral before anyone thought it would!
Article continues below advertisement
The best way to prevent contracting or spreading coronavirus is with thorough hand washing and social distancing. If you feel you may be experiencing symptoms of coronavirus, which include persistent cough (usually dry), fever, shortness of breath, and fatigue, please call your doctor before going to get tested. For comprehensive resources and updates, visit the CDC website. If you are experiencing anxiety about the virus, seek out mental health support from your provider or visit NAMI.org.