Career Coach Says to Always Negotiate for Perks if Salary Requests Aren't Met By Employers
A TikToker broke down how folks can negotiate for higher salaries and if that doesn't work, some type of perk they'd find beneficial instead.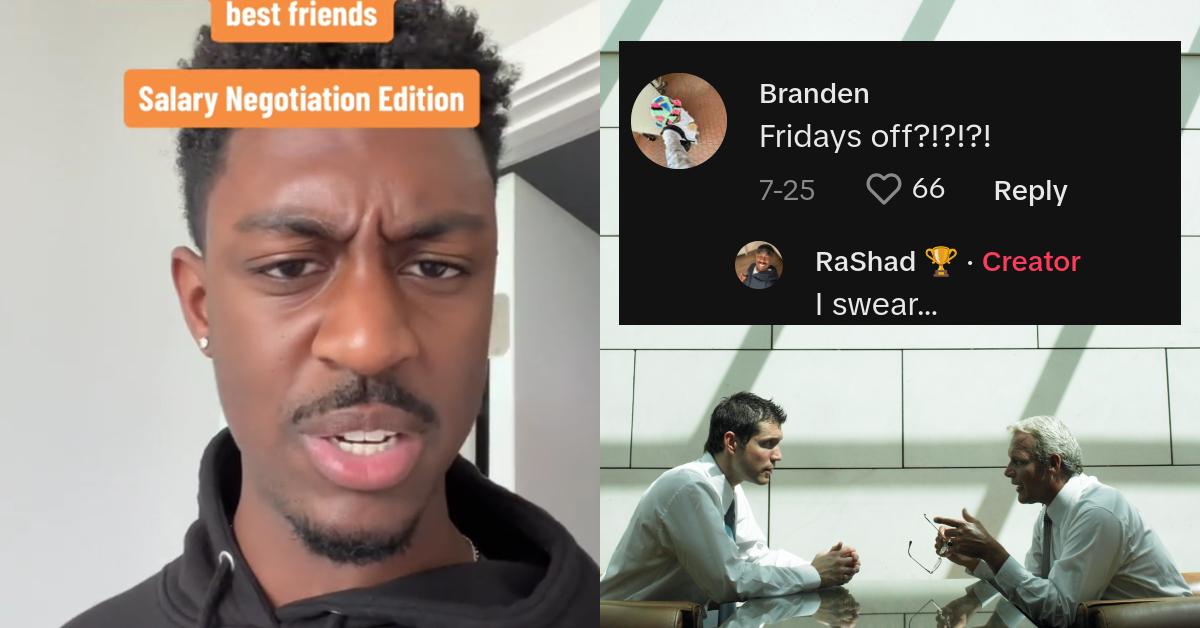 A TikToker who specializes in giving professional career advice went viral on the popular social media platform urging folks to never be afraid to negotiate when they're accepting a new position.
But what happens when a representative for the business isn't into the idea of giving you the higher salary that you asked for?
Article continues below advertisement
According to RaShad (@rashadtheintern) that's not the end of the negotiation: there's always some type of perk that you'll be able to secure for yourself. You just have to be willing to ask and perhaps see what kind of little "boosts" or "add-ons" the business in question is able to slap onto your work contract.
He gave the run down in a video that's been liked nearly 27,000 times on the widely used video-sharing application, with over 200 viewers head-nodding to his suggestions in the comments section of the clip.
Article continues below advertisement
RaShad says in his video: "Okay, so I don't want to stitch this but, the last time I made a video and I was like I think I can create some value here, it did really well. And I want to, I hope that this can be helpful for people who are just now graduating college or my black and brown students who are getting their first internships."
Article continues below advertisement
He continued, "If you negotiate your salary or you try to negotiate your salary and them people say no we don't got it in the budget, even if you follow exactly what he said because that was great advice, them people can give you something and I'm finna show you something the mentor gave me that I only give my best friends and my mentees."

Article continues below advertisement
RaShad went on to deliver the goods, "If them folks can't give you a salary increase, they can get you something. If companies don't want to give me the money I'm asking for...I'm finna to get something I want. My favorite things I've negotiated, better job title that's on the list, Fridays off, half-days on Thursdays and Fridays, I've negotiated bonuses..."
He rattled off even more perks he's managed to package into work contracts: "I've negotiated commissions...I feel like if y'all are nervous about this type of stuff and it does kind of scare you, the thing to remember is that companies are going to either make their money, or save money because they've employed you."
Article continues below advertisement

"That's just the way it works. The least that you can do and this is my mindset, is make sure that you're paid enough to where you can actually have the things that you want and need. Because a lot of times if you're early in your career, or you're doing an internship you might be getting underpaid."
Article continues below advertisement
There were a number of TikTokers who said that they agreed with RaShad's assessment of salary negotiations and that they, too, have been able to secure themselves better pay and/or benefits as a result of not being afraid to ask.

Article continues below advertisement
"Facts. I liked the salary my company offered but I was with my recruiter friend & she said: negotiate anyway. Walked away with a 35,000 sign on bonus," one individual wrote.
Another person in the comments section who said that they were a finance director also urged folks to try and get something while negotiating a new job, echoing the TikToker's sentiments: "Finance Director here. This is gold! Y'all better ask for SOMETHING! Every company has a discretionary fund. There's money somewhere."
Article continues below advertisement

The phrase the aforementioned TikToker mentioned: "discretionary fund" is an amount of money that businesses keep on reserve that are considered "nonessential," finances, according to Investopedia. These funds are sometimes used for things like corporate gatherings, meals, outings, etc. and other functions not considered directly pertinent to vital operational functions.
Article continues below advertisement
In this instance, the trick would be to convince a business of forking over a portion of that nonessential spending as part of your new salary negotiation.
So how does one do that? Demonstrating value is a good start, as this LinkedIn article states, highlighting specific numbers, factors, and qualifiers, with specific markers and milestone achievements either in your current or previous role, when matched against current going rates for folks with similar levels of experience in your field, could be a great way to start.