Sasha Banks Suffers "Compressed Nerve" Injury, WWE Confirms
Sasha Banks suffered a nasty injury, as did Big E, during a recent episode of WWE's Friday Night 'SmackDown.' Here's what the WWE had to say.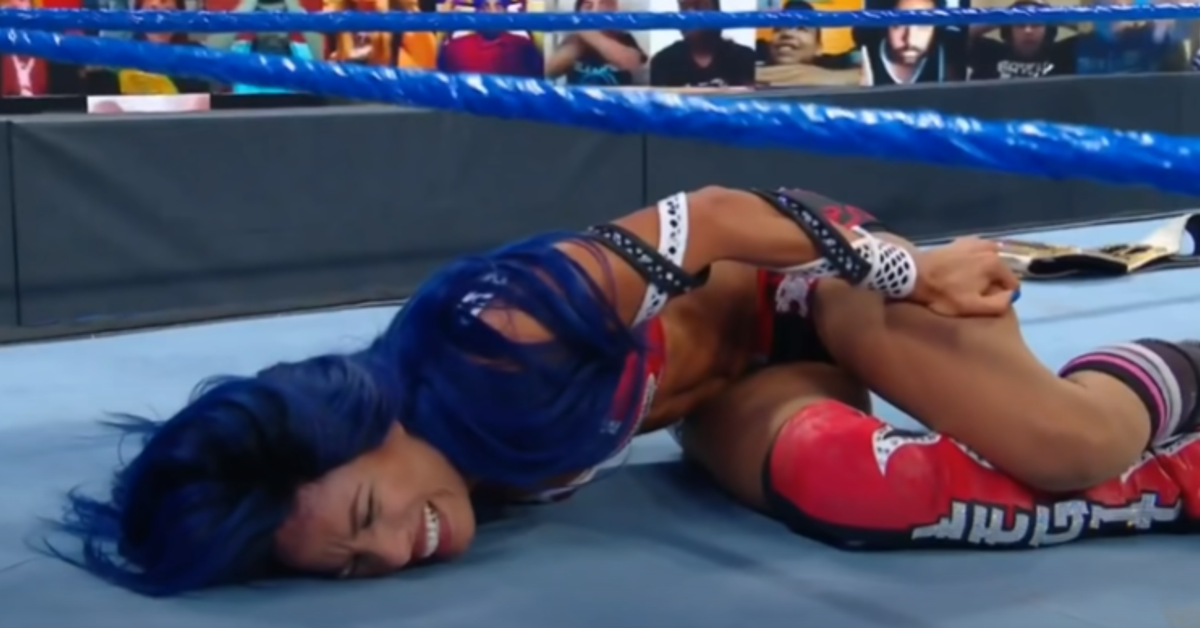 The WWE has been doing quite a great job of blending the real-life personalities of Superstars along with their kayfabe personas. This extends to the "injuries" that the organization's roster of pugilists suffer from time to time and it's kind of difficult for fans to ascertain when someone is either truly injured or if it's all part of the show.
The brutal injuries Sasha Banks and Big E. were subjected to on SmackDown seem to be part of a greater story line, and they're quite brutal.
Article continues below advertisement
What injury did Sasha Banks endure?
There's a big rivalry that's been established between Banks and Bayley after the latter Superstar carried out a vicious attack on the former. The move was supposed to be a shocking one, but fans had seen coming all along. If you're a longtime viewer of professional wrestling, the plot of good friends turned bitter rivals as a result of betrayal and deception is a common trope.
Article continues below advertisement
WWE.com reported on the incident, "WWE.com can now confirm that Sasha Banks has suffered a severe bone bruise in her knee and a compressed nerve in her neck following the brutal attack by Bayley on SmackDown."
If you didn't see Bayley's attack on Banks, it was pretty intense. Bayley attacked Banks' knee and pillmanized her by placing her head in a steel chair and laying the smack down. The pillmanize maneuver is what's being attributed to Banks' "compressed nerve."
Big E. also suffered an injury at the hands of Sheamus.
Sheamus slammed Big E. through the windshield of a car, which culminated in Big E. not being cleared to compete in the fatal four-way contender match up. Jey Uso replaced Big E. for the contest and would go on to win it.
As far as the injuries he sustained, the WWE writes: "Big E suffered multiple lacerations and moderate-to-severe bruised ribs after the backstage assault by Sheamus."
Article continues below advertisement
An interesting narrative regarding Bayley and Banks' rivalry is that the attack occurred after the duo failed to win the tag team championship belts. Bayley's the clear heel in this situation, suggesting that she was only ever in a partnership with Banks in the hopes of securing some gold.
Article continues below advertisement
Article continues below advertisement
Interestingly enough, Bayley, Sasha Banks, and Big E haven't mentioned anything about their respective incidents on social media. Sheamus, on the other hand, seems to be having a field day on Twitter. Kinda like that meme of Mayweather posing in front of his Lamborghini with the doors up after KO'ing Victor Ortiz, telling him to always keep his hands up when he fights. Vicious.
Article continues below advertisement
Big E's in a unique position with the WWE, as both his team members, Kofi Kingston and Xavier Woods, are out with injuries. While he has no problem doing singles matches, his heart is really with The New Day, as per a recent interview he had with the Table Talk podcast.
"I can still do singles stuff and The New Day is still intact. I'm prepared, of course, to do singles. I came in doing singles and never really saw myself as a tag team wrestler."
"But I love tag team wrestling and really grew to love it, but I'd love to do singles stuff, that'll be a lot of fun. But I still think we don't need to break up. We can do something similar to what Kofi did where we still stayed a faction, we were still together. So yeah man I'm ready for it."