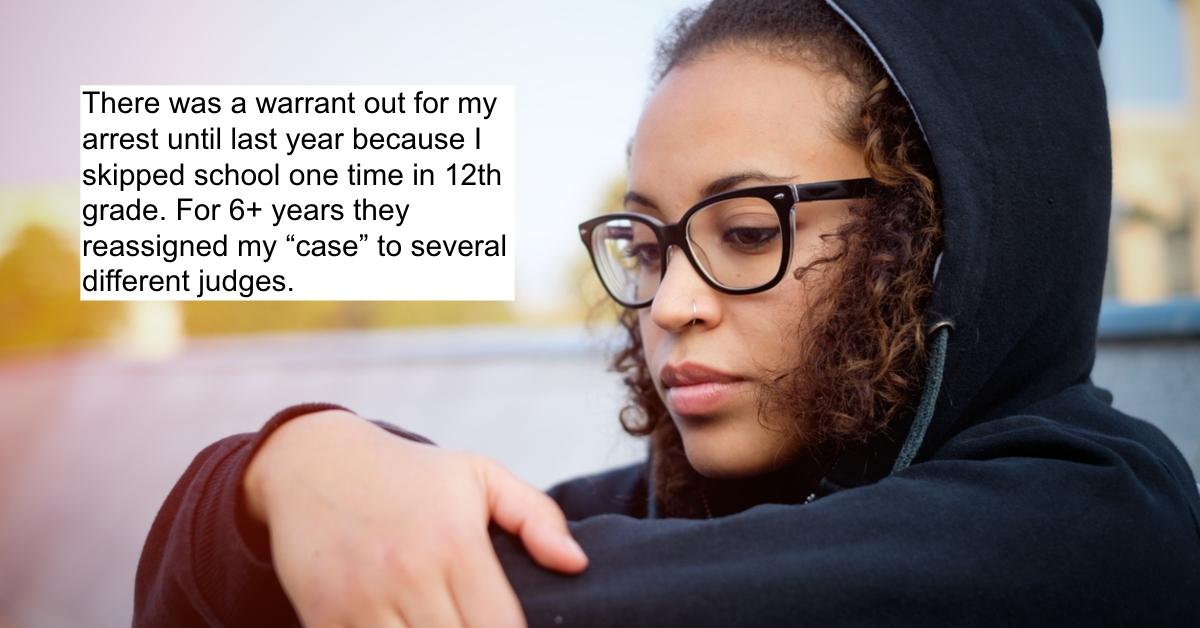 Woman Had Arrest Warrant Out for Years Because She Skipped School Once in 12th Grade
Dee explains that the arrest warrant followed her for more than six years because she skipped school once.
A recent viral story about Grace, a teen who was sent to juvenile detention because she didn't finish her schoolwork during the pandemic, has reignited conversations about the "school-to-prison pipeline" and the racism inherent in our education system. Black kids and other kids of color are often disciplined in the legal system rather than the school system, which means that they get stuck in a vicious cycle of legal trouble that is extremely hard to get out of.
Article continues below advertisement
On the heels of that story, one Twitter user, who goes by Dee, shared her own experience with the school-to-prison pipeline in a viral thread. Her story demonstrates that even extremely minor offenses that would never get a white kid in serious trouble can follow a Black person for years, even after they exit the school system.
Article continues below advertisement
Dee skipped school once in 12th grade, and she was charged with truancy. Because of that charge, there was a warrant out for her arrest for years that she didn't even know about. After all, who would expect to get arrested for playing hooky?
She writes that she only learned about the warrant for her arrest when she was in a car accident and the officer who responded to the scene told her about it. The only reason he couldn't arrest her is because it was out of his jurisdiction.
Article continues below advertisement
She was in grad school when she learned of the warrant for her arrest from high school. And she was told that she couldn't fix it. If she tried, she'd be arrested. So what does one do in a situation like that? Well, Dee just sort of had to live with it and hope she never landed in a situation where the arrest could be carried out.
Article continues below advertisement
Eventually, her case got closed or dismissed. Somehow, it was just gone. She probably never would have found that out if she hadn't called again to try to fix it. And while Dee was never arrested for truancy, her story shows the ways in which Black and brown kids can be entrenched in the legal system and prevented from advancing in life for offenses that should have been handled only within the school system.
Article continues below advertisement
She writes, referring to Grace's story, "I would've had an arrest record for skipping school one time when I was 17. I'm not shocked by how they're treating that young girl. I'm pissed off because they're potentially ruining her life over nothing. The legal system was designed to keep you in it. She didn't deserve that."
In the comments, others shared similar stories. It's not uncommon for kids of color and their parents to be persecuted through the legal system for school issues instead of getting the support they need through their district. "They legit tried to send me to juvie for truancy violations when I was in middle school and I was in school every day, my teacher just wasn't marking me there," one person wrote.
Article continues below advertisement
Meanwhile, many white people in the comments didn't even really know truancy was something you could get arrested for. "I knew this was a thing," one person wrote, "I just didn't KNOW. I had undiagnosed autism as a minor that made going to school traumatizing. I ran / escaped / faked sick however I could...missed easily 20+ days a semester. But I'm white. Nothing happened."
Article continues below advertisement
"Well this puts 'senior skip day' (which was a tradition in my majority white and upper-middle-class school) in an entirely new light...the privilege of it all...I had no idea that truancy warrants extended that long!!" another person wrote.
White kids, especially ones who live in wealthy districts, are often given the support and resources they need to successfully complete school, whereas Black and brown kids who face trouble (often due to other issues that result from systemic racism) are disproportionately disciplined outside the school system, dragging them into a cycle that's nearly impossible to get out of. It's just one way in which Black and brown kids are systematically discriminated against from a young age.