Before Becoming a Top AEW Personality, Jade Cargill Was a Basketball Standout
Shaq made headlines in the pro-wrestling world when he announced he'll be participating in an AEW tag team match, and his partner's Jade Cargill.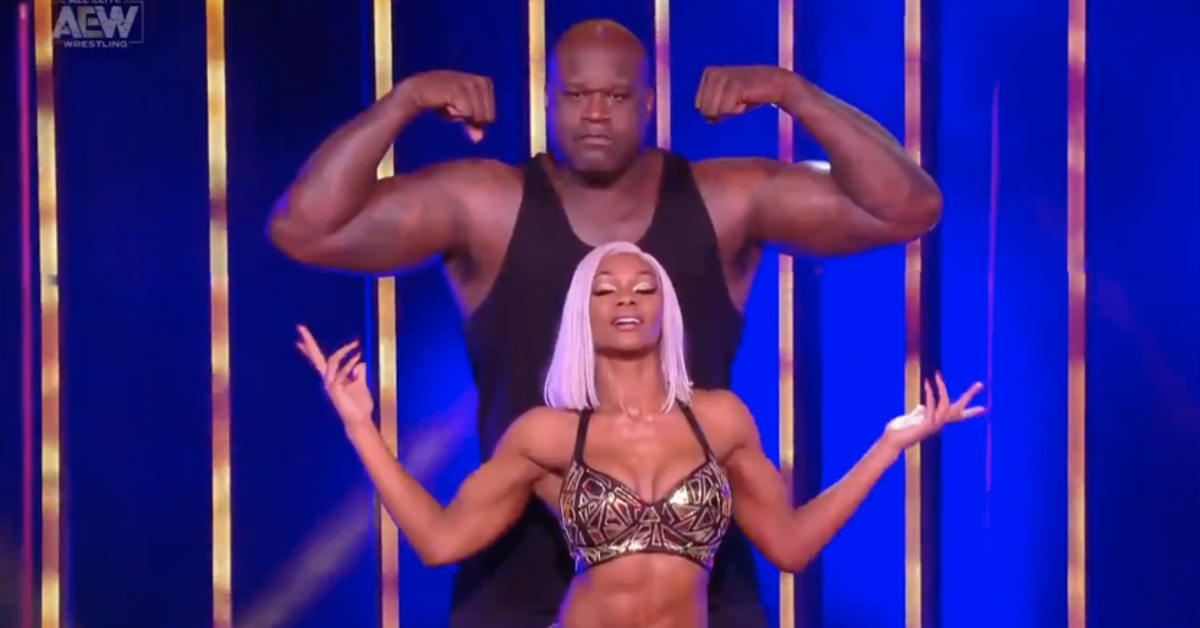 Tons of celebrities have participated in professional wrestling matches for a little cross-promotional goodness. Remember when Drew Carey competed in the 2001 Royal Rumble? Or how about the time Mike Tyson KO'ed the heartbreak kid after Stone Cold Steve Austin beat him at WrestleMania XIV?
Article continues below advertisement
There's just something great about a celebrity or sports figure coming in for a pro-wrestling cameo, and AEW had a huge one with Shaquille O'Neal, who teamed up with one of the promotion's top talents in a tag team match.
Who was Shaq's tag team partner in AEW?
All Elite Wrestling has been killing it with die-hard pro-wrestling fans, and that fervor has translated to viewership numbers, with AEW Dynamite besting WWE's NXT consistently from week to week. Tony Khan's promotion continues to make big moves, and when you've got a globally recognized NBA star who's not only starred in multiple films but has become a successful businessman and TV commentator who's appearing in your programming, you know you're doing something right.
Article continues below advertisement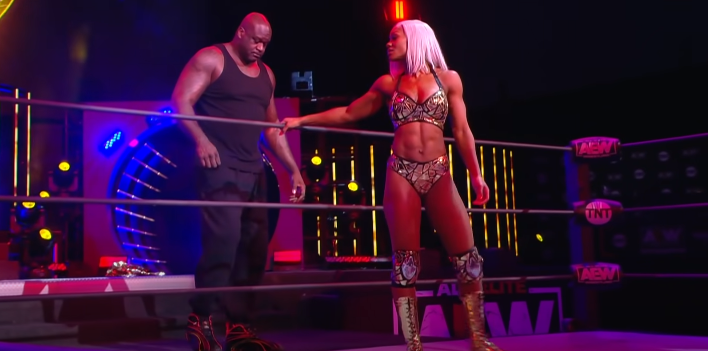 Shaq is known to attack much of what life has to offer with unbridled fervor. Whether it's starring in viral dance music videos, training with UFC heavyweight Francis Ngannou and partaking in hardcore MMA conditioning workouts, and now taking a page out of fellow NBA star Dennis Rodman's footsteps and getting into the pro-wrestling game, Shaquille O'Neal is expanding his repertoire of hobbies.
Article continues below advertisement
Shaq teamed up with one of the AEW's top talents, Jade Cargill. Interestingly enough, Jade is a former Jacksonville University basketball standout. According to local outlet News4Jax, she "was named to the Atlantic Sun Preseason First Team for the 2012-2013 season during her senior year at JU."
Shaq made his debut on AEW Dynamite a few months after Jade joined the promotion. While she made a splash on her own after debuting, teaming up with Shaq definitely helped.
Article continues below advertisement
Cody Rhodes put Shaq through a table during their match.
While Shaquille O'Neal and Jade Cargill managed to best their opponents, Cody Rhodes (son of legendary professional wrestler Dusty Rhodes and one of the AEW's biggest stars) and Red Velvet, he definitely took his spills in the match. Like when Cody went over the top rope and landed right on Shaq with a crossbody, putting him through a table outside of the ring.
Article continues below advertisement
And while it was certainly one of the more viral / noteworthy table smashes in AEW history, this flaming suplex off the top rope onto a flaming table that Cody Rhodes pulled off (and subsequently hurt himself with) definitely takes the cake.
Article continues below advertisement
Will Shaq come back to AEW?
Shaq made his first appearance on AEW Dynamite on Wednesday, March 3, 2021, and hasn't returned to the promotion since. He did take the bump through the table against Cody like a champ. However, his not-so-subtle tapping of Cody's back to let the wrassler know he was OK could've been done a bit more slickly.
That being said, pro wrestling fans applauded his efforts. As for Jade, she's putting more and more work into bettering herself in the ring, and with all of the eyes of wrasslin' fans she's garnered for herself already, it's not difficult to imagine her as a title contender in the near future.