Shelter Dresses Pups up as 'Senior Petizens' to Draw Attention to Their Older Dogs
The Flagler Humane Society in Florida thought of a great way to advertise their senior dogs. They did a photoshoot where they dressed the dogs up as adorable 'senior petizens.'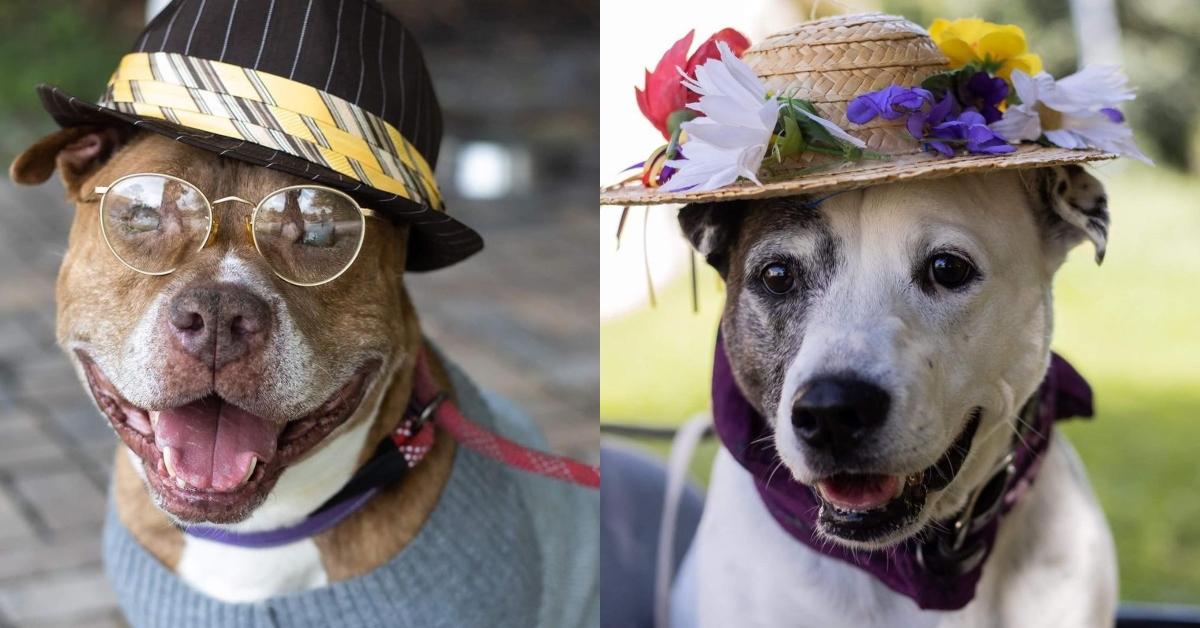 The Flagler Humane Society in Palm Coast, Florida came up with a creative way to showcase their senior shelter dogs in hopes that they find their forever homes. They did a photoshoot where they dressed their older dogs as "senior petizens," and it's insanely adorable.
Article continues below advertisement
FHS posts these photos along with stories and descriptions of the dogs on their Instagram page. Lots of people head to the shelter looking for puppies or younger dogs to adopt, which is why it's so important to spread the word about the senior dogs who deserve loving homes too. And once you see their cute little senior petizen faces, you will want to bring one home.
Article continues below advertisement
This first senior pup's name is Sharpie! In addition to looking very dapper in glasses and a heart bow tie, she's one of the longest residents at FHS. She was found wandering a golf course, scared and sick, but she made a full recovery and is still looking for a family to love her and take care of her for the rest of her days. I mean, how could you resist that face?
Article continues below advertisement
This next bespectacled cutie pie is Bubbles! According to Instagram, "She's a happy, affectionate love bug that could play all day if you're up for it!" She's afraid of thunderstorms (who isn't?!) and might play a little rough with small children, but she's the perfect companion for an active adult. Not to mention, when she sticks her tongue out it's just about the cutest thing in the world.
Noke is clearly such a goofball. This poor pup was returned to the shelter because her owners weren't comfortable handling a big dog like her. But she loves just about everyone she meets and "can easily become one of the most important 'people' in your life." Noke so deserves a second chance with a family equipped to take care of her.
Article continues below advertisement
I don't think you're ready for Uce. Look at this big heartbreaker! He's too cute. According to Instagram, Use is "a fun-loving family dog who doesn't know his own size. Any lap is a good lap to lay on. I will give you all the affection you can handle. As long as I'm with my family I am happy."
That face! Those ears! Both belong to Caliber, a very handsome pup who loves chasing tennis balls and running around in the yard. He has some issues around food and water, so he needs to be fed in his crate, but those quirks are what makes him so lovable! He's a 7-year-old lab / collie mix, but he has the energy of a much younger dog. Plus he looks mighty fine in a turquoise bandana.
Article continues below advertisement
Up next is the weirdly literate Wookie! OK, maybe he can't actually read, but that's OK. I just love his frosty face. Wookie is "a great walking buddy" who plays pretty well with others, both animal and human. "He'd love to curl up at your feet while you read a book," his Instagram entry reads. And there's nothing better than having a dog curled up at your feet while you read a book. Take it from me.
Article continues below advertisement
Karma here is one stylish grandma! This senior pup was brought to the shelter when her owner was moving to a place that didn't allow pit bulls. Although she is considered a senior dog, "she doesn't know it and definitely doesn't act like it. She loves people, she loves walks, she can be sassy and cuddly." She's also absolutely rocking that bright red purse.
You can't get enough of Meatball here. He loves playing with other dogs and looks extremely dapper in a newsie cap. He has a blood disorder that's manageable and easy to treat and doesn't slow him down at all. Meatball deserves a loving home!
Article continues below advertisement
THAT WIG. This stylin' pup is Bambi, who was shy at first but quickly opened up to the staff at FHS. She's a total goofball who loves playing and walking and rolling in the grass.
Kale here might look like a serious professor but he's a lovable pup who still loves to play despite his senior age. His favorite thing, though is lying down and cuddling. "He doesn't require much but a soft bed to lay on, food, walks, and plenty of butt scratches," his description reads. That's my kind of pup.
Last but certainly not least, meet Cloe! She has lots of spunk and still needs lots of exercise, and she doesn't quite get along with other dogs. But she loves people and can't wait to find a forever home with someone who will love her unconditionally and who knows how good she looks in a hat. If you want to adopt one of these adorable senior petizens or help the Flagler Humane Society out by donating, head to their website!