Shoplifter Stopped in His Tracks With Perfectly Timed Soda Bottle Throw
Video of a shoplifter being clobbered by a perfectly placed soda bottle throw has people worrying for the customer who intervened.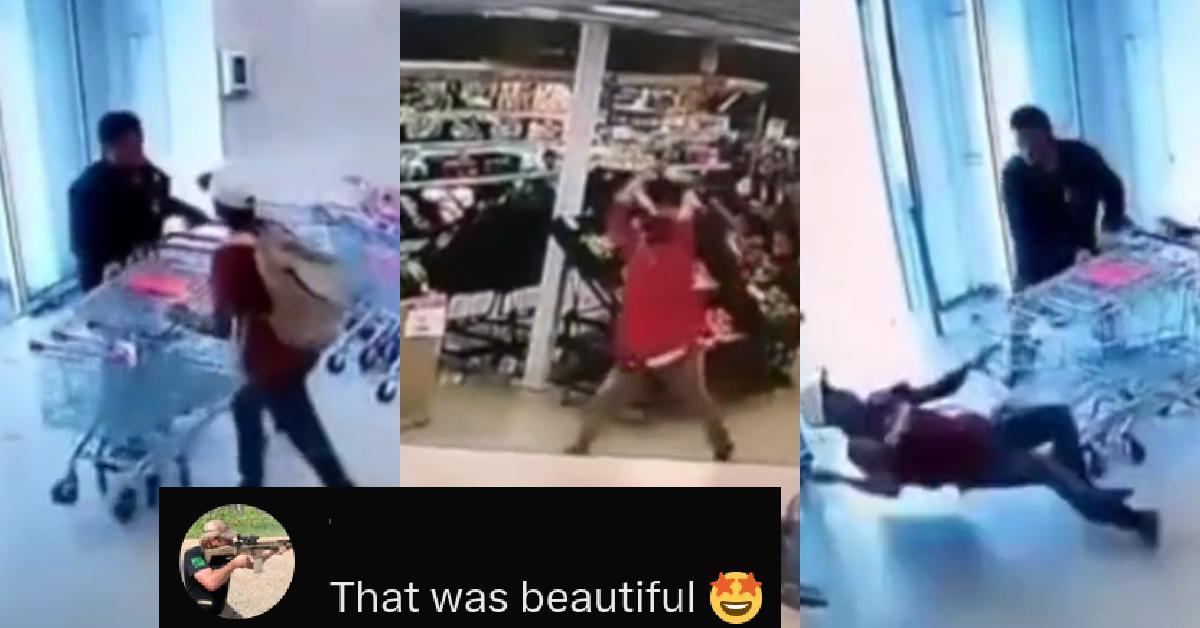 It feels like the world is getting crazier by the day, especially when one sees crimes perpetrated against innocent civilians, like this woman on an NYC subway platform who was beaten so severely by a repeat criminal offender that she was nearly blinded in the attack.
Bystanders largely did nothing to stop the assault, sparking outrage online and likely leaving her with a lifetime of post-traumatic stress as a result of her injuries.
Article continues below advertisement
And in incidents where people do intervene are often met with scrutiny, criticism, and outrage, like the case of Daniel Penny and Jordan Neely.
Whenever physical altercations are involved, even in situations where the aggressor in question is acting belligerently, there's a very real fear on behalf of the person getting involved that they could face legal ramifications for getting mixed up in an altercation that may've not originally pertained to them.
This may very well be the cause for whoever managed to lay out a shoplifter with a bottle of soda in this security camera footage showing a shoplifter being barred from exiting a store by a security guard.
Article continues below advertisement
Article continues below advertisement
In the video, a store guard can be seen using a shopping cart to stop the thief in question from leaving the premises as the two appear to engage in a back-and-forth discussion.
Out of the corner in the clip, a man wearing a red hoodie can be seen several feet away from the shoplifter's right side. They are holding what appears to be a two liter soda bottle above their head in a two handed position.
Article continues below advertisement
They take one step forward and let the soda bottle go and with surgical accuracy, the bottle launches from their hands and smacks the alleged criminal right in the face, a hit that they don't see coming.
Article continues below advertisement
The blow appears to shut the thief's lights out. They go limp and tumble to the ground as if they took a powerful hook from Francis Ngannou that they didn't see coming.
The crook folds like an accordion to the ground, unmoving, as the security guard steps above them and puts them on their back, placing their arms to their sides.
Article continues below advertisement
Replies to the platform on both X and Reddit were multifarious, with several people offering words of praise for the man in the red sweater for intervening and taking the shoplifter out with the bottle of soda.
Article continues below advertisement
"That was beautiful," one person wrote.
"This should be an Olympic event," an X user penned.
"To defeat threats, bravery becomes our greatest weapon. This is an example confronting adversity head-on, literally. Whether the threat is visible or lurking in the shadows, it's our bravery that lights the way to victory. Let's stand strong," another said.
Article continues below advertisement
However, there were also a number of people who feared that the man in the red sweater may face legal action for what they did, as well as the store.
"Unfortunately, the store will probably get sued"
"I hope it wasn't an employee because the guy and the company will probably get their asses sued off. If it was just a random customer, the guy who copped the bottle to the head will have to identify him in order to sue him. Even if it is a regular customer, I'm sure all the staff and witnesses would be like 'No, I've never seen him before in my life,'" another person wrote.
Article continues below advertisement
And the term "epidemic" may not even be hyperbole, either: as Capital One Shopping reported a staggering $100 billion in retail theft has been dealt to companies as a result of mass stealing nationwide, as a result of a staggering 19.4% year-over-year increase in crime.