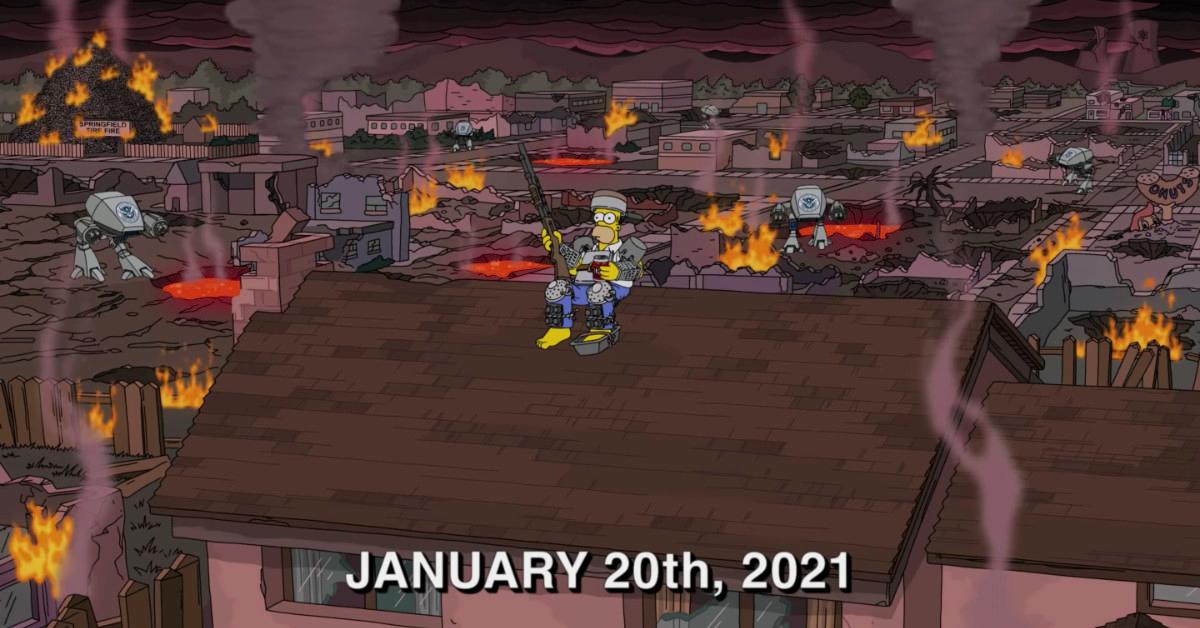 This 'Simpsons' Prediction for 2021 Has Viewers Stressing About What's to Come
Article continues below advertisement
'The Simpsons' depicted a doomsday in 2021.
The Simpsons depicted a grim 2021 in its Nov. 1 episode, "Treehouse of Horror XXXI," its 31st Halloween special. But don't worry: Each Treehouse of Horror episode is meant to be farcical!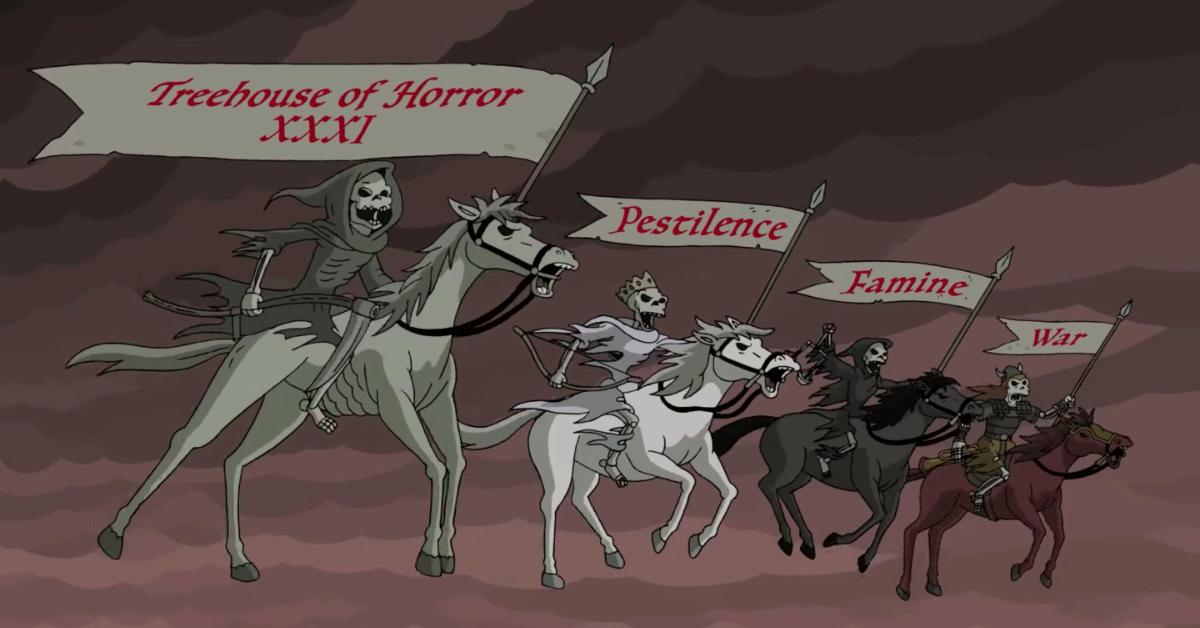 Article continues below advertisement
In the episode's cold open, it's Election Day in Springfield — with one campaign sign supporting "Biden Harris," another pushing for "Trump Putin," and a third urging voters to "Elect Someone Anyone."
Marge tells Homer to get to a polling place if he cares about the three things he cares about most — but instead of picturing his three children, Homer thinks about beer, donuts, and pretzels.
Once Lisa reminds Homer of "everything that's happened the last four years," though, and once Homer envisions a scrolling list of headlines about the Trump administration, he realizes he has to cast his ballot.
Article continues below advertisement
Unfortunately, Homer was only dreaming about voting: He slept through Election Day. And when the action cuts to Inauguration Day — Jan. 20, 2021 — we see that Springfield is an apocalyptic wasteland, with Homer sitting on his roof, wearing makeshift armor and holding a beer in one hand and a rifle in the other. Homeland Security robots roam the town, with one punting the elderly Hans Moleman into oblivion. ("That's what I get for voting for Kanye!" Hans laments as he flies through the air.)
Article continues below advertisement
Finally, the four horsemen of the apocalypse ride into the sky above Springfield, their flags reading "Pestilence," "Famine," "War," and "Treehouse of Horror XXXI."
Fans think 'The Simpsons' also predicted the 2020 election.
On Twitter, Simpsons devotees have also glommed onto a 2012 episode that showed an election map strikingly similar to the 2020 election map.
On the Simpsons election map, some states are red when they went blue in 2020, and vice versa, but fans still think the verisimilitude is eerie. "Bro, The Simpsons really [does] predict everything," one Twitter user wrote.
Article continues below advertisement
Others, however, aren't so convinced. "I mean, it's pretty simple to predict sometimes which of them are liberal or conservative states," one person tweeted. "I don't blame The Simpsons for doing good research."
Article continues below advertisement
'The Simpsons' has made accurate predictions in the past.
As a roundup on The Wrap avows, The Simpsons has accuratey predicted future events in its 32 seasons so far — including Lady Gaga's Super Bowl LI halftime show, Disney's acquisition of 20th Century Fox, Bengt R. Holmström's Nobel Prize win, and Trump's presidency.
But in a March 2020 interview with The Hollywood Reporter, The Simpsons writer Bill Oakley downplayed the show's prognostications.
"There are very few cases where The Simpsons predicted something," Bill told the magazine. "It's mainly just coincidence because the episodes are so old that history repeats itself."