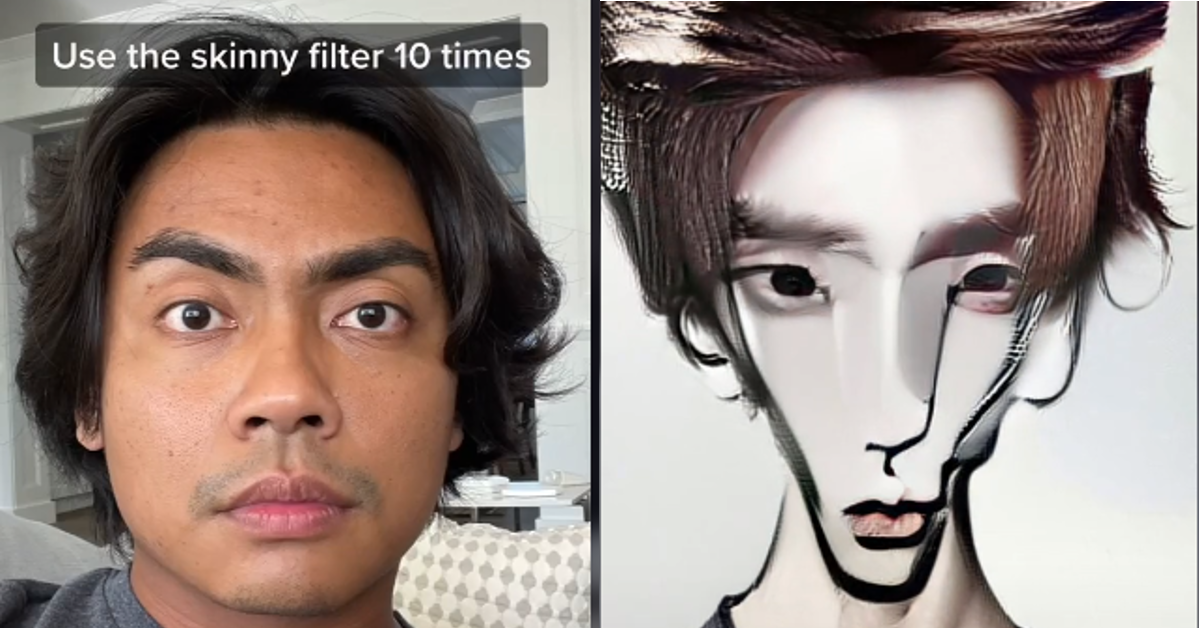 Use the Skinny Filter on TikTok Too Much, and It'll Make You Look Like an Alien
Since the advent of "filters" on social media, more and more people have been able to aggrandize the way they look, or push out a perception of themselves to the world that are a bit at odds as to what they're really like. Although photoshop is nothing new, using a filter makes it much easier to change your appearance, and we're not even talking about the deepfake technology rocking TikTok right now, either. Even something as simple as the "skinny filter" can make a world of difference with someone's countenance.
Article continues below advertisement
TikTok's skinny filter, if used just once, can really change the shape of one's face.
Of course everyone wants to use a camera application that's going to take more flattering photos of themselves, you know, unless they're actively trying not to. It's kind of hard to argue that the skinny filter that's currently trending on TikTok is capable of providing some drastic alterations, something that tons of users are experimenting with. Take a look for yourself.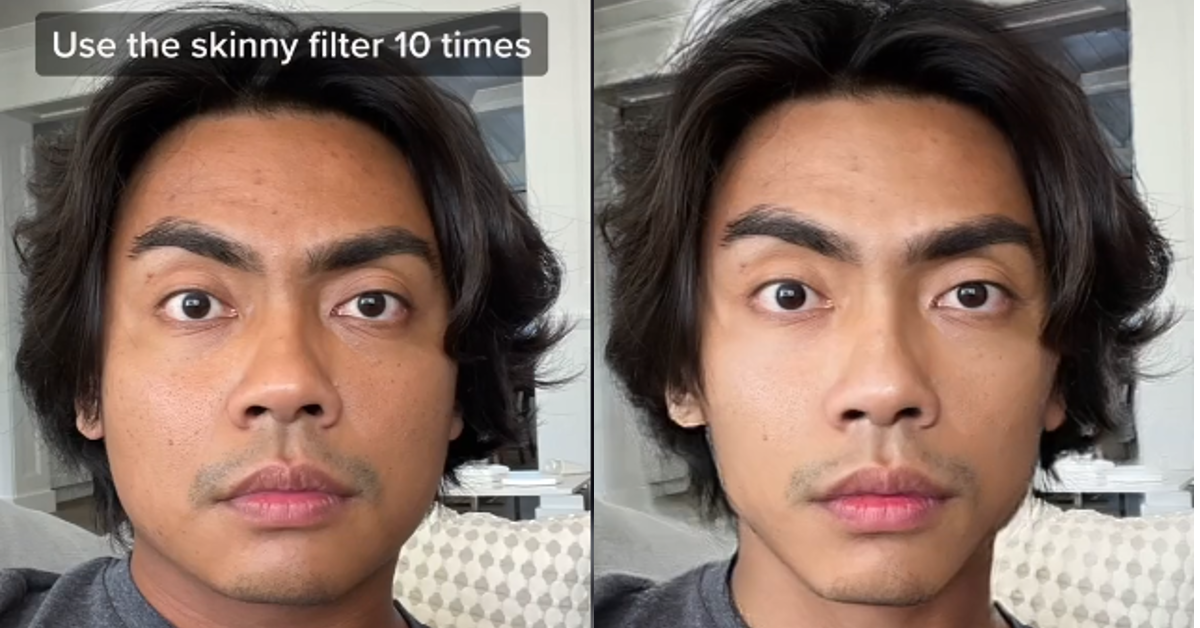 Article continues below advertisement
It's pretty significant, right? If you look closely you can see where the artifice is at work, especially around the lower portion of his face where it appears shaved down to give him a more prominent chin and more established jawline.
He went on to apply the skinny filter a grand total of 10 times, resulting in a very alien-esque looking face.
Article continues below advertisement
How do you get the skinny filter?
Well, it's going to take a little bit of legwork. The first thing you're going to need to do is use the FaceApp's "small face" filter, record a video, and then upload that to TikTok. The thing is, you'll need a "pro account" in order to access the feature, which means that you'll have to sign up for a free trial or subscribe to their services in order to use it.
If it won't bother you too much to do so, then here's what you'll have to do in order to get the skinny filter:
Download the FaceApp application on iOS or Google Play.
Snap a photo of yourself on the app or pick one you already have.
Then you'll get to edit the photo. Select "Sizes" and then hit "Small Face."
From here you'll be able to select your desired filter which is, in our case, the Skinny one.
Article continues below advertisement
There's also a "slim" filter, which can also be accessed via FaceApp. Many users have reported that there really isn't that much of a difference, but then there are others who think it's night and day. Check out these clips below and see for yourself.
Article continues below advertisement
Article continues below advertisement
However there are other filters that people are using that make their whole bodies look skinny, apparently, and it even works for videos. At least, that's according to Twitter.
Article continues below advertisement
There are more than a few people who've taken offense at the skinny filter app folks are using on TikTok.
Folks are claiming that the face-slimming app and others like it are body shaming pieces of tech that can trigger folks. Especially because there is a "chubby face" filter that came out around the same time.
Article continues below advertisement
Article continues below advertisement
There's been a big push against using the "fat" filter on the platform after tons of videos began appearing on TikTok with users uploading the clips for comedic effect.
Article continues below advertisement
It's important to note that these filters aren't "official" TikTok features, but rather users who sign up for FaceApp take photos/videos of the clips using the separate app and then upload them to the platform. Well, except for the "chubby face" filter, because TikTok actually released one.