'Smackdown' Was Filmed in an Empty Arena and It Felt Extremely Strange
The coronavirus is limiting the number of large social gatherings, which meant no audience for 'Smackdown,' but the WWE filmed an episode anyway.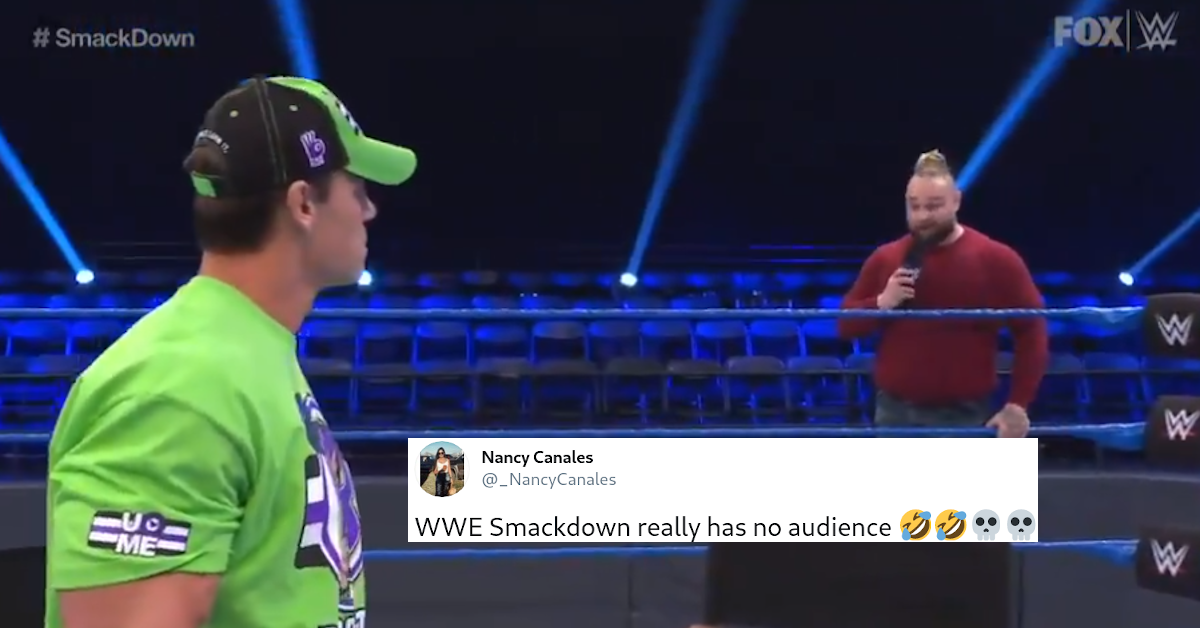 While live sporting events have a way greater reach on TV and internet broadcasts than they do in person, it's still weird to imagine them without the roar of the crowd reacting to the crazy action they're seeing before them. It's strange to not hear the cheers and jeers, or cutaway reactions to people's faces who are witnessing the same feats of athletic prowess that you are.
Which is probably why seeing WWE's SmackDown with no audience present is such a surreal experience.
Article continues below advertisement
'Smackdown' was filmed with no audience due to social distancing.
Pro-wrestling fans had no idea how the organization would go about handling business in the face of the coronavirus outbreak. There were rumors that Wrestlemania 36, the biggest annual event in the world of sports entertainment, would be canceled. Up until recently, the city of Tampa even averred online that the spectacle would still be held at Raymond James Stadium despite all of the restrictions and "social distancing" rulings occurring across the country.
Article continues below advertisement
Insiders with the WWE, however, knew that Vince and co. were coming up with contingency plans and that the Tampa Stadium probably wasn't going to be the final venue for the popular pay-per-view. And it looks like they were right. The 36th annual Wrestlemania will now be broadcast from the WWE's performance center in Orlando, Fla.
But that won't be the first time they're performing without an audience, because they did just that on a recent episode of SmackDown.
Article continues below advertisement
While there were tons of viewers who tuned in to the undeniably strange dynamic of seeing the Superstars perform their monologues and matches that were utterly flabbergasted by why they saw, some gave props to the performers for not letting it hinder their ability to deliver under extenuating circumstances.
Article continues below advertisement
I have to agree, Bray Wyatt entering the ring and interrupting John Cena was brilliant. It's even easier to see how much of a tremendous talent he is without a crowd screaming behind him.
Of course, there were also plenty of people who just couldn't get over what they saw. And it's hard to blame them.
Article continues below advertisement
Article continues below advertisement
I mean, just look at Roman Reigns walkout without an audience cheering him on. He's still walking down the aisle, he's still got the swag, his music's still playing, the lights are flashing... it just feels... off.
What's really crazy though is that Jeff Hardy was slated to make a huge return after almost a year off and when he did... he came out to no audience.
Article continues below advertisement
Of course, others pointed to the "dark" match between Mankind and The Rock, which has been a long-running clip shared between WWE fans once news of the coronavirus broke out.
But there were some fans who pointed out the obvious: how strange it was for the WWE to keep performing as if there was an audience present when other pro-wrestling organizations had better responses to the coronavirus outbreak.
Article continues below advertisement
Article continues below advertisement
Tokyo Joshi Dojo managed to not only implement the virus into their storylines/monologues, but found innovative ways to sell products/merchandise and alter the structure of their matches and how they're streamed/televised. "Street" fights and crowd-free spectacles became the focus.
Article continues below advertisement
That being said, it seemed like a lot of fans were still happy to not only see the show, but some of their favorite superstars get to do what they love for everyone at home. Sure, they might not be doing it in front of a ton of people, but it did allow people to appreciate things they would otherwise miss with the audience distracting them.
Article continues below advertisement
Article continues below advertisement
However, for some pro-wrestlers, it just brought them back to their roots of when they were up-and-coming performers, putting it all on the line with no one in attendance. As a good friend of mine says, "a poet is a poet in every situation," and it looks like the superstars on WWE weren't hindered by the fact there wasn't an audience present to see them perform.
And yes, Triple H absolutely killed it with Michael Cole. Just look below.