"What Is This, a Kitchen for Ants?" — This Teeny-Tiny Kitchen Island Has Folks Baffled
While documenting a house going up for sale, this man pointed out one of its ... selling points? This is for anyone in need of a tiny kitchen island.
I've never bought a house, but I've certainly spent hours scouring websites like Zillow and Trulia pretending I was in the market for one. If I somehow came into a ton of money — calling all anonymous rich benefactors — I would head straight to CIRCA Old Houses so I could buy a Victorian home that comes with a ton of fireplaces. I've always wanted a fireplace in my bedroom so I can fall asleep to its glow over the depressing glow of a cell phone screen.
Article continues below advertisement
There are certain things I look for in every house, apart from fireplaces of course. I want hardwood floors, a porch, crown molding, and a huge kitchen where I will inevitably learn to cook. I'm not as invested in the cooking area as some people are, but I recognize a weird design choice when I see one. And boy do I see one in a TikTok from @Serenityinspect who documented the smallest kitchen island ever. Is this still an island? Surely it's just a rock.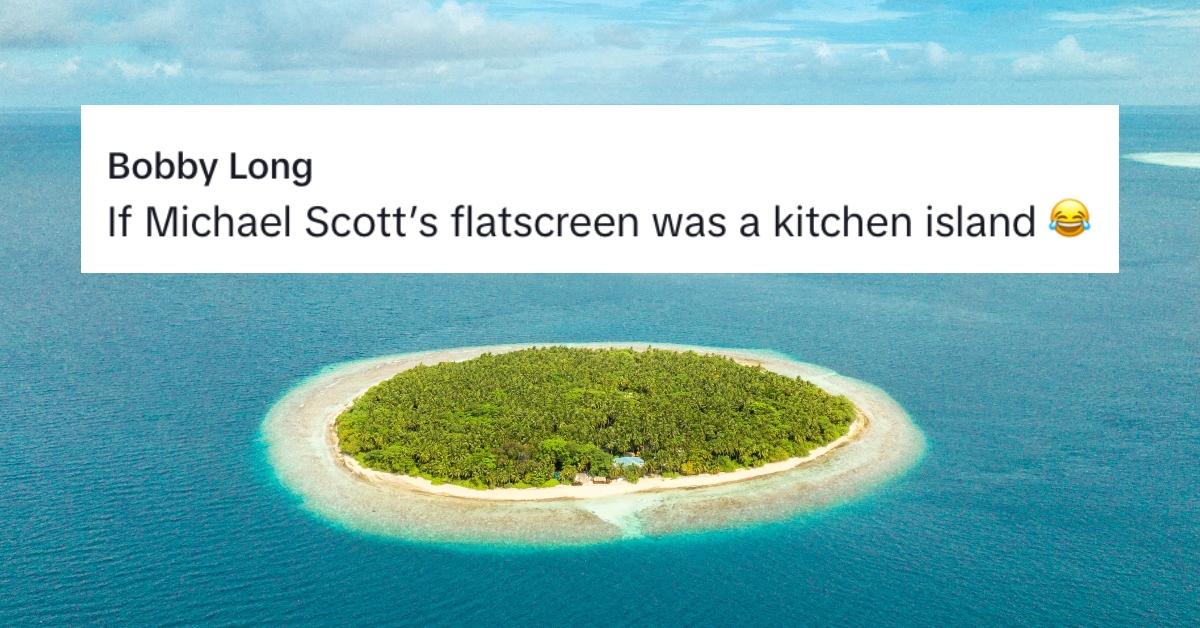 Article continues below advertisement
Blink and you'll miss this wee kitchen island.
As if this situation isn't funny enough, home inspection company @Serenityinspect on TikTok revealed the adorable kitchen island using one heck of a joke setup. "All right, guys, pop quiz," the person holding the camera asks with less intimidation than Dennis Hopper used in Speed. "Can anybody tell me the smallest island in the United States?"
He pans across a perfectly normal kitchen before landing on this comically small kitchen island. At first my eyes didn't clock this as a kitchen island because of its size. As they adjusted, I began to see things were somehow sitting on its miniature surface area. A bottle of wine along with two stemless wine glasses were sitting in a basket. Next to it was a candle and then a remote to something.
Article continues below advertisement
Perhaps the remote is used to control the island's size. With a push of a button, maybe parts of the floor open up to reveal the rest of the island as it rises up to meet what is already visible. Clearly I'm describing an addition to Disney World's Carousel of Progress attraction.
Article continues below advertisement
Out of curiosity, I had to know the actual smallest island in the United States. According to Urbo, Just Room Enough Island is "located in the famous Thousand Islands chain on the United States–Canada border. It's exactly what it sounds like: a cozy little island with just enough room for a couple of inhabitants." OK now where is the Zillow but just for weird little islands? Zislands?
Article continues below advertisement
The comments section of @SerenityInspect's TikTok was filled to the brim with jokes, and rightfully so. Who would do such a thing? What is its purpose? "Will it grow up if I water it," asked one user. One person actually thought @Serenityinspect was referring to Rhode Island. Now that I think about it, Rhode Island isn't an island at all. What trickery is this?
Article continues below advertisement
What are kitchen islands use for anyway?
First of all, let's define a kitchen island. Per Singer Kitchens, it's a "freestanding cabinet which can either match your existing kitchen design or compliment it. A kitchen island can have kitchen stools around it for extra seating, and includes integral storage drawers or cabinets and can be used to house your cooking appliances." By this definition, that teeny island is not a kitchen island.
They were originally wooden farm tables that were used as extra space to prep food or doubled as additional seating for the family. Nowadays they are part design, part storage and are often utilized in an open concept area. (Controversial opinion: Open concepts are terrible and we need to bring back walls and privacy. I don't need to stare at people in the living room while I'm chopping vegetables. They should be helping.)
Article continues below advertisement

Having a weird mini kitchen island is almost as good as the strange things people often find while renovating a house. In the home improvement Subreddit, someone put out a call for people's bizarre findings and I was not disappointed. "During a condo renovation we found a picture and note behind the door casing explaining that the woman who had lived there previously had passed away of sudden illness and asked that we leave her picture behind," said one person. They obliged.
In potential torture news, one commenter discovered their wall was filled with old razor blades. Please help? Apparently this was normal. "I just learned that old medicine cabinets had slots to dispose of razors. They just went right into the wall. That could explain yours," replied a helpful Reddit user. OK but how many walls are currently filled with razor blades?