Woman Shocked by "Insane" NYC Condo Fees: $15,465 Just to Move In, Not Including First Month of Rent
A TikToker delineated the "insane" fees her and her boyfriend were expected to pay from a broker just to apply to live in an NYC condo.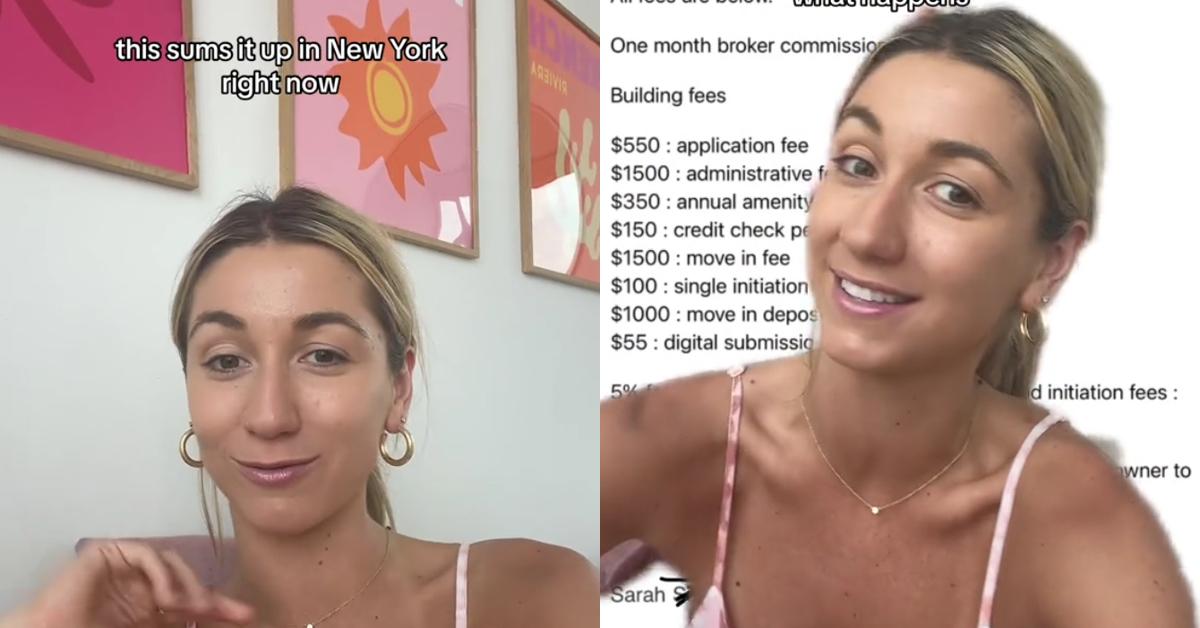 There's a special kind of psychosis that occurs with home ownership associations and building managers for condominiums that sees them take on some type of evil, avaricious persona where they attempt to come up with increasingly ridiculous fees and charges to levy against the residents who purchase units in these living communities.
Article continues below advertisement
Perhaps it's a deep-rooted hatred for themselves that they turn outwards to other members of their species, or maybe it's because there's something about building management that draws folks in who lean towards sociopathic tendencies where they want to inflict as much misery onto homeowners as possible, but there's no shortage of anecdotes from folks who've dealt with HOAs online that detail nightmarish scenarios.
TikToker Piper Cassidy Phillips' (@pipercassidyphillips) run-in with a broker while expressing interest in a New York City condo is one such experience, and she was shocked by the amount of money upfront that was being requested by whoever was brokering the sale of the place she found on Street Easy.
Article continues below advertisement
When all was said and done, in addition to her first month of condo payments, she was expected to pay $15,465.25 just as part of the move-in and application process.
Yeah.
Article continues below advertisement
Piper writes in a text overlay of her clip: "The most insane 'fees' on a New York City apartment I've ever seen." She then dives into the "insane" fee charges she's come across in her video: "$10,000 to get the keys this is not including rent. I need to show you guys, looking for an apartment right now and this was the craziest thing I've gotten."
She said that this experience pretty much sums up what it's like to rent in New York City at the moment. "Me and my boyfriend have been on the hunt for a one-bedroom apartment. And I swear looking for an apartment in New York is like a full-time job," the TikToker claims.
Article continues below advertisement
However, there was one bit of correspondence that stood out as egregiously offensive, Piper said. "[It] made me and my boyfriend actually laugh out loud."
The clip then transitions to showing redacted bits of an email thread that Piper had with whoever was in charge of leasing the place she was interested in living in.

Article continues below advertisement
We'll call this individual the leasing agent, who informed Piper that the place they inquired about was actually a condo and that it took around three weeks for interested applicants to receive approval before they could enjoy the privilege of handing over their hard-earned money in order to live there.
She then went on to list all of the other stipulations that the condo requires for new applicants before they move in: 50 months of active monthly run income, "usually it's 40, but all right," she says, before adding that a one-month broker commission was also necessary for living in the condo.
Article continues below advertisement
This last bit wasn't one that Piper thought was justifiable, as she found the unit herself on Street Easy "I've been searching like hours on Street Easy but I'm paying you 15%? To do what? To do what? Anyway, I know I have respect for people who work in real estate, they hustle but not when I'm doing hustling."

Article continues below advertisement
That wasn't what Piper found to be the most insane part of moving into the Condo, however, "This is where it gets freaking insane. So we already have 15% broker's fee so that's like $10 grand right? Okay, we have building fees. $550 application fee, $1,500 administrative fee, $350 annual amenity fee per applicant, $150 credit check per applicant, $1,500 move-in fee, $100 single initiation fee for board packager, what?"
Piper continued to rattle off charge after charger just for moving into the unit: "$1,000 move-in deposit (refundable) and $55 digital submission fee. Are you freaking kidding me?"
That wasn't all, after all of those fees were tallied up, there was an extra "fee fee" basically tacked on an additional 5% of that total cost just to...pay those fees it looks like?
Article continues below advertisement

The broker showing the apartment through Street Easy then asked Piper if she could come in at 12:20 pm that day, after responding to her email at 11:45 am.
Article continues below advertisement

"If you're looking for an apartment out there, good luck because this is crazy," she says before closing out the video urging folks to keep an eye on her home-finding journey.