"Oh He Smart" — Kid with Unrealistic Christmas List Praised for Genius Gift Request Strategy
A mom recorded her son's unrealistic Christmas list filled with high ticket items, but there were some TikTokers who appreciated his strategy.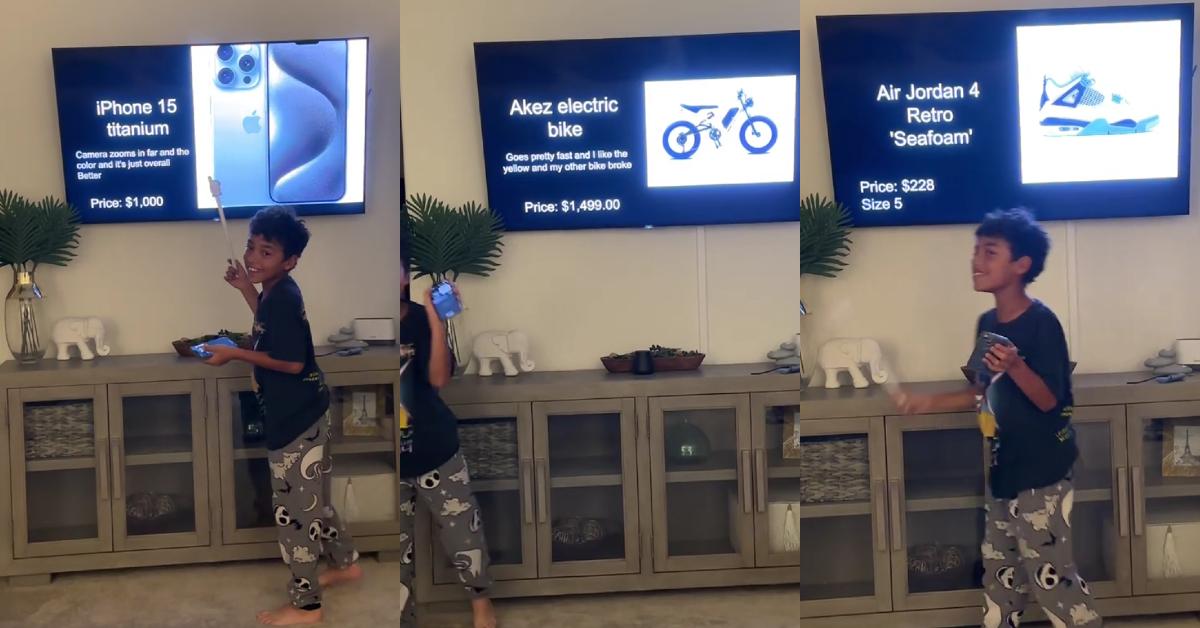 "Ask and you shall receive."
It's one of the most famous quotes from the Bible, which appears twice, in Matthew 7:7-11 and Luke 11:9-10.
According to religious scholars, the meaning behind this particular verse is one that's meant to inspire folks to not hesitate from looking to the lord for what they desire.
Article continues below advertisement
As The Blazing Center puts it, the verse "is a promise of divine provision."
However, as anyone who is very religious will tell you, it's not always a direct transaction — the lord works in mysterious ways and such.
But that doesn't stop folks from continuing to ask for every little thing their heart desires as if they were penning a letter to Santa Clause ahead of Christmas Day and they were just told that there isn't any limit to what they could request.
And in the case of this TikTok user's kid, they certainly treated their Christmas wish list as if there was no cap to what they would be gifted — either that or he took the aforementioned Bible very quite literally.
Article continues below advertisement
A mother named Amanda who posts on the platform under the handle @themandiway accrued a whopping 10.7 million views on the popular social media platform after sharing the ridiculous slideshow of Christmas gifts her son requested for the holidays.
Article continues below advertisement
Amanda writes in a caption for the video: "Yall kids have cute a-- Christmas lists while mine is asking for a $100,000 car he cant drive amongst other things he not gettin lol its the finger pointer for me lol"
The video begins with Amanda's kid smiling as a Dodge Hellcat Charger (which retails for $86,000) lives on the TV screen, he quickly restarts what looks like a Christmas wish list slideshow he's presented for his mother.
Article continues below advertisement
"Okay so just so we're on the same page, this is your Christmas list?" she asks her son who smiles and says, "uh-huh."
She asks him to switch to a slide of the car, however, it would appear that the one he had must've been tricked out beyond belief as he listed the cost of the vehicle at $122,601.

Article continues below advertisement
"Next," she tells him after asking her son if he thinks she's made of money. the next gift is a pair of Spider-Man pajamas that retail for a much more manageable $24.90. Next up is a $32 giant gummy bear he tells his mom she could get off Amazon, but she doesn't seem too thrilled with that request either.
As he rattles off gift after gift in the video, she asks only one minute and thirty eight seconds into the 7+minute video if he's almost done, to which her son summarily says "no," before continuing with his slideshow of desired items.
Article continues below advertisement

The rest of his list is as follows:
Strarbucks Gift Card - $25
White and Black Nike Socks $22
iPhone 15 Titanium: $1,000
Jewelry Chain: $129
AirPod Pro Max Headphones: $549 (he says he needs them for when she's playing loud music in the car)
A variety of different name brand sneakers that range from $200-$400 each pair
A Jordan sneaker poster: $13.99
Mater Crocs: $156
Lightning McQueen Crocs: $90
Article continues below advertisement
Big Red Boots: $532
Electric Dirt Bike: $1,499
BMX Bike: $524.99
Essentials Hoodie
At the end of the list, Amanda's son was sure to include in the last slide his clothing sizes and a specification that if he were to get a hat, it should be a snapback.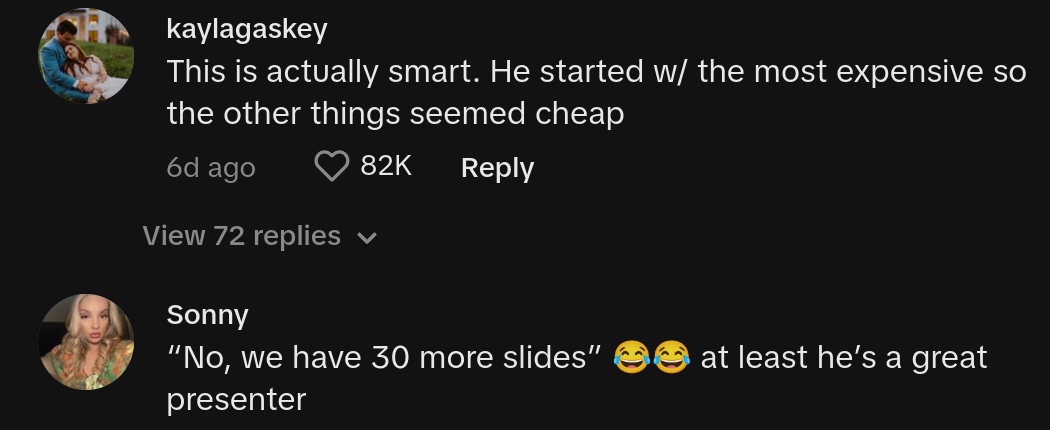 Article continues below advertisement
At the end of the video she jokingly tells her son that the following day she intends on send him to a mental institution because he must be nuts if he thinks he's going to get anything that he mentioned on the list, which she tells him as he cycles through the various types of sneakers he requested.
Several commenters praised the young man's negotiating acumen, stating that it was astute of him to start high with the $122,000 car, that he isn't even legally able to drive, and then instantly segue into lower-priced items such as a pair of Spider-Man pajamas.
Article continues below advertisement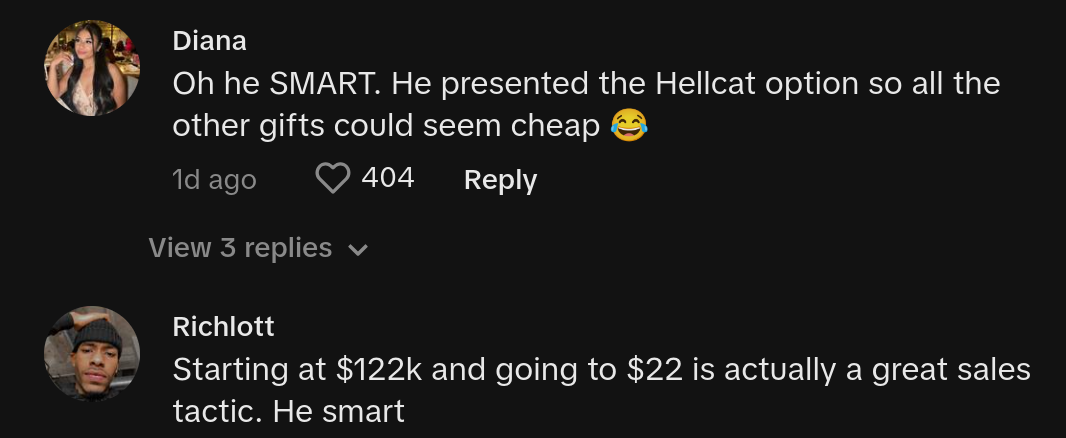 "Starting at $122k and going to $22 is actually a great sales tactic. He smart," one person wrote.
Another quipped, "Oh he SMART. He presented the Hellcat option so all the other gifts could seem cheap"
While there were a lot of people who found the video to be humorous, someone else mentioned how impressed they were by his presentation skills.
So much so that they thought he was going to be a mover and shaker in corporate America in the future: "This kid is going to be the CEO of some company one day… the details of the presentation"