"Y'all Gonna Kill Somebody" — Kroger Shopper Finds Hair Spray in the Olive Oil Aisle
In a now-viral video, a woman details how an Atlanta Kroger store is stocking olive oil hair spray in the same aisle as actual cooking oil.
Unfortunately, grocery shopping has become more complicated with the ever-growing economic changes.
If you've been to your local grocery store this year, you've likely noticed that the shelves in multiple aisles are emptier each month, with many food items not having enough supply to stock the establishment.
In addition to food shortages, the supply of beauty and haircare products has decreased. Brands aren't producing as much as they once were.
Article continues below advertisement
It's easy to blame the economy for the lack of hair essentials, but one grocery shopper recently shared on TikTok that something else may be another reason why products are so hard to find. While searching through her local grocery store, she shared that some of its stock employees lack skills in doing the bare minimum — like deciphering between olive oil and hair spray that CONTAINS olive oil and a wide range of chemicals.
Keep reading for the bizarre health violation!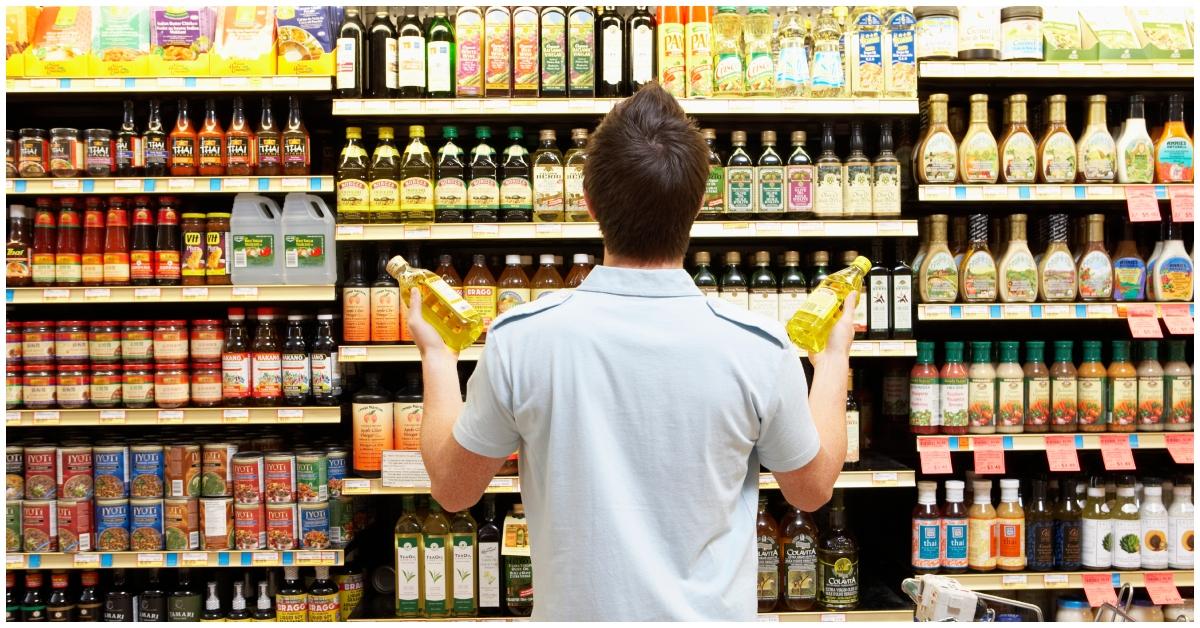 Article continues below advertisement
A woman found tons of hair spray stocked in the olive oil aisle at her local Kroger store.
Sometimes, it's great to get a second opinion if your decision can harm others. Hair spay obviously isn't food and shouldn't be stocked in the same aisle at a grocery store.
In October 2023, a TikToker named Big T (@xoticshadez) showed how negligent her local Kroger was in Atlanta, Ga. While walking through Kroger's olive oil aisle, where you can find various olive oil, she noticed one type of spray cans that didn't belong.
As Big T zoomed in on the shelf, several ORS olive oil spray cans appeared. ORS, short for Organic Root Simulator, is a haircare company specializing in Black hair. ORS's hair spray does contain olive oil to condition a consumer's scalp and give their hair some extra shine. However, it is NOT suitable for anyone's stir-fry, as Big T explained when she scolded whoever was stocking the aisle that day.
Article continues below advertisement
"Whoever is working at Kroger, I'm gonna need them to learn how to do their job," Big T said in her video. "This is hairspray. Y'all gonna kill somebody."
Article continues below advertisement
Big T's warning to Kroger's employees was only for us in the audience to hear. On Oct. 7, 2023, one day after her first video, the woman returned to the Kroger store and told us that ORS's spray was still there and had multiplied!
Big T turned the camera to two rows of multiple ORS hair spray bottles interwoven with the actual cooking oils. The day before, there were only two bottles, and they were going fast. Yikes!
Article continues below advertisement
TikTokers were disgusted by the placement of ORS hair spray products in the olive oil aisle.
After realizing that Kroger's stockers could potentially harm hundreds of shoppers with its olive oil hair spray misplacement, Big T questioned if she should tell Kroger what was going on so they could avoid getting more people sick.
Article continues below advertisement
Big T didn't share in her video if she brought the issue up to anyone at Kroger. However, she did mention that the mistake was "sad as f---" and I couldn't agree more.
Article continues below advertisement
The grocery store may still be infecting an entire community with its negligence. And it could've been prevented by the stocker simply paying attention to their actions. We aren't asking that the employees be versed in Black hair or even hair products in general, but we are begging these people to read the labels before stocking.
Hopefully, Kroger has already realized the error of their ways and is taking steps to ensure the mistake doesn't happen again. In the meantime, many commenters scolded the store, admitting they could've been a victim of Kroger's error.
Article continues below advertisement
"No, this is actually crazy," one user wrote.
"Wait, that's actually so dangerous," another said.
"The way I wouldn't tell and wouldn't like, 'oooo that's cute packaging' and then be ☠️," a confused commenter said.