"We'll Continue to Disappoint You" — Daughters Confess Things That Have Happened Since Their Mom Died
After their mom passed away a little over a year ago, two sisters recorded themselves confessing some things that have happened since she died.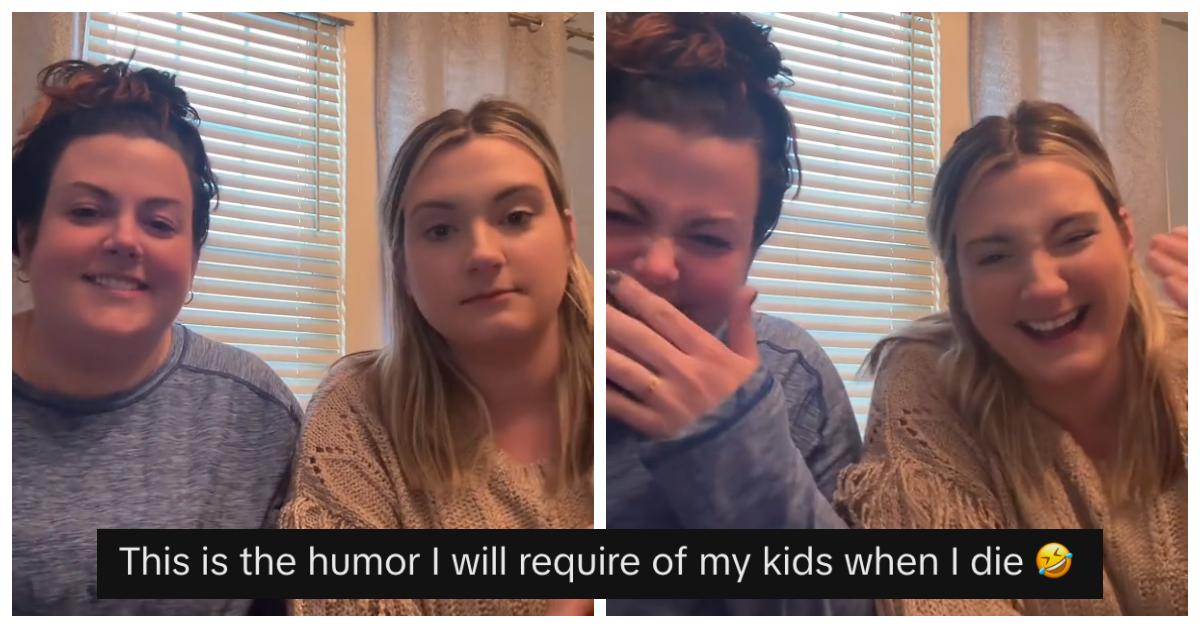 As we all know, everyone experiences grief differently; there's no rule book on how someone is supposed to deal with significant loss. Some people spend their days in complete agony, while others — including these two hilarious sisters on social media — learn to smile and laugh again.
Article continues below advertisement
On Nov. 4, 2023, TikTok creator Sara Lauren (@sarawollner) and her sister, Katie, recorded themselves confessing a few things that have happened since their mom passed away. And honestly? I hope she got a kick out of this!
Read on for the full story, and stick around to hear what the internet had to say about their confessions.

Article continues below advertisement
Two daughters confessed a few hilarious things that have happened since their mom passed away.
"So, our mom died a little over a year ago, and these are some of the things that we'd like to confess to her that have happened since she died," Sara explained before she and Katie delved into their hilarious confessions.
First things first, the girls didn't know they had to file their mom's taxes. OK, that's actually pretty bad — but I would like to assume that many people never knew this either until right now!
Article continues below advertisement
Katie then disclosed that she didn't know she needed to get her own car insurance policy. She added that she drove an "uninsured car for seven months and then suspended your license plate and mine."
"I couldn't drive either car with either license plate," Katie revealed, while Sara noted, "We know you had the same license plate for years. So RIP to AZK, whatever the numbers were, and to you."
Article continues below advertisement
Sara then confessed to her late mother that she "got the stomach virus so bad I missed Megan's baby shower." Katie told her mom that she had to throw the shower all on her own. I threw a baby shower not too long ago, and I'm not kidding when I say it's one of the most stressful things ever.
"I tried to do a charity walk for cancer, and I couldn't finish it. I think I broke my foot," Katie shared while wheezing with laughter. Sara then told their mom she didn't cry at her funeral because she was so pregnant. She explained, "If I cried, I would have thrown up."
In the end, the girls agreed that they will have "lots more" confessions to make to their deceased mom. Katie jokingly concluded, "We'll continue to disappoint you as time goes on."
Article continues below advertisement

TikTok users said Sara's video put a smile on their faces.
Sara's video has been viewed more than 17.8 million times and counting as of this writing; it also received over 32,500 comments from many fellow TikTokers who shared that this clip helped them cope with grief and loss.
"My mom died in April," one person said. "Thank you, I needed this laugh. (Note to self: file her taxes next year)."
Article continues below advertisement
A second TikTok user wrote, "I lost my mom over a year and a half ago, and I've been very depressed, BUT seeing this video and your perspective is so refreshing and heartwarming."
"I don't know how the algorithm knows I'm coming from my mom's funeral, but I needed this," a third user shared.
Another person commented, "My mom passed on October 15th, and I hope to be able to laugh like this soon! My mom was always smiling and laughing! She would love this!"
Article continues below advertisement

"Lost my mom just over a year ago and this made me laugh so hard," someone else responded. "Reminds me to laugh through the sorrow. Thank you!!"
An actual mom also shared her appreciation, stating, "You two are awesome. She is beaming in heaven."
Article continues below advertisement
Sara said humor has helped her and Katie cope with the loss of their mom.
Distractify reached out to Sara for comment, and she responded, "My sisters and I were so lucky to have had the most amazing relationship with our mom — I think the humor & realness in the video is a reflection of that. She is certainly laughing along with us (and probably shaking her head). I truly think everyone's grief journey is different, but humor has helped us cope tremendously."
As for helping others cope with grief, Sara said she "can't believe the outpouring of support we've received. Losing a loved one, especially a parent can be so isolating so to know we are touching so many people & making them laugh means the world to us. Don't worry, we'll have plenty more confessions to come!"