Bride Records Tearful Messages for Mom Missing Her Wedding Day
Jessica Berrier had no idea that her mother would get into a terrible accident on the day of her wedding. Determined to share the day with her mom, Jessica got creative.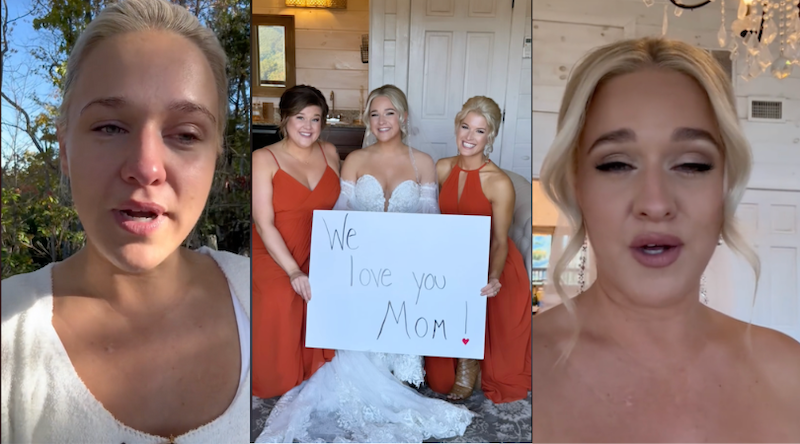 So many young girls grow up dreaming about their wedding day. They imagine getting ready with their closest friends, walking down the aisle on the arm of their fathers, and sharing "something old, something new, something borrowed, and something blue" with their mothers.
It's a day filled with anticipation, love, and the joy of celebrating with family.
Article continues below advertisement
Life sometimes takes unexpected turns, and for Jessica Berrier, her wedding day was marked by a sudden and severe accident that made it so that her mother would not be able to be by her side on her wedding day.
But what set Jessica's story apart is that she refused to let this devastating twist of fate deter her from sharing the intimate moments of getting ready for her wedding with her beloved mother.
This bride found a creative way to include her mother on her wedding day.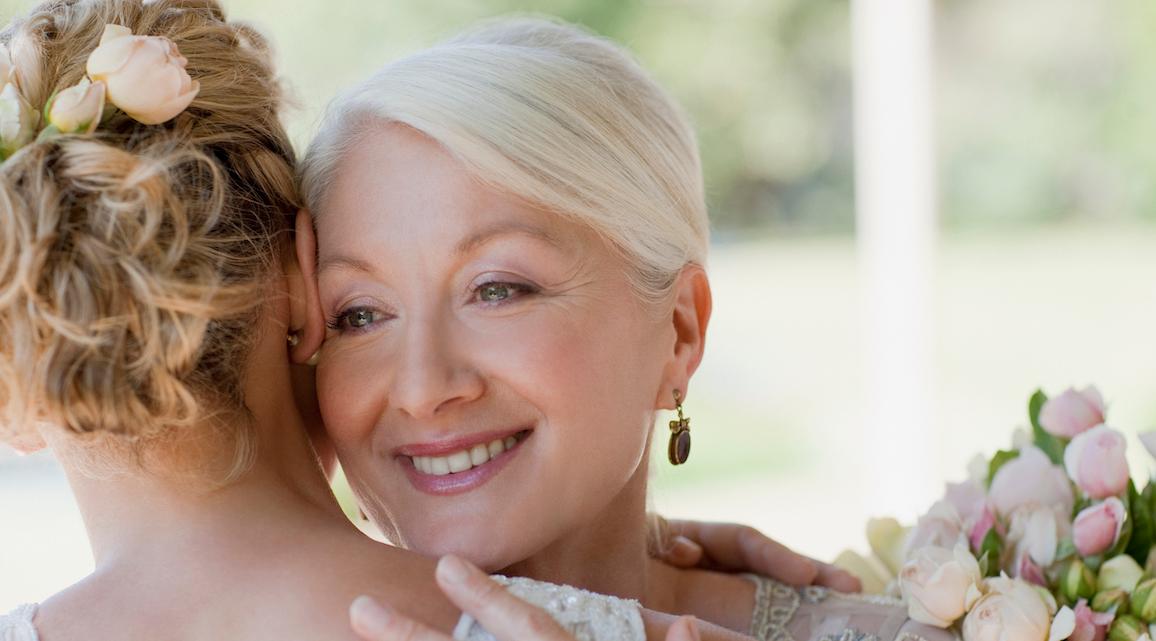 Jessica's touching journey unfolds in a TikTok video that captured hearts and drew viewers into a poignant and emotional story. Her video opens with a tearful message to her mother, setting a tone of raw emotion and love.
Her eyes glisten with tears as she says, "Hi Mom, good morning. It is my wedding day." The weight of the moment is palpable as she continues, "I miss you, Mom."
Article continues below advertisement
As she takes a deep breath, Jessica's voice quivers, "Hi Mom, I am about to walk down the aisle. Everyone just left the bridal suite, so it's just me. I'm a little bit nervous, but I just want to say how much I love you and I miss you, and I wish you were here."
The genuine emotions displayed in Jessica's message resonate with anyone who has experienced the absence of a loved one during a significant life event. She goes on to say, "But I also know that you would want me to have a great day."
Article continues below advertisement
Jessica's message captures the bittersweet essence of a moment where happiness and sorrow intertwine. She continues, "I can't wait to watch all the videos, and share pictures, and come home and try on my dress for you."
The video not only portrays the deep bond between a mother and her daughter but also highlights the resilience of the human spirit. In a moment of vulnerability, Jessica shares her wedding day in a way that her mother can be a part of, even from a distance. Her willingness to open up and share her emotions through social media provides comfort and inspiration to others.
Article continues below advertisement
The internet pours out love for Jessica.
This touching TikTok message resonated with viewers far and wide, with countless users expressing their support and empathy.
One user commented, "I can only imagine how hard it was not having her physically there. Your love for her shines through the videos, and I hope she loves them ."

Article continues below advertisement


Article continues below advertisement
Jessica's response further underscores the emotional significance of the day, as she replied, "It was so hard, but we're hoping we can do a second ceremony at some point for her."
In a later video, Jessica posted her first dance with her husband, capturing the joy and love shared between the newlyweds.
Article continues below advertisement
Jessica shares an update on her mom's health.
When commenters asked about her mom, Jessica gave an update, saying, "She's currently in rehab with a tentative discharge date closer to the holidays for in-home care. Thank you for asking!"
This update brings a glimmer of hope to the story, as it suggests that Jessica's mother is on a path to recovery and may soon be able to share in the joys and milestones of her daughter's life. The support and well wishes from viewers have undoubtedly played a significant role in offering solace and encouragement during this challenging time.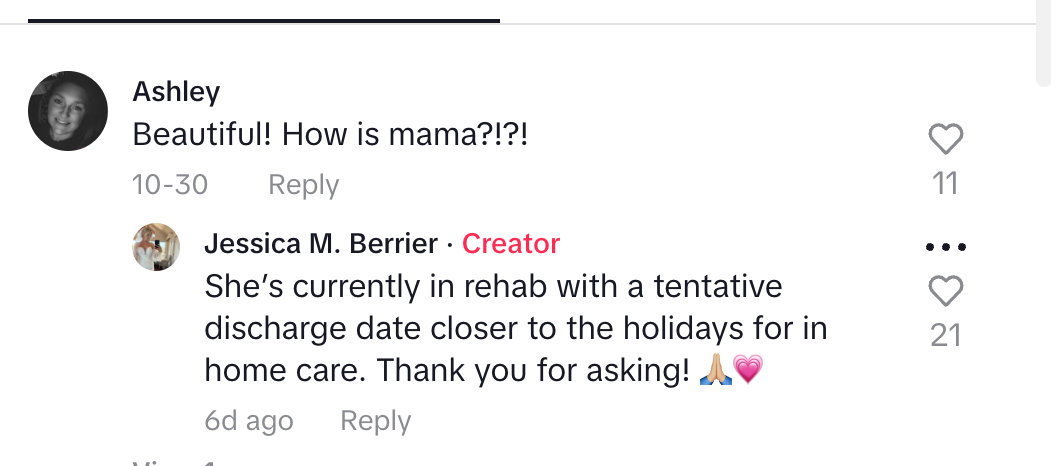 Jessica Berrier's TikTok journey is a heartwarming testament to the strength of the human spirit, the enduring bonds of family, and the power of social media to connect people in times of joy and sorrow.
Her story will continue to inspire and touch the hearts of those who follow her, and we are all looking for an update when her mom gets out of rehab!