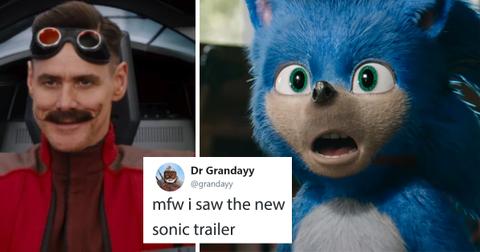 'Sonic The Hedgehog' Trailer Gets Blasted Online for Looking Terrible
By Mark Pygas
This year is going to be a great one for live action movies. Whether it's The Lion King, which looks amazing, or Aladdin, there seems to be no shortage of blockbuster movies to choose from. Unfortunately, we're also getting a live action movie that no one asked for: Sonic the Hedgehog. The film, a joint American–Japanese joint venture between Paramount Animation, Original Film, Sega, Blur Studio and Marza Animation Planet, is set to release on November 8, 2019.
Starring the likes of Ben Schwartz, James Marsden, Tika Sumpter, and Jim Carrey, fans just got their first look at the movie as the official trailer released this morning. You can check it out below.
Fans are understandably apprehensive, considering that the video game the franchise is based on has a mixed record. Though most were quick to point out Jim Carrey as the film's antagonist, Robotnik.
"Dr. Robotnik look like a dude who made an unpopular new wave concept album about max headroom after he got kicked out of devo," one user wrote.
While another added: "Jim Carrey Robotnik looks like he and his wife trawl Tinder in search of 'a third troubador to join us for schnapps and decadence in our Steampunk Boudoir.'"
But this comparison probably hurts the most.
Others were more freaked out by our hero, Sonic. "Sonic looks like the kid that turns into a monkey in Jumanji," a user added.
While another Twitter user predicted bad reviews for the movie. "So I guess YouTube Rewind wont be the most disliked video on YouTube now the new Sonic movie trailer has dropped," they wrote.
Others are going to need a therapist after watching the trailer.
Why does he looks so weird?!
It's probably got something to do with those human teeth.
"It seems likely that the live action Sonic was intricately designed to be as horrifying and meme-worthy as physically possible," one user concluded.
Hopefully it ends up being better than it looks.