Stanley Tucci's Elderly Parents Stole Our Hearts on 'Searching for Italy'
Stanley Tucci's elderly parents joined him for a special trip recently on 'Stanley Tucci: Searching for Italy'.
Actor and filmmaker Stanley Tucci is taking fans on a new leg of his journey on this season of Stanley Tucci: Searching for Italy. The CNN food and travel series features Stanley travels through Italy and treats us to the history, culture, and of course – food – through the country's different regions.
While the Emmy-award winning star was born in Peekskill, New York, his Italian roots run deep – as his elderly parents, Joan Tropiano, 86, and Stanley Tucci, Sr., 92, both stem from Italian descent. Get to know more about the proud mom and dad here!
Article continues below advertisement
Stanley Tucci's parents have roots in the Italian town Marzi.
The Calabria region is located in southwest Italy, in the "toe" area of Italy's "boot-shaped" peninsula. The area is known for its mountain views, villages, and coastline – which boast many famous beaches.
Stanley and his parents visited the area together.
"It was very emotional," he previously told CNN about their time there. "You know, my dad is 92, my mother is 86, and they never thought they'd go again and see those people again, and we were able to make it happen. They had a great time, it was very moving."
Article continues below advertisement
They aren't the only Tuccis in town, either.
Stanley joked on this season's premiere episode about the commonality of their last name in Calabria, quipping, "As it turns out, being a Tucci isn't that remarkable over here. Over half of Marzi's population shares our name, which turns out to be a big problem as my dad wants to find his father's house."
Joan and Stanley Sr. both worked jobs outside of showbiz.
Joan worked as a writer and a secretary, while Stanley worked as an art teacher.
Article continues below advertisement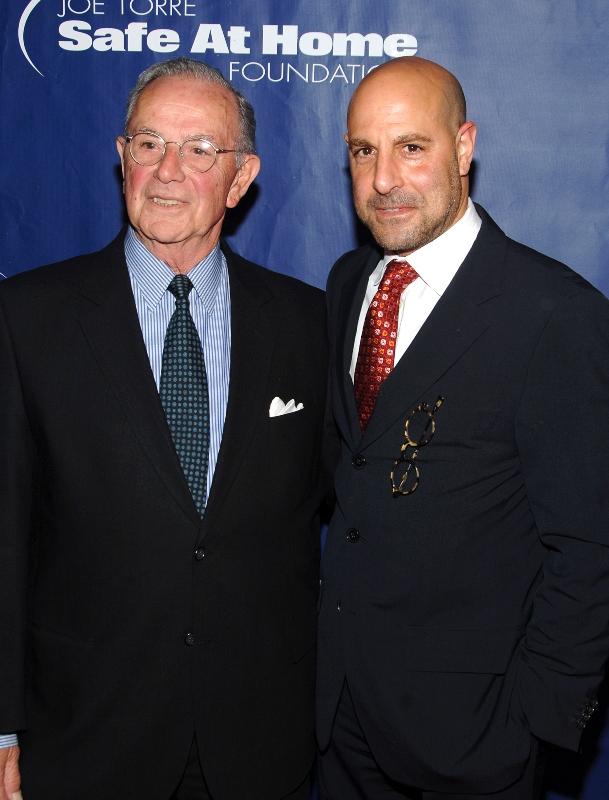 They also have two daughters.
In addition to their son, Stanley, Joan and Stanley Sr. are the proud parents of Christine and Gina Tucci. Christine has held roles in Six Feet Under, Another World, Chicago Hope and Prince Street, among many more since she stepped on the scene.
Article continues below advertisement
And that's not all – they're grandparents!
Joan and Stanley Sr. are grandmother and grandfather to Stanley's children – daughter Camilla and twins Nicolo and Isabel, whom he shares with his first wife, Kathryn Spath, who passed away in 2009 from breast cancer. He also shares son, Matteo Oliver, and daughter, Emilia Giovanna, with his now-wife, Felicity Blunt.
They are also grandparents to daughter Christine and her husband, Vincent Angell's little boy, however his name has not been made public. It is also unclear if Gina has any children.
Article continues below advertisement
Stanley does, however, boast quite the star-studded family.
Stanley married Felicity in August 2012 after being introduced by Felicity's sister, actress Emily Blunt, at The Devil Wears Prada premiere – the 2006 comedy in which they starred as Emily and Nigel, respectively. This in turn makes him brothers-in-law with Emily's husband, John Krasinski. Stanley also has another brother-in-law you may have seen around before; his sister Christine's husband, Vincent starred in Californication and The Blacklist.
Stanley Tucci: Searching for Italy airs Sunday nights at 9 p.m. on CNN!