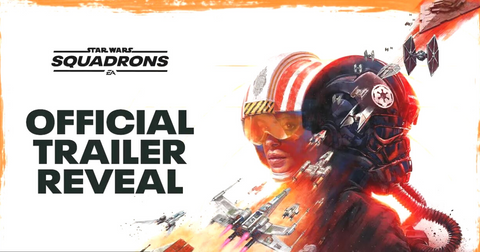 New Star Wars Game Info Leaked Ahead of Its Release Date
By Devan McGuinness

Updated
There are a few things in life that get people all riled up in a good way. We get excited for good weather, celebrity news, and game releases – whether they're official or just rumors. For Star Wars fans, there was some build up of excitement on June 12 as a new game's name, Star Wars: Squadrons, was leaked as the next release coming from EA.
'Star Wars: Squadrons' name and artwork were leaked.
Everyone loves to come across insider information about an upcoming game release and for fans of the Star Wars franchise, the news that EA, the video game company, was getting set to release a new game was exciting.
According to Games Radar, Star Wars: Squadrons name and artwork was leaked ahead of the official announcement. And the leak was an error that fans noticed right away.
"The top part of the Xbox.com homepage briefly featured a highlighted spot for Star Wars: Squadrons, as spotted in this tweet from Gematsu," Game Radar wrote. "The pre-order button on the site led to a broken page with "star-wars-squadrons" in its URL, and the art shows a Rebel and Imperial pilot surrounded by their respective forces flying into combat against each other."
Looking at the photo and seeing the artwork, it appears the new game is going to be set in the time of the Rebellion and will feature space and air battles.
'Star Wars: Squadrons' name used to be 'Star Wars: Project Maverick'.
Game Radar reports an anonymous source said that the initial project title for the new Star Wars: Squadrons name was originally called Star Wars: Project Maverick, likely a temporary name given to those who were working on the project.
"The sources say that Squadrons is about piloting iconic Star Wars ships in aerial and space battles, with both a single-player campaign and multiplayer modes," the gaming site reported. According to what they've written, they don't expect this new game release to be as big of a game as others in the Star Wars franchise.
EA made their official announcement of the game name and artwork.
Likely as a result of the oopsie reveal on the Xbox homepage, EA company released their own teaser sharing the new Star Wars: Squadrons name and the initial artwork. Tweeting, "Pilots Wanted. Tune in for the reveal trailer of #StarWarsSquadrons this Monday, June 15th at 8:00 AM Pacific Time."
The company's tweet also included a link to the upcoming premiere trailer video set to launch on YouTube.
Fans took to the company's Twitter announcement and shared their excitement for the upcoming trailer.
"CAN'T WAIT!!" one person tweeted in response.
"LETS GOOO," another wrote while including a GIF of Yoda dancing.
"Oh yeah!!! X-Wing vibes," said another fan.
Of course, with any new video game release, there are people who are slightly disappointed having hoped there would be more details to get excited about or had hoped for the game to go another direction. Either way, most fans will probably be holding their breath until the trailer release.