How to Order Starbucks' Joker Frappuccino for a Not-So-Serious Pick-Me-Up
In honor of the release of the new 'Joker' movie, a new Starbucks drink called the 'Joker' Frappuccino has emerged from the chain's "secret menu."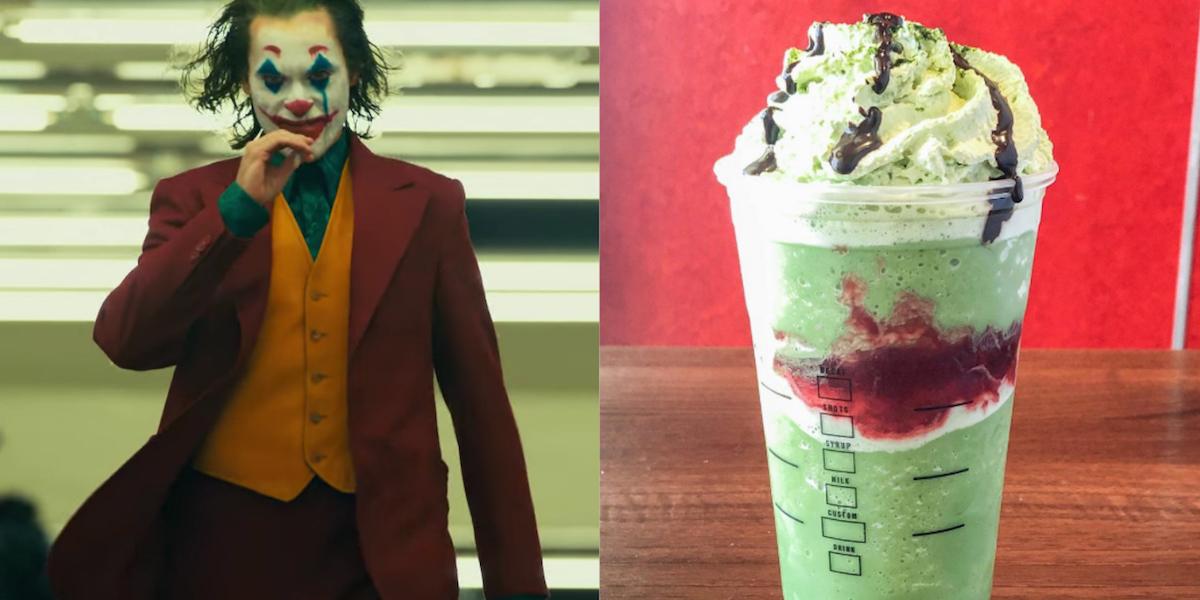 If you haven't already seen the movie Joker, I won't spoil it for you — in short, it depicts the tragic backstory of the demonic villain who you've come to know and love. The titular role is slayed by none other than Joaquin Phoenix.
Article continues below advertisement
Now, there is definitely no denying the film focuses on a heinous villain. But against all odds, a hero emerges — namely, the Joker Frappuccino from Starbucks. In all seriousness, one might say it's to die for.
Here's how to get your Starbucks Joker Frappuccino.
Article continues below advertisement
Similar to ordering other "secret menu" drinks, you will be required to tell your barista how to make the Joker Frappuccino, as it isn't on the main menu. However, as long as there isn't a long line, you should be good to go.
Start out by asking your barista to draw a smile shape on the inside of your Tall, Grande, or Venti cup. No real blood is required — all you need is a little strawberry syrup. Then, have them fill it with all the ingredients of a Matcha Green Tea Creme Frappuccino.
Once your cup is filled just below the brim, ask them to mix matcha with whip for the topping and add it to the top, along with a generous chocolate drizzle.
Take a look at what your drink should look like, below.
Article continues below advertisement
So, what did I tell you? Doesn't it simply put a smile on your face? And aside from perfectly emulating the creepy character, this creamy tea-based beverage probably tastes pretty incredible.
10/10 would order one of these, no doubt about it.
Article continues below advertisement
If those aren't your flavors of choice, however, there are other Joker Frappuccino recipes.
Instagram user @BiziNatch came up with one that boasts a Vanilla Bean Frappuccino mixed with strawberry purée, mocha sauce, and matcha powder on top. Yum.
Another Instagram user, @KerbiP, also posted another variation of the drink that looks a little different, from the other two, but appears to contain somewhat similar ingredients.
In reality, as long as you have the green, white, and red coloring in your cup, you're all set.
Article continues below advertisement
I'm well-aware that the Joker isn't a force to be reckoned with. However, a hauntingly delicious Joker Frappuccino is right up my alley.
With that slime green coloring and the signature devilish smile, this is truly the Instagrammable sip I want — and quite honestly need — on a regular basis. BRB... it's just about time for my coffee break, and I already know what I want.