These TikTok Drinks From Starbucks Are the Perfect Pick-Me-Ups
Whether you're bored of your regular Starbucks order or you're simply looking for a midday pick-me-up, these Starbucks TikTok drinks are unbeatable.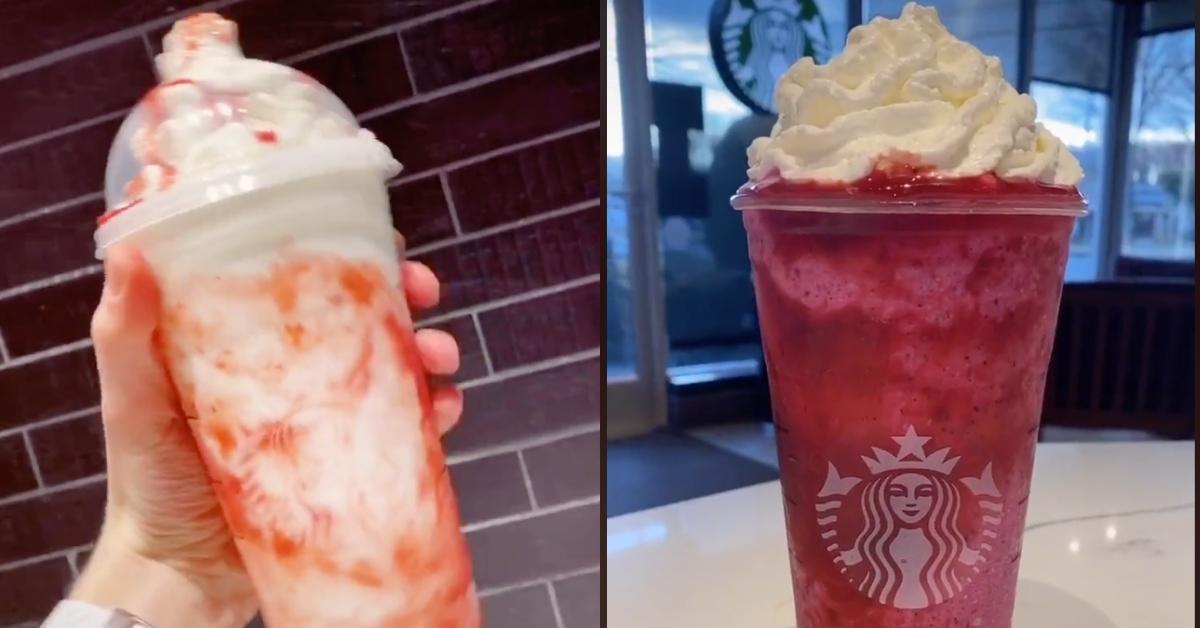 TikTok's famous hacks have gone far beyond easy-to-make breakfast sandwiches, regrowing vegetables, and makeup tricks. Now, the short-form video platform is seriously revolutionizing your daily coffee run with several mouth-watering TikTok drinks from Starbucks. These brand-new beverages are about to completely change your go-to order.
Article continues below advertisement
Strawberry Acai with Lemonade
This one is seriously simple and won't infuriate your barista with overly complicated instructions. Simply order a Strawberry Acai Refresher, and ask for it to be blended twice with lemonade. The result tastes like the epitome of summer vacation, and it's seriously Insta-worthy.
The famous TikTok Drink
By now, you've most likely heard of the infamous TikTok Drink, which has gained tremendous notoriety for being difficult to make (but also for being extremely delicious!). It consists of a Grande Strawberry Acai Refresher, which is blended with lemonade, three scoops of strawberries and three scoops of dragon fruit.
Article continues below advertisement
The Queenie Frappuccino
Treat yourself like the queen you are with the Queenie Frappuccino. Blending a Vanilla Bean Frappuccino with three scoops of dragonfruit, strawberry puree, and whip on top, it's the sweet, decadent drink you deserve, and most likely crave on a regular basis.
Article continues below advertisement
Johnny Fitz Simmons' chocolatey drink
TikTok user @johnnyfitzsimmons is the mastermind behind this chocolatey drink — it combines a chocolate chip Frappuccino, and replaces java chips with cookie crumble chips. Then, add a shot of espresso for extra energy, caramel drizzle, a pump of hazelnut, and extra mocha on top. Between a caffeine high and a sugar rush, one of these babies will keep you energized for the rest of the day.
Article continues below advertisement
Noah's Drink
One of TikTok's all-time favorite baristas, Noah Oberg, created his own specialty sip that has since been named "Noah's Drink." It evokes the taste of a Strawberry Raspberry Lemonade, and according to him, it's tasty enough to order a Trenta. Ask your barista to combine seven pumps of Classic with 2.5 pumps of raspberry, lemonade, and ice. Shake it all together, and leave a little room for Strawberry Acai, which you'll pour on top.
Article continues below advertisement
The 'It' Frappuccino
Horror enthusiasts will absolutely love this drink, which is a frightening ode to the Stephen King classic. Ask your barista to fill your cup to the first line with milk, add vanilla bean powder and ice, as well as a cream base. Blend it all together before pouring some strawberry puree in the bottom of the cup, then add the mixture, add more puree, top it off with whipped cream, and finally, drizzle it with even more puree. Put the lid on, and prepare for a spookily delicious sip.
Article continues below advertisement
TikTok has come up with some seriously incredible (and some seriously weird) life hacks, but we know these are about to come in handy. With so many new drinks to try, we're about to be constantly caffeinated (and maybe a little short on change). Remember to always tip your baristas extra when ordering these, though, because off-menu orders require some extra effort on their end.