Man Breaks Down How Car Thieves Steal New Vehicles, and How to Stop Them in Their Tracks
A TikToker broke down just how car thieves are using strange looking equipment to intercept your key fob signal to steal newer vehicles.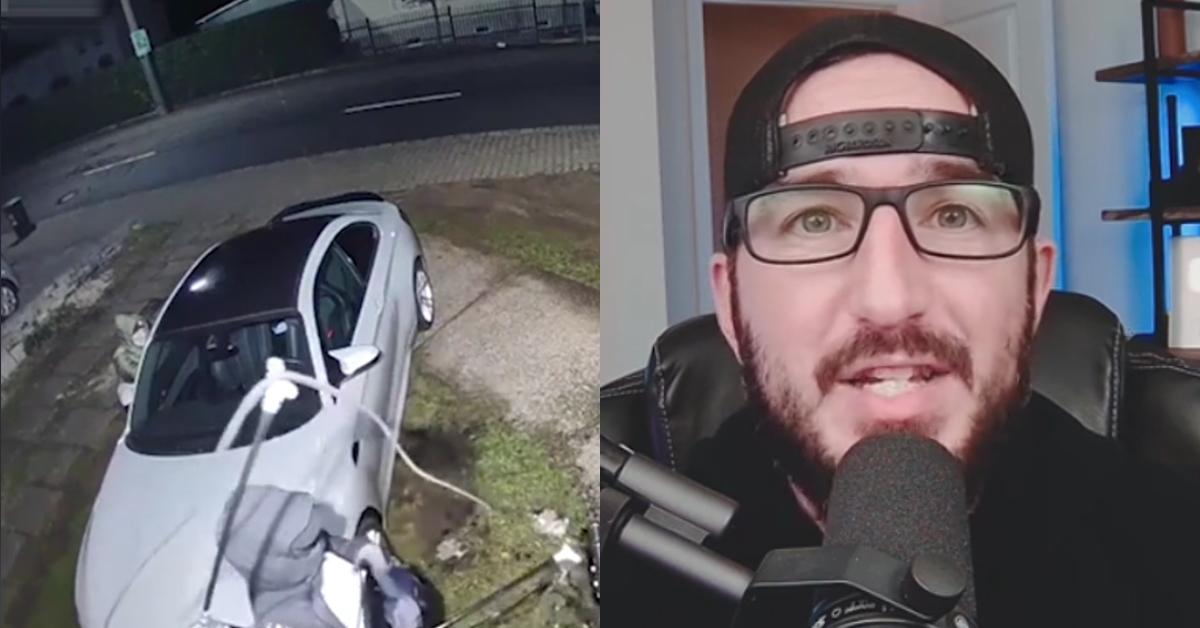 A viral TikTok showing home security footage of car thieves implementing a "relay attack" to steal a new model vehicle details exactly how thieves are able to get away with this kind of scheme, all while tricking someone's vehicle into thinking that they have legitimate access to the car.
Article continues below advertisement
No need for breaking windshields, no need for a clothing hanger to pop a manual lock, just a bit of technical know-how and an antenna to intercept a signal that they can then transfer to the car to open the door and start it up.
The video was uploaded and commented on by TikToker Brian Mello (@realbrianmello) who delineates how the vehicular heist went down.
Brian says in his clip: "You won't believe how these guys are stealing brand new vehicles. What you're looking at right now on the screen are two thieves who are about to go ahead and drive off in some poor guy's first gen BMW M2."
Article continues below advertisement
The video shows a carjacker hovering around the vehicle while holding a contraption in their hands. "The guy carrying the antenna that looks like it was sort of like Mickey Mouse'd or MacGyver'ed together in his basement is performing what's called a relay attack."
Article continues below advertisement
So what is a relay attack? According to Johnson's Cars, a relay attack is: "a method by which thieves steal cars that have keyless entry/start systems. The criminals approach a parked vehicle (usually on a driveway) and hold a relay box against the front of the house in order to receive a signal from the vehicle key."
This presumably explains the big antenna that the car thief is using in order to steal the vehicle. After using the device in order to get the relay signal from the key fob that is present inside the car owner's home, the thief is able to gain access to the vehicle.
Article continues below advertisement

With a large number of automobiles sporting keyless ignition/access systems in vehicles, this sort of high tech car theft is a necessity for folks who are looking to gain access to people's whips through illegal means.
Article continues below advertisement
Brian continued to explain the "relay attack" in his viral clip: "If you didn't know, your vehicle's key fob is constantly emitting a signal, looking for the car that it belongs to. Likewise, the car is also constantly looking for that key fob."
"So what the guy with the antenna is doing is trying to amplify the signal from the key fob that's in the house in order to trick the car into thinking that key fob is much closer to the vehicle than it really is. You know how you can just keep your key fob in your pocket and you just walk to your car or your truck and just open the door."
Article continues below advertisement

He went on, "That's exactly how this works. This means once they get in, no alarms going to go off, then the thieves can just start up the car and drive it away. Probably to some chop shop somewhere, ship it overseas, whatever they feel like doing."
Article continues below advertisement
At this point in the video, the thief, who appears to have been captured on the car owner's home security system, can be seen entering the BMW M2 vehicle. They hop into the car and drive it away without further incident.
Why is this so easy for the thieves to accomplish? A lot of it has to do with a habit that tons of folks seem to have with the placement of their car keys in their home: "Now, most people leave their keys by their front door, making the entire process even easier to hijack the signal."
Article continues below advertisement

Brian then goes into ways to prevent this kind of thievery: "Now something you can do to protect yourself is you can put your key fob in like a little metal tin or something when you get home or you can use what's called a Faraday bag or pouch. Both of those will block the signal coming from the key fob so that something like this won't ever happen to you."
Article continues below advertisement