Who's In The Right? Woman Not Allowed to Attend Stepchild's Graduation Party After Planning It
A woman was asked to plan a graduation party for her partner's daughter and host it in her home, but was told she wasn't allowed to attend.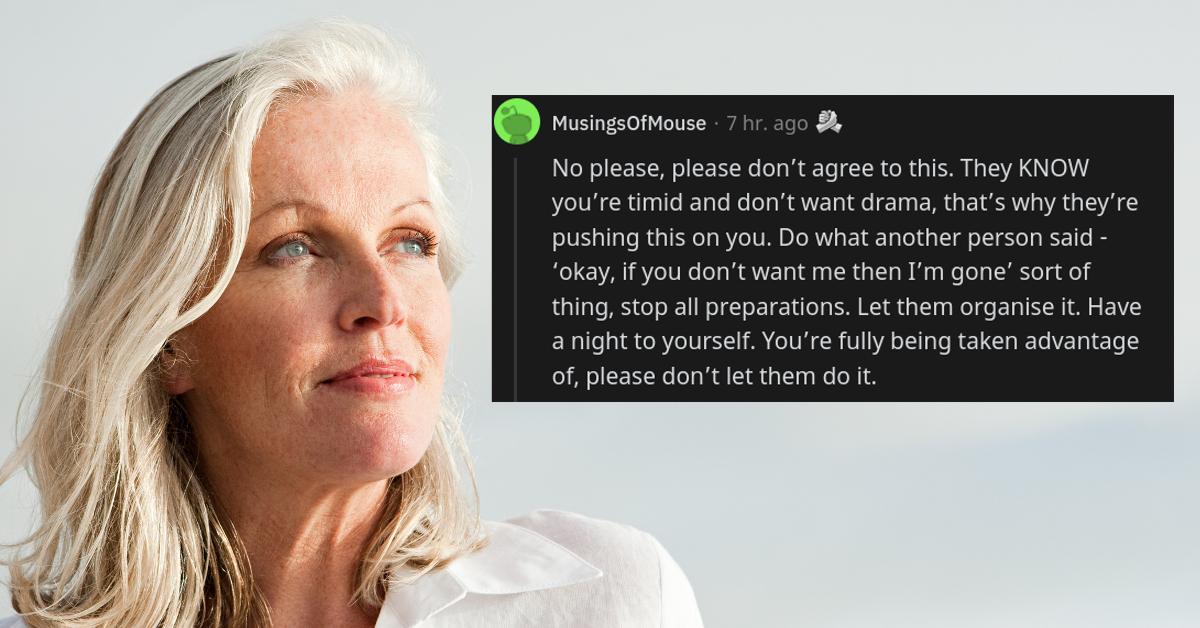 The audacity. Some people have it and some people don't. Being audacious can sometimes have its advantages in specific situations. Take hero pilot Sully, for example. If he didn't have the audacity to try and land an airplane on water as he did, then a lot of people could've died. If you look at the biographies of some of the world's most successful business people, inventors, leaders, and artists, they certainly needed to get bold at times in order to make their dreams a reality.
Article continues below advertisement
However when we talk about "the audacity" we're usually referring to an utter lack of decorum on someone's part. A person's brazen ability to ignore all propriety and/or social cues and say or do something that comes out of left field that is downright insulting and self-serving is usually what this phrase is reserved for.
And this Reddit user, @montanafesto wants to know if they were wrong for thinking that their partner's child was being far too audacious in asking her to plan and host her graduation party after her biological mother dropped the ball, but that she wouldn't be allowed to attend it.
Article continues below advertisement

She posted her grievances on Reddit's AITA sub, writing: "My long-time partner has been divorced for years. The divorce was acrimonious and he and his ex-wife do not get along. We've been asked to host their daughter's graduation party at our home because my partner's ex dropped the ball and failed to secure the venue. I spent a week planning the party, making arrangements, and ordering materials to make her vision a reality."
Article continues below advertisement

She continued, "A week later, she informed us that my presence would anger her mother, and under no circumstances could I attend the party being held at my home. I am expected, however; to devote my time and creative talents to making her graduation party beautiful. WIBTA if I refused to plan, organize and decorate for this party?"
Article continues below advertisement

She wanted to know if she would be in the wrong for refusing to plan the party in her home since she wouldn't even be allowed to attend it and throngs of Redditors urged her to stand up for herself and not plan the festivities.
Article continues below advertisement

OP responded stating that they were able to reach a "compromise" as the party would be held in a shop that was adjoined to the home — OP would stay in the house section as the party takes place in the shop.
Article continues below advertisement

However, from the get-go her step-daughter and family basically expected her to not be present on the property at all during the party.
There were a lot of Redditors who told her that even this "compromise" wasn't one she should consider.
Article continues below advertisement

OP did admit that she knows she's being manipulated, while others encouraged her to not be a pushover. A more equitable compromise, some suggested, was to not make a stink about them using the shop and not being present at the party, but allowing them to plan/decorate the party themselves. Otherwise, this would set a precedent for future behavior.
Article continues below advertisement

Ultimately, OP decided to pull a Bender from Futurama and threw her own party in her house with her friends. All of the food and drink that she was getting together for the graduation party instead went to her own entertainment. How do you think she handled it?