Mom Catches Teen Daughter Lying About Having Abusive Parents in Order to Fit in with Friends
A mom was shocked to discover that her teen daughter was lying about being abused by her parents in Discord chats with strangers.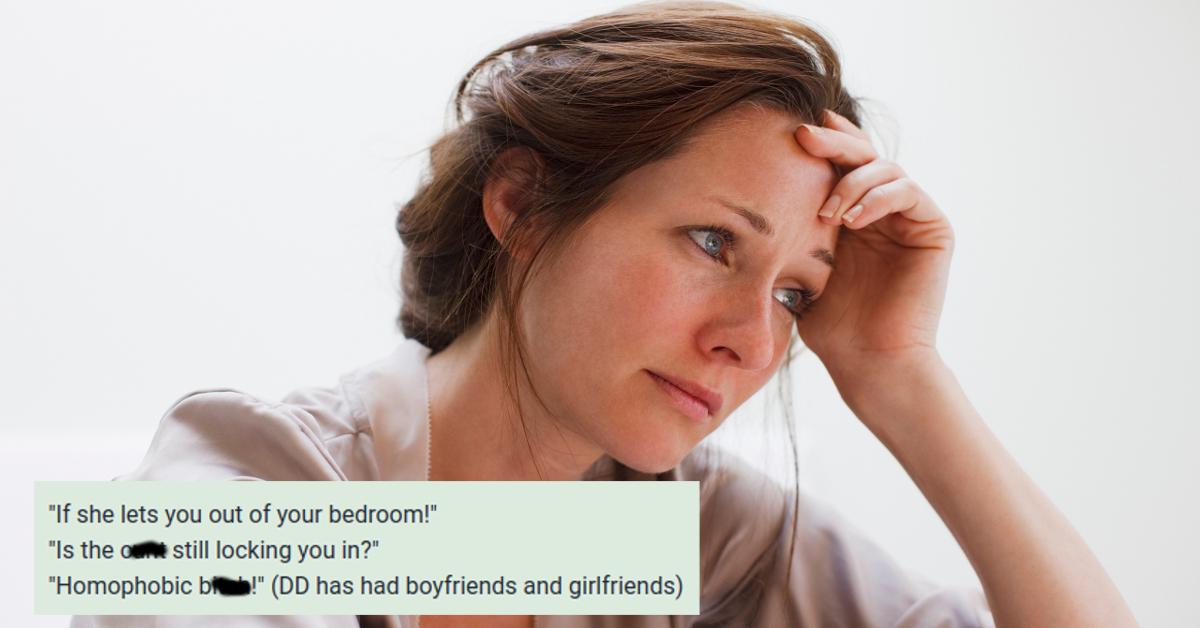 Celebrated poet D.H. Lawrence once wrote "I never saw a wild thing sorry for itself. A small bird will drop frozen dead from a bough without ever having felt sorry for itself."
It can be argued that this is a big reason why so many people love and respect animals way more than fellow members of their own species. Animals appear to be too busy living to really care about garnering sympathy.
Article continues below advertisement
A deer that gets shot by a hunter but manages to limp away and survive has one thing on its mind: living. A monkey that watched their friend get electrocuted and then worked for 20 minutes to revive them probably wasn't concerned about feeling sorry for themselves that such a tragedy befell them: they just wanted to bring their fellow primate back to life.
However, when it comes to human beings, there's no shortage of individuals who are quick to cry "woe is me" and opine endlessly about their misfortune. Whether it's to their friends and family members during every other conversation, phone call, and text message exchange, to their very public social media pages, we all probably know someone who is constantly looking for sympathy for themselves.
Article continues below advertisement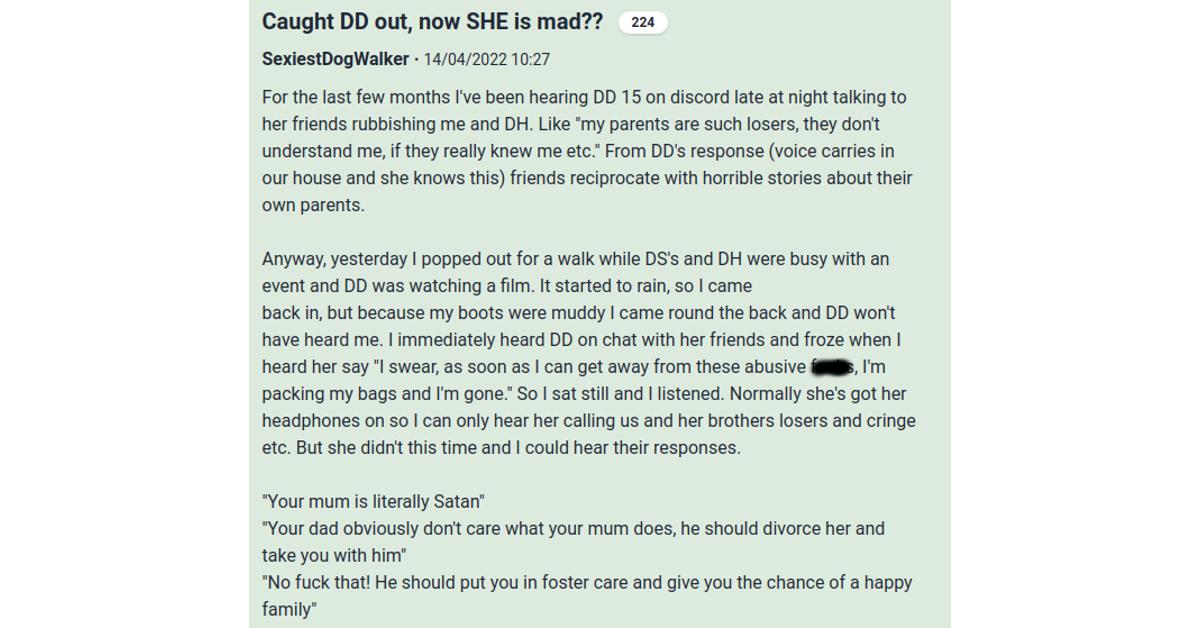 And while it can be kind of difficult and downright depressing in order to have to deal with folks like this on a daily basis, they're generally harmless, just buzzkills.
But what happens when whatever they're trying to garner sympathy for is (a) untrue and (b) throws other people under the bus in the process?
Article continues below advertisement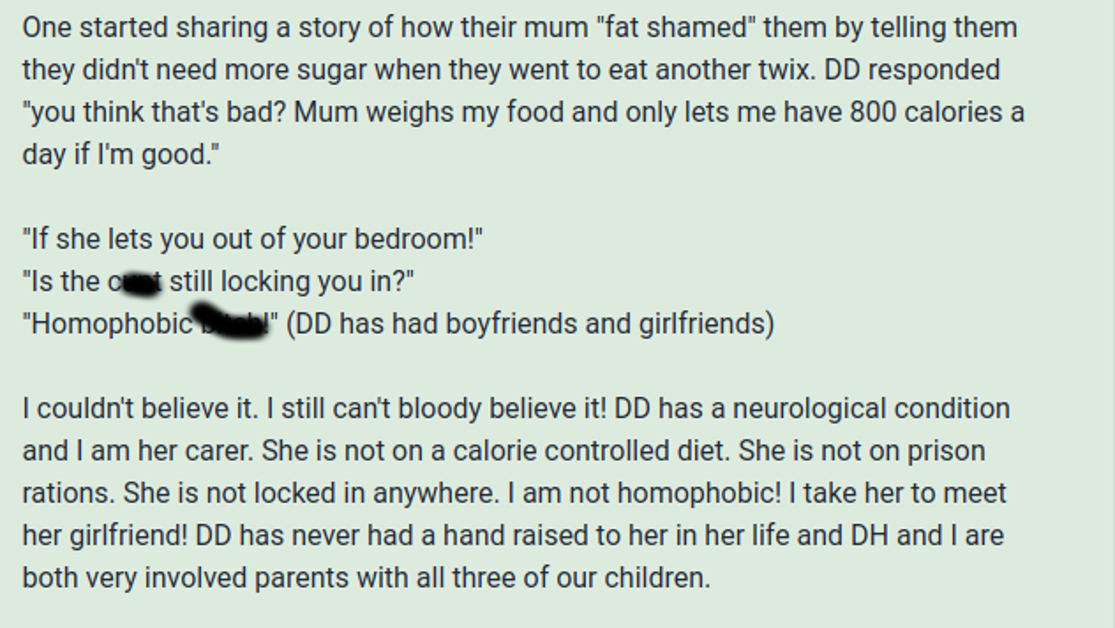 That's exactly what this mom said happened to her when she discovered that her child was straight up lying to her friends about being mistreated by her parents. The woman shared a post to Mumsnet delineating all of the false claims her daughter was making to her pals on a Discord channel and the teen's reaction once confronted about her lies.
Article continues below advertisement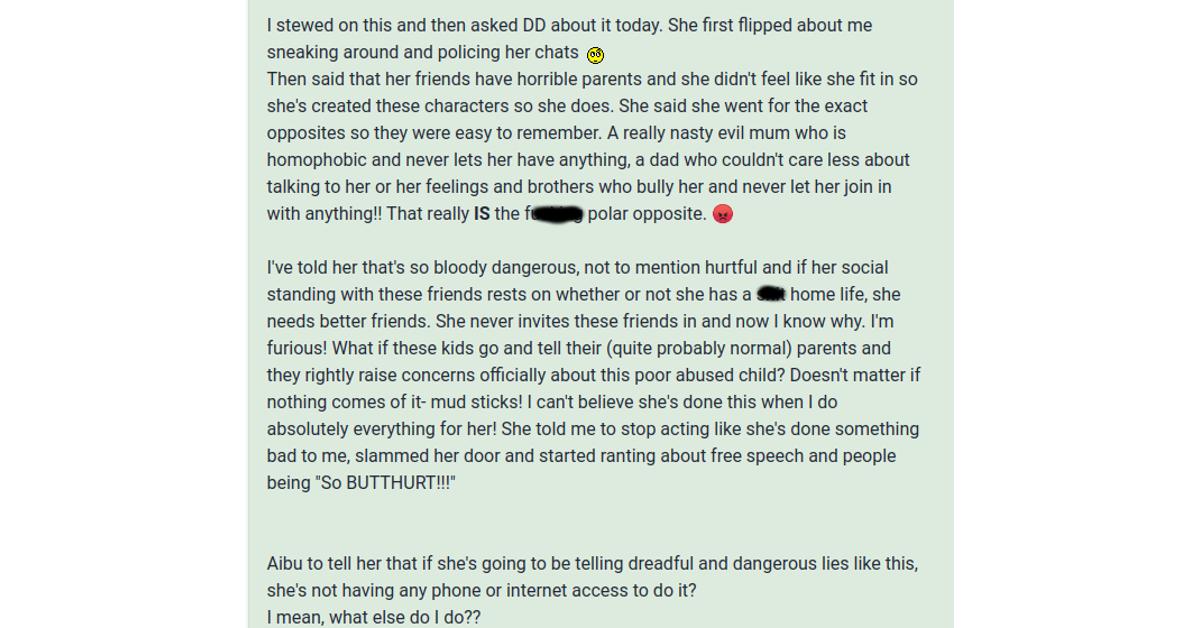 She said that a lot of her friends had complained about their parents on the channel so she "created these characters" in a bid to fit in with them as part of a sympathy sharing/garnering experience.
But some of the things that the mom says she heard were a huge cause of concern and wouldn't be anything that any parent would want to hear, especially if they're otherwise great folks.
Article continues below advertisement

"I swear, as soon as I can get away from these abusive f***s, I'm packing my bags and I'm gone," the teen said. She also claimed that her mother weighed her food and only allowed her to eat 800 calories a day.
Article continues below advertisement

The mom's daughter also purportedly told her friends that she was locked indoors by her "homophobic" mother, and her dad was mentally checked out. The mom went on to explain in the post that her child had a neurological condition that necessitated some extra care, but she never once opposed to her dating a girl, or locked her in her room, nor did she stipulate what she could and couldn't eat.
Article continues below advertisement

When she brought up the falsehoods to her daughter, she says her daughter brushed them off and started going on a rant about "free speech."
Tons of folks who heard the mom's dilemma offered up different solutions: some said that while its normal for people to tell "white lies" as a means of fitting in, claiming that other people are abusive is by no means acceptable and that she should be taught these kinds of decisions have repercussions.
Article continues below advertisement

Others also expressed how unhealthy it is to pretend to be abused just to get attention from their friends, which could develop into a more severe personality disorder as she gets older, i.e. actually living out that abuse in order to get sympathy/attention.
What do you think?