Woman Blasted After Blaming Teen Sister for Revealing "Secret" Children to Guy She's Dating
A teen submitted a post to Reddit wondering if she was in the wrong for accidentally revealing she had children to a guy her sibling was seeing.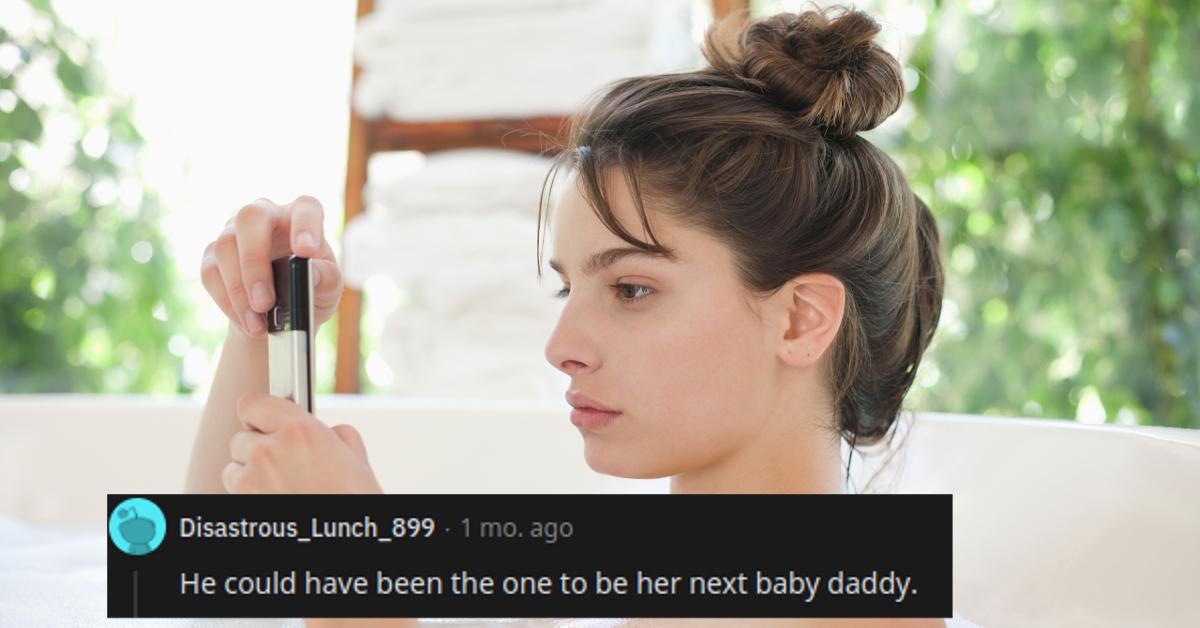 When it comes to communicating with folks on the behalf of others, context and information are vital. Knowing what to say and when to say so you don't get folks in trouble, or accidentally give up bits of information they may not want the other party to know about can be tricky to navigate. Unsurprisingly, different folks have different thoughts on this phenomenon.
Article continues below advertisement
Some would argue that the burden of ensuring a secret doesn't "get out" lies solely with the person who is trying to keep said secret. If you're telling a friend, sibling, coworker, etc. something in confidence, then maybe you should let them know that they should keep that secret just that...a secret.
And sometimes it's not even a single "secret" that someone told you that they want to keep private from other folks, it could be an aspect of their life that they don't want to be aired out.
Like what happened with this teen who posted on Reddit's AITA ("Am I the a-hole?") sub following a conversation she had with a guy she was seeing.
Article continues below advertisement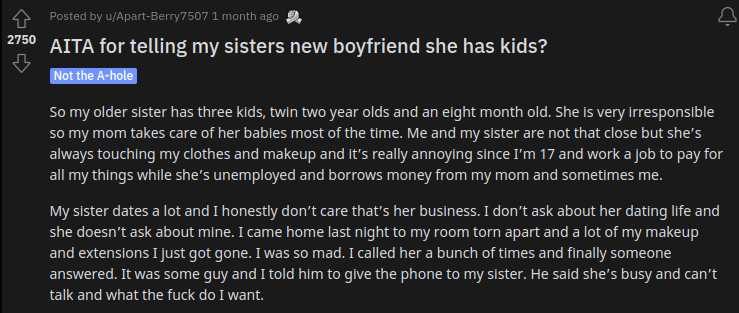 In her post, the teen stated that her older sister would occasionally use her makeup and clothing and when she couldn't find some of her items, she decided to give her sister a ring.
Article continues below advertisement

But it wasn't her sibling who picked up the phone, instead she was greeted with a man's voice. The conversation that they had would send her older sister into a fit of "hysterical" crying.
Article continues below advertisement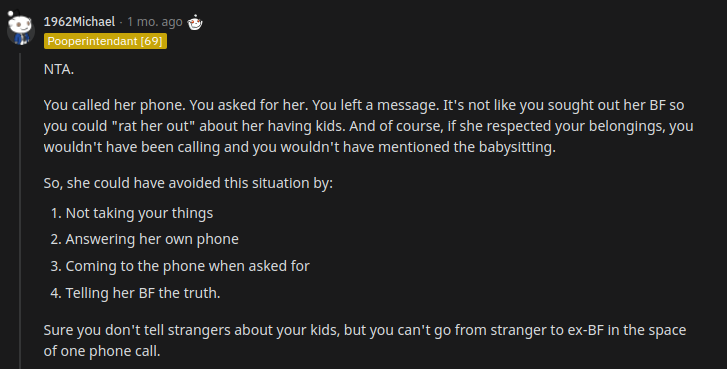 The teen started her post by writing:
"My older sister has three kids: 2-year-old twins and an 8-month-old. She is very irresponsible, so my mom takes care of her babies most of the time. Me and my sister are not that close, but she's always touching my clothes and makeup. It's really annoying since I'm 17 and work a job to pay for all my things. She's unemployed and borrows money from my mom and sometimes me."
Article continues below advertisement

She continued, "My sister dates a lot, and I honestly don't care. I came home last night to my room torn apart, a lot of my makeup and extensions I just got gone. I called her a bunch of times and, finally, someone answered. It was some guy, and I told him to give the phone to my sister."
Article continues below advertisement

This is where the conversation went south: "I said that I need to talk to her, and he said he can relay a message. I said to tell her she needs to bring me back my things the same way she took them and that I'm not babysitting her kids next weekend like she begged me to. He was like, 'Wait, what?' But I hung up.
Article continues below advertisement

"Later, my mom comes into my room saying my sister called her crying hysterically that she was kicked out of some guy's car on the road and needed a ride home. She was blaming ME, saying I 'exposed' her. I was so confused until she came home. She was screaming that I told her 'now-ex' she has kids, which got him mad, [and] that what I did is 'child endangerment' because you shouldn't mention kids to strangers and that she decides to tell people on her own time."
Article continues below advertisement

Redditors who saw her post didn't think that she was in the wrong and said that if her older sister didn't want the guy she was dating to know she had kids then she should've told her sister not to mention anything.
Article continues below advertisement

Others stated it was grimy that her sister was hiding the fact she was a mom to the guy in the first place, while others wondered why she would even have children if she was constantly "offloading" them on her mother.
What do you think? Is OP an a-hole or not?