Single Mom Posts Ad Looking for a Roommate to Pay $450 to Babysit Her Child Full-Time
A single mom thinks she can find someone willing to pay to babysit her kid in exchange for cheap rent.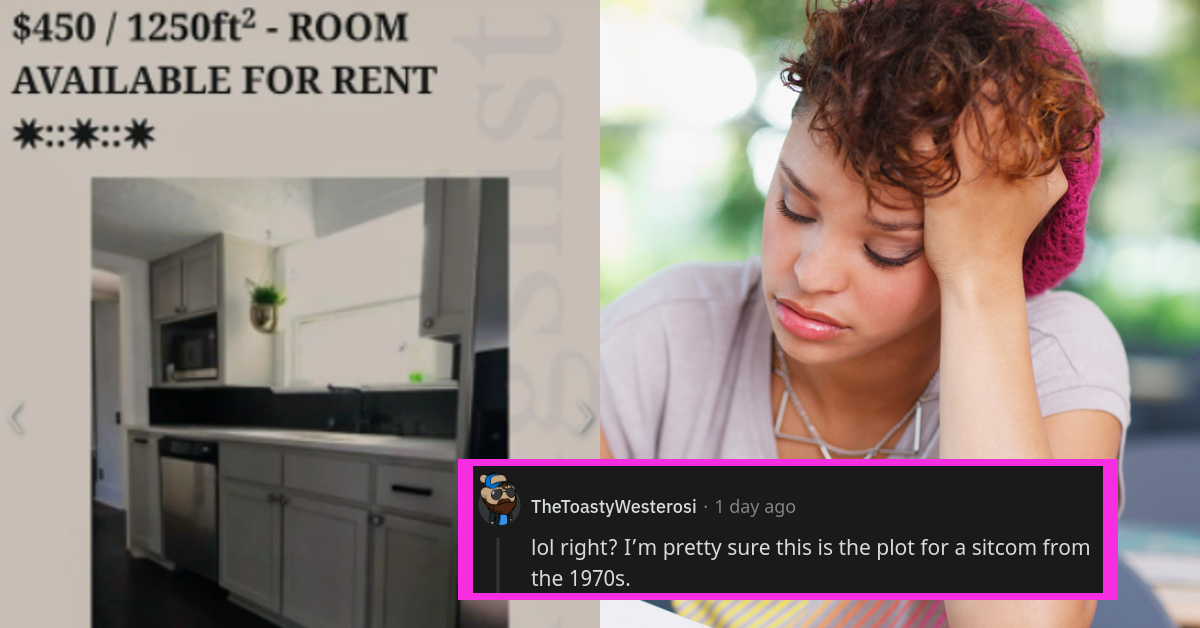 Article continues below advertisement
What's even worse is that sometimes you can pick someone who seems like they're great at first but then after a while their real personality starts to shine through and you're stuck in a nightmare scenario.
On the flip side, however, there are some people who are either renting out their spaces or requesting a roommate who have some pretty crazy demands.
The internet is littered with them, but some are way more entitled than others. So entitled in fact that it's difficult to read the ad request and not ask yourself: "just what in the world were they thinking?"
That's what happened to a recent ad that appears to have popped up on Craigslist where a single-parent posted a room for rent that seems like it's a good rate.
Article continues below advertisement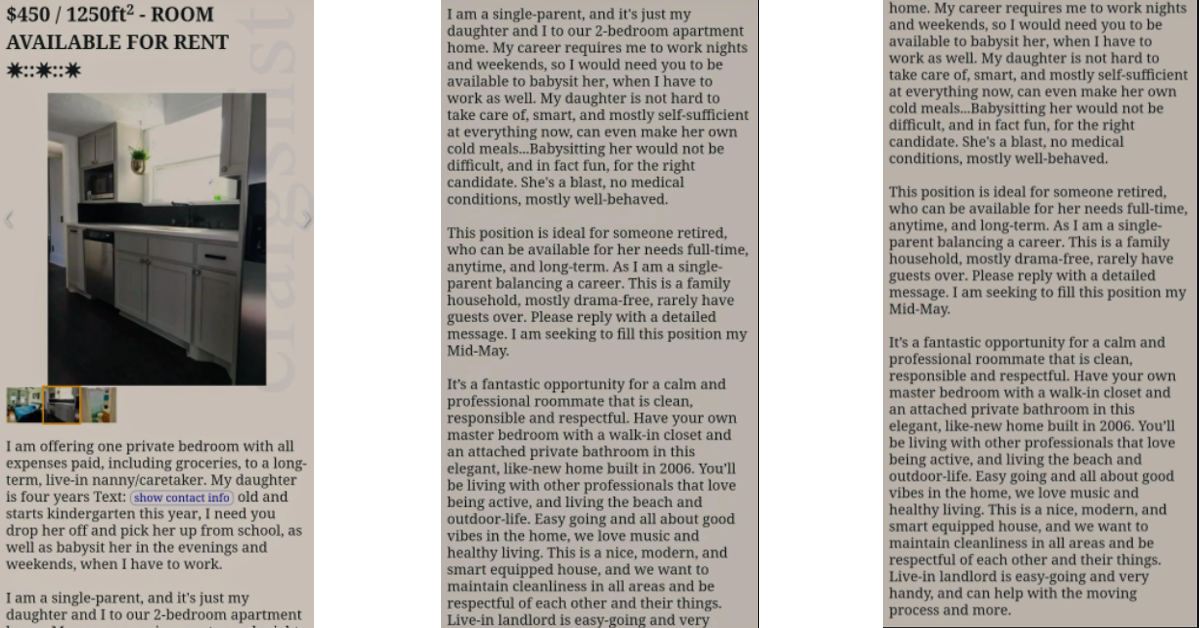 For $450 a month you can get a room in an apartment, along with all other expenses paid which include utilities, presumably internet, and even groceries. Sounds like a good deal, right?
Well, there's a catch.
Article continues below advertisement

And that catch is you would have to be a live-in caretaker for this single parent's daughter. The ad reads as follows: "I am offering one private bedroom with all expenses paid, including groceries, to a long-term, live-in nanny/caretaker. My daughter is four years old and starts kindergarten this year, I need you [to] drop her off and pick her up from school, as well as babysit her in the evenings and weekends when I have to work."
Article continues below advertisement

"I am a single parent, and it's just my daughter and me in our 2-bedroom apartment home. My career requires me to work nights and weekends, so I would need you to be available to babysit her, when I have to work as well. My daughter is not hard to take care of, smart, and mostly self-sufficient at everything now, can even make her own cold meals...Babysitting her would not be difficult, and in fact fun, for the right candidate. She's a blast, no medical conditions, mostly well-behaved."
Article continues below advertisement

"This position is ideal for someone retired, who can be available for her needs full-time, anytime, and long-term. As I am a single-parent balancing a career. This is a family household, mostly drama-free, rarely has guests over. Please reply with a detailed message. I am seeking to fill this position [by] Mid-May."
Article continues below advertisement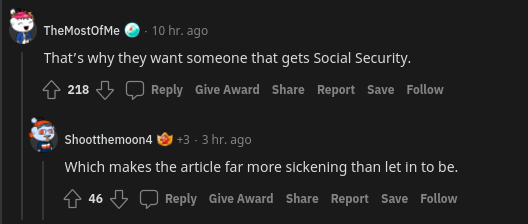 The post went viral on Reddits r/choosingbeggars sub, and throngs of people expressed disbelief that someone would expect an individual to pay $450 a month in order to basically work more than full-time hours in order to babysit their child.
Article continues below advertisement

Others wondered just how in the world would someone even be able to earn $450 a month to pay this woman for rent if they were living in her household when most of their time was wrapped up in looking after her child.
There were some commenters who also took issue with the fact that the woman was looking for someone who is retired, which probably means that they're banking on them giving over some of their social security money in order to pay the rent.
Article continues below advertisement

What do you think? Could this be a good gig for someone who is otherwise retired and wants to be around a family? Or maybe someone who is a remote worker could squeeze in some time to get their tasks done while this woman's daughter is in school, but then what about the summertime? Or should the mom be offering some cash to whoever's living there instead of all the free room/utilities perks?
Article continues below advertisement

Let's not even mention the fact that she said they rarely have guests over, which would probably mean that if you wanted someone to visit you in your home, you probably wouldn't even get the chance to do so. Does this seem like the worst rental "deal" ever?