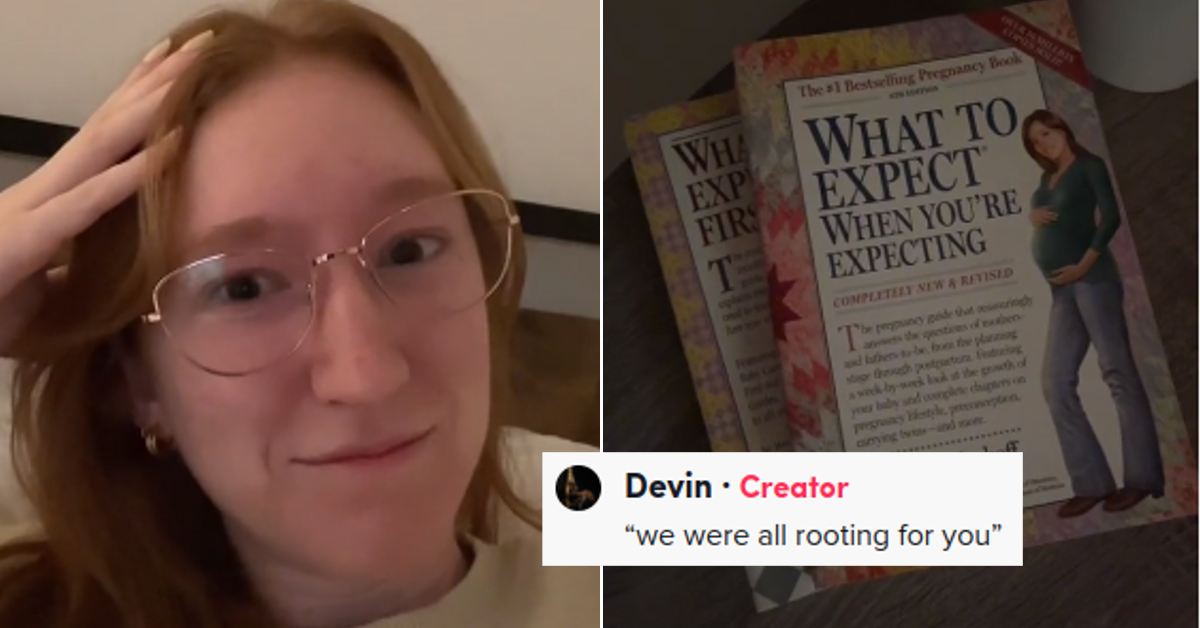 Woman Finds Pregnancy Books in Boyfriend's Apartment — "Green Flags Became Red Flags"
A TikToker is second-guessing a video they uploaded where they said the "green flags" of a guy she's dating quickly turned to red flags.
Dating, online or otherwise, can often feel like you're wading through a cesspool a lot of the time. From folks who are only interested in getting free meals to guys who send unsolicited pictures just a few messages into a conversation, it's difficult to not get bitter or completely turned off to the entire idea of dating for good.
Article continues below advertisement
And even when you do manage to find someone who isn't either entirely crazy or has the emotional development of a sandbag at first, being able to actually live with them and have a great relationship is difficult as well. But we all have the dream of attaining true love, however, that looks for all of us, and staying dedicated to living out that dream is a tough road to endure.
And if you've ever been in a relationship that started off great at first but then began to go sour after a while, then you're probably familiar with the "green flags to red flags" phenomenon.
Now sometimes these red flags can be imagined: we know that we're either falling out of love with someone or we're not so great in the relationship ourselves that we begin to nitpick on our partner's "faults" meanwhile absolving ourselves of all blame.
Article continues below advertisement
Or we could come across some things that appear to display signs that could lead to a deal-breaker, like this TikTok uploaded by user @discoveringdevin who first uploaded a clip by the multiple "green flags" she initially saw in the home of a guy she's seeing.
Article continues below advertisement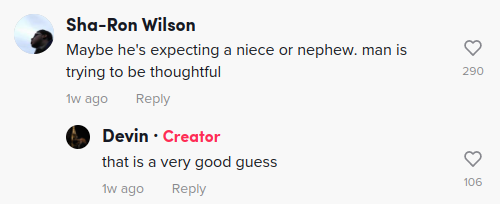 However, things turned sour when she spotted some other items in the man's home that she considered red flags, namely two copies of the pregnancy book, What to Expect When You're Expecting, and several MacBook laptops. Oh and a girl's ring. Not a wedding or engagement ring, but a ring that she believed a girl would wear.
Article continues below advertisement

In the previous clip, she was happy to see that the man had a bunch of plants in her apartment that were not only not on the verge of death, but they were luscious and green and clearly living their best photosynthetic lives.
Article continues below advertisement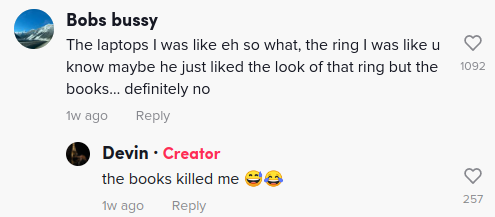 He also had a bed frame (such a low bar) and a Nespresso machine that had tons of coffee pods. So having good coffee and a normal bed while being surrounded by greenery is the key to a welcoming abode.
Article continues below advertisement

However, after spotting the four laptops and the pregnancy books, some commenters said that those "green flags" ended up becoming "red flags" and what ensued were a litany of theories.
Article continues below advertisement

Like the fact that there was a bed frame, a nice coffee machine, and pregnancy books could indicate that he lived with his girlfriend and she was the one responsible for all of the "green flags."
Others weren't so quick to rule the guy out as a potential romantic interest though, saying that maybe he has siblings who are having kids and he got multiple copies of the book to give to them and keep one for himself so he could read it be a more helpful uncle.
Article continues below advertisement

What do you think? Should this TikToker worry about the fact that this guy has four laptops in his place and two copies of a pregnancy book? Should she start rummaging through different closets to see if she can find evidence that he has a girlfriend?