Waitress Says Church Customers Left Scripture as a Tip in Viral TikTok
A waitress went viral on TikTok after claiming that "Sunday Morning After Church" customers left her bible quotes instead of a tip.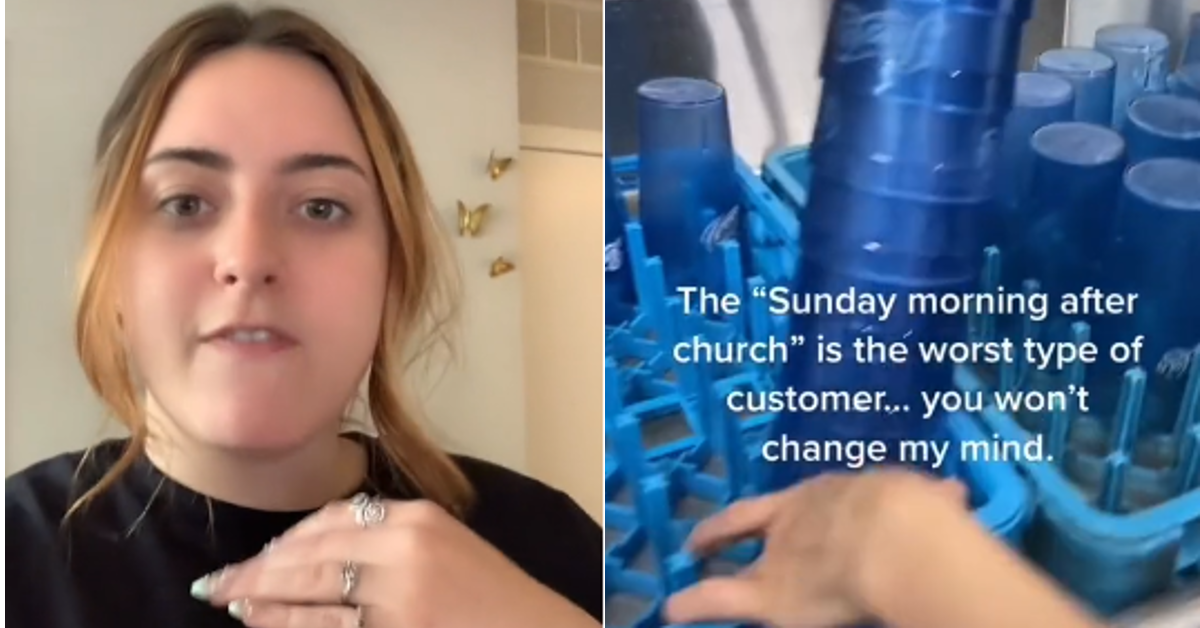 A growing number of Americans are becoming less and less religious as time goes on and while there are many thought-pieces as to why this is occurring en masse, there are deeply personal reasons as to why some people who grew up in religious families have decided to "leave the fold" so to speak.
Article continues below advertisement
If you grew up in a super-God-loving community, then you may have noticed that across all faiths there are particular types of people that make the idea of participating in organized religion feel like eternal punishment. From massive bouts of hypocrisy and sanctimony to pettiness and superiority complexes abound, to constant judgment, and a strange air of faux-positivity, oftentimes the denizens of a particular creed are enough to turn people off to the idea of faith in a higher power altogether.
This is especially true of folks who clearly aren't interested in living out the wonderful lessons they're so quick to share and nod approvingly during a service. They'll offer up all sorts of kind words and will preach scripture out the wazoo but when it comes down to being kind to their fellow human beings and whatnot, they fall embarrassingly short.
Something that many servers at restaurants will tell you is the case with a particular customer demographic.
Article continues below advertisement
The "Sunday Morning after Church" rush is a shift that many servers have said they dread working in various viral TikTok clips, like one from user @punkfrances who posted a stitch response to an original video uploaded by @jenmich416.
Article continues below advertisement

The OG clip presented a relatable thesis: "The 'Sunday morning after church' is the worst type of customer... you won't change my mind."
It was a simple clip with a simple statement, but it garnered a litany of different reactions, and the one from @punkfrances is infuriating a lot of folks who work jobs that rely on gratuities to make ends meet.
Article continues below advertisement

In the clip, she aired a bunch of grievances from this specific "genre" of diners, like the fact that although the restaurant she worked at didn't open until 11am, there would still be a gaggle of folks outside waiting and complaining to be let in before the doors were unlocked.
Article continues below advertisement

She went on to say that a large number of these diners exhibited zero class. For example, they'd come in with large groups that often had tons of children who were unruly and would throw food all over the place. The most egregious example, however, were the "tips" that she would sometimes receive from said group.
Article continues below advertisement

If you're going into a joint and have a large party and a server is working their butt off to get you your food, check up on you, and make recommendations they think you'd enjoy, all while dealing with a bunch of snot-nosed brats who are causing a ruckus, then the least you could do is make it worth their while financially speaking.
Article continues below advertisement

However, @punkfrances said on a few occasions church diners have handed her fake $100 bills that have scripture on them: "It's like a fake $100 bill that has a scripture on it that says, 'This is better than any monetary tip you would receive. 'And then, they'd go about their day. Then they'd come back next week, and do it all over again."
Article continues below advertisement

Users who responded to the TikToker's video were shocked at the fake bill, but some said that sadly this kind of practice is common among the "Sunday Morning after Church" restaurant crowd.
Article continues below advertisement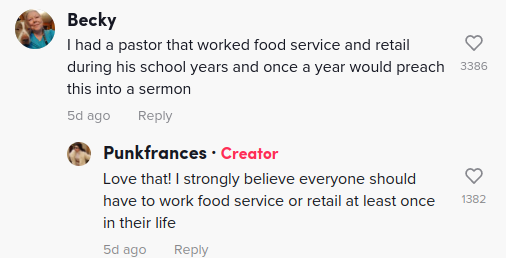 Some pointed out the fact that many of these customers often donate decent amounts of money to their local churches, but not to folks who are busting their humps to serve them in a restaurant. One user remarked that their local restaurant was so fed up with this crowd that they closed up shop on Sundays just to avoid them entirely.
Article continues below advertisement

As for cheap tippers, one TikToker said that they and their coworkers ordered a bunch of pens from Amazon that read "Jesus tips 20 percent."
But there were some stories of members within a local church community addressing these kinds of issues, like one commenter who said that their pastor used to work in retail and foodservice and would work on positive treatment of employees in their sermons.
At least someone is doing the Lord's work.