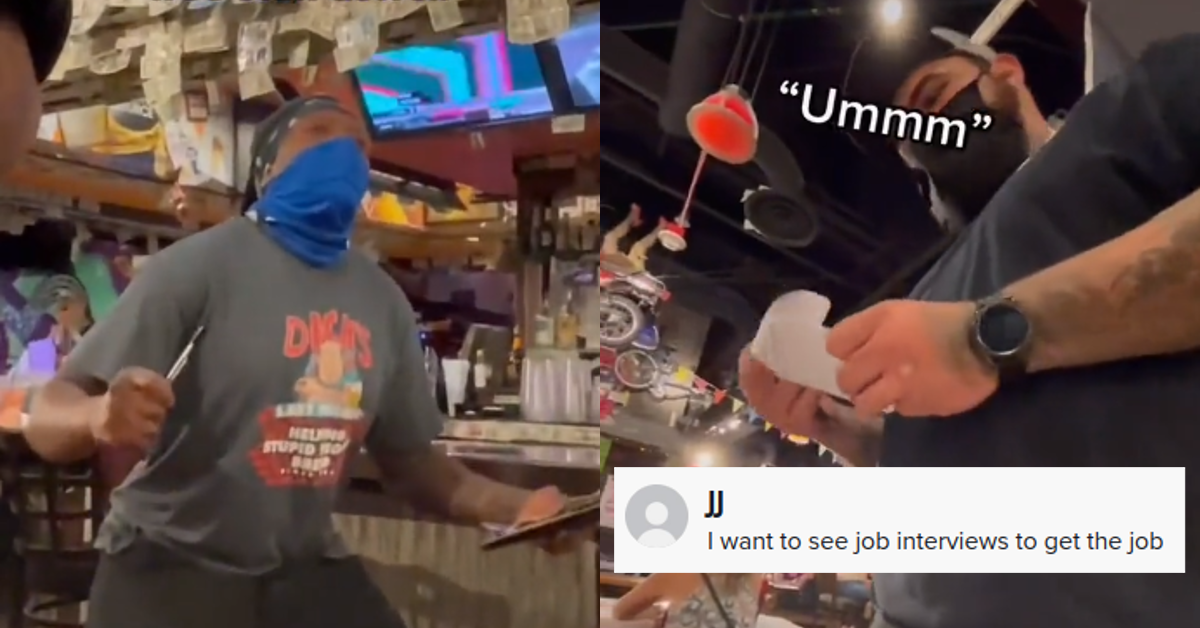 "Intentionally Rude" Waiter Shouts at Customer for Leaving Small Tip, Sparks TikTok Debate
People love a good roast. Sure, insult comedy isn't really everybody's cup of tea and some folks might not feel so comfortable about taking a joke that's more on the grating or harsh side too well, but when you're in a situation where it's accepted that folks are going to poke fun at you, it's could be fun to go along with the ride.
Article continues below advertisement
Dick's Last Resort is that kind of restaurant. The chain hires intentionally "rude" wait staff to berate customers and servers have been known to toss ice at patrons, interrupt their orders, and make fun of them the entire time. It's a form of dinner theater/performance art and could be a pretty great in-between gig for insult comics who are working on their material.
Or maybe just someone who is really bitter about the crumbiness that sometimes comes along with working at a restaurant. You get to tool off on customers who make silly and over-demanding requests or, like this one employee, rip them a new one for not leaving a good tip.
But is it all part of an act at the restaurant? That's what a lot of folks were debating after a TikTok video showing Dick's Last Resort employees in action went viral.
Article continues below advertisement
In a clip uploaded to the popular social media platform by @Boozeboyss, an employee at the chain can be seen screaming at a customer: "When you go to a restaurant and they give you free stuff, you should tip on the free stuff you got as well. Lady, thank you for being horrible. Next time, go to McDonald's and have it your way!"
Article continues below advertisement

When someone asks the employee "What'd she tip?" the worker says, "sh*tty" as he walks away.
The rest of the video shows some of the other lighthearted abuse that they were subjected to during their stay.
Article continues below advertisement

It was the complaint about the tip at the beginning of the video that really got a lot of TikTokers talking in the comments section, however. Some folks thought that the gripe was a legitimate one and that the worker broke "kayfabe" so to speak.
Article continues below advertisement

Many pointed out that the reason why servers probably like working at the location is that they are allowed to be unbridled with their criticism of the diners they serve, which they thought gave further credence to the idea that the waiter wasn't exactly just horsing around with the woman he was shouting at.
Article continues below advertisement

There were some who expressed that eating at a restaurant like this would make them uncomfortable, especially if they have low self-esteem.
Article continues below advertisement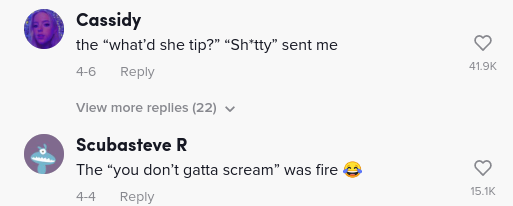 And then there were those who thought that Dick's Last Resort "found the loophole" and that they would want to work there themselves for this kind of unfettered on-the-job commentary.
Article continues below advertisement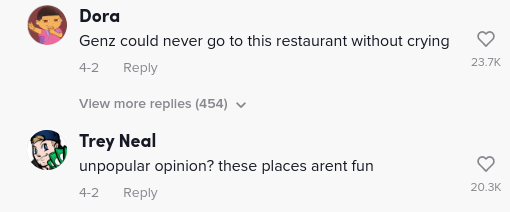 What do you think? Was the employee just in character? Or did he seem really upset at the customer? Or does it not matter because that's the entire point of the restaurant?