Woman Admits She Steals Plants by "Snipping Off" Pieces to Grow, Gets Blasted by "Plant Community"
A TikTok user started a heated debate about the ethics of stealing plants after posting a viral clip where they said they only ever purchased one.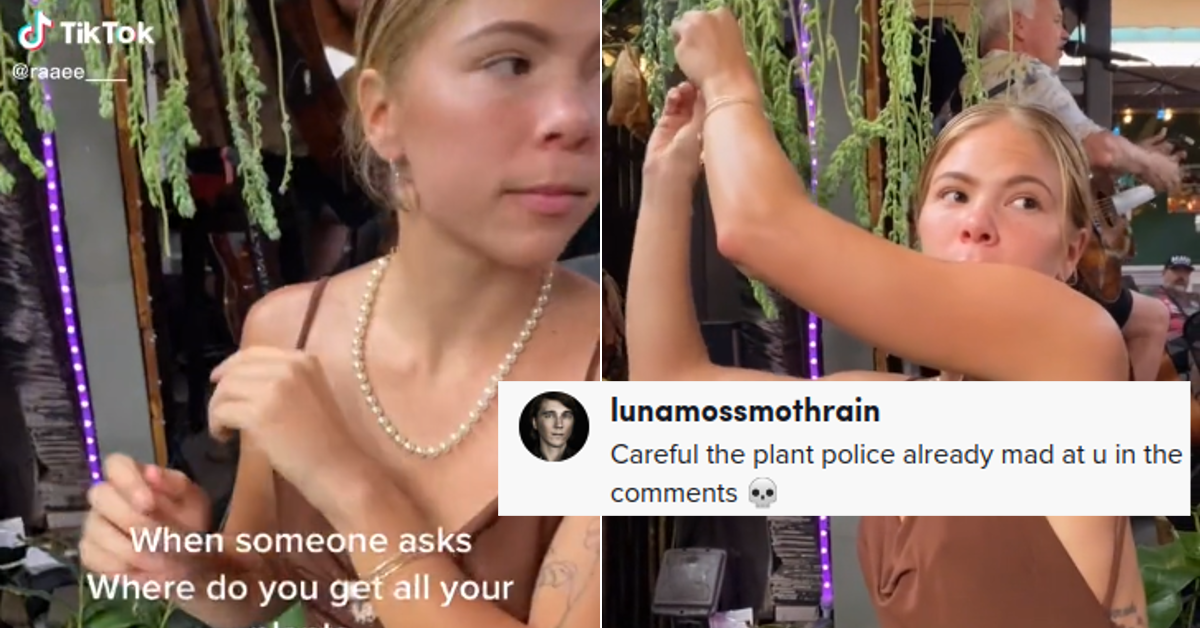 There are some things that some people, for whatever reason, feel selectively OK with stealing. Take downloading movies, for example, there are a lot of folks who will argue up and down that there isn't anything wrong with torrenting a flick they'd probably not watch otherwise or stream it on a sketch service.
Article continues below advertisement
And then you've got folks who will gladly turn a blind eye to an individual who is stealing baby formula or food for their family because these are essential items: someone's just pilfering sustenance so they can ensure survival for them and their loved ones. Then you've got people who don't think that committing insurance fraud against big corporations who probably have massive insurance accounts anyway is all that big of a deal.
And for this TikToker, they don't think that stealing plants and decorating their home with them is a punishable offense. Perhaps it's because they grow out of the ground and mother earth wanted to bless us all with their beauty and majesty, so can anyone really own a plant?
So how does she go around "stealing" plants? Well, she uploaded a video to her TikTok that shows how she gets it done.
Article continues below advertisement
In the clip @raaee____she can be seen at a restaurant next to a cool-looking bit of foliage. She surreptitiously snaps a branch off while looking around like a character who's spying on someone while sitting on a park bench and peaking behind an open newspaper.
Article continues below advertisement

In many of the young woman's TikToks she shows off her comprehensive collection of plants, turning portions of it into a huge greenhouse of sorts.
Article continues below advertisement

There were many commenters who were very upset, however, that she would go around snapping branches and sneaking leaves in order to bring home and grow chlorophyll pals of her own.
Article continues below advertisement

"I have plants in my small business and would hate to see that people ripped off a bit. Just ask the owner," one commenter wrote.
Another penned that this kind of practice is frowned upon, "Please do not do this 👏🏻 big no-no in the plant community."
Article continues below advertisement

However, there were others who argued that this isn't hurting or damaging the plants in any way shape or form:
"not all the people crying in the comments as if this is hurting anybody."
"For 'plant people' you guys aren't educated well obviously trimming plants actually helps them grow."
Article continues below advertisement

Others just couldn't believe that folks were getting irate over "proplifting" and argued that whatever piece she rips off is just going to grow back again anyway.
Article continues below advertisement

And then there were those who were shocked that the "plant police" were going after the TikToker for snapping off a piece of foliage from a restaurant to bring back to her place to grow on her own.
Article continues below advertisement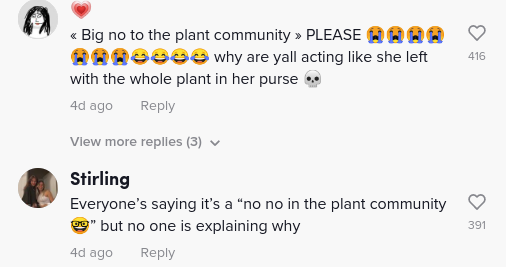 What do you think? Do you agree with the one commenter who said that plants are "supposed to be free anyway" because they "are a part of nature?"
Or do you think that plant theft is just as bad as stealing some cutlery from the restaurant?