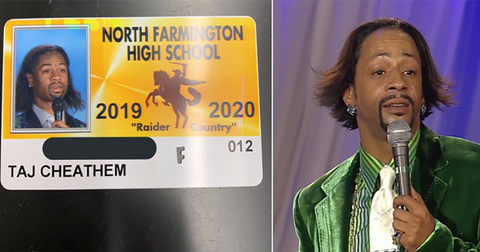 School Lets Students Dress up as Pop Culture Icons for ID Photos
By Mark Pygas
Kids are starting to head back to school, and as part of their enrolment, they're all getting photos taken for their school IDs. But some schools are putting in a lot more effort than others when it comes to making the whole process fun.
For the last few years, North Farmington High in Michigan has allowed students to dress up as pop culture icons for their photographs, all in a bid to make the first day back at school a bit more enjoyable. And 2019 is no different, with students flooding to Twitter to share their awesome ID ideas with their followers.
This student took some inspiration from Parks and Recreation, dressing up as Andy Dwyer's alter-ego of FBI agent Burt Tyrannosaurus Macklin.
The Office also made plenty of appearances.
This take on Nick Kroll's character of Nick Birch in Big Mouth is absolutely spot-on.
This student is ready for her encounter with the Grinch.
"Sit back there and say my hair ain't luxurious, when you know it is," one student captioned his costume of comedian Katt Williams. We all know it is.
Oh, Jaime. We all had so much faith in you.
This student's creation from Ferris Bueller's Day Off was shared alongside a quote from the movie: "Life moves pretty fast. If you don't stop and look around once in a while, you could miss it."
Hopefully this student who dressed up as Woody from Toy Story was able to find a Buzz Lightyear.
Katniss Everdeen from Hunger Games is always a crowd-pleaser.
Hopefully this student doesn't die from a lack of attention over her Tinkerbell outfit.
Beyoncé is obviously a very popular choice.
Bob's Burgers also seemed to be a common theme for many students.
This student is just after some free chicken nuggets with her choice.
Mean Girls made a few appearances last year and this year was much the same.
These siblings decided to tag-team it as everyone's favorite pair of creepy twins.
She didn't see anything with this Bird Box outfit.
Hopefully she'll find her ogre this year.
And yes, there's plenty of South Park.
"Ohana" means "family." "Family" means nobody gets left behind.
There were also plenty of Disney princesses.
There was even a Janet Jackson inspired look from Poetic Justice.
Meanwhile, this guy is just a Home Depot box?
You might not have any money, but at least you have this sweet ID.
Some students even brought props.