Student Throws Shoe at Teacher, Gets Escorted Out of Classroom by a Police Officer
A shocking viral video on social media sees a student throw a shoe at her teacher and later get escorted out of the classroom by a police officer.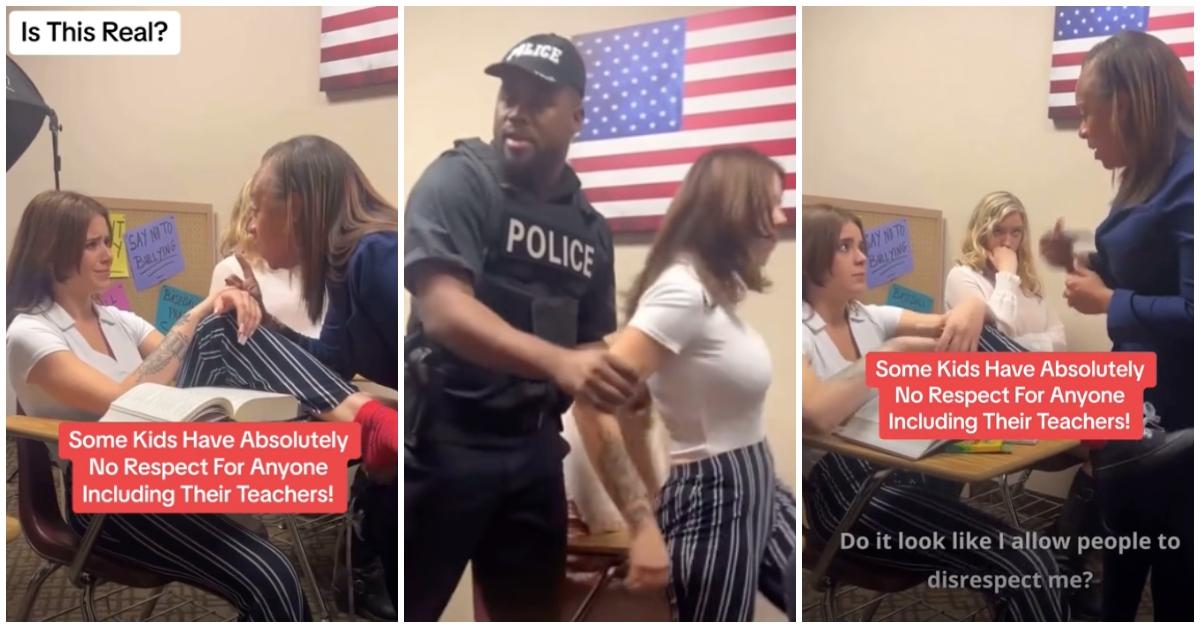 Teachers are undeniably the most overworked and underpaid people in America. Don't believe me? Just ask the men and women who work hard to create a safe space for children to learn and play — after all, they are the future. And you wouldn't just put the future in anyone's hands, would you?
Article continues below advertisement
Educators wake up, get out of bed, and muster up enough energy to make it through the workweek ... not to mention dealing with the disrespectful students they encounter on a daily basis. And after it's all done, teachers barely bring enough money to feed their families.
The internet felt empathy for one teacher, who was forced to reprimand an unruly student who threw a shoe at her.
Article continues below advertisement
A student threw a shoe at her teacher, here's what happened next.
They say that patience is a virtue. If that's true, then the teacher in the viral video posted by TikTok user @goneviral23 is a saint. In the video, the teacher was writing on a dry-erase board when a shoe was thrown in her direction, only inches from her head.
And it didn't take her long to figure out who did it. She identified the culprit, however, the student insisted that she wasn't the one who did it. That was just the beginning.
Article continues below advertisement
The teacher asked: "Are you serious right now? You really took your shoe off and thought it was OK to throw a shoe at me?"
"That's not my shoe," the student said, telling the teacher to "prove it."
Article continues below advertisement
"I am proving it, you have one shoe on and one shoe off," she replied. She went on to tell the student to leave the classroom on more than one occasion, but the student refused and said she was "not going anywhere."
Article continues below advertisement
"Literally at this point — let me express something to you," the teacher asserted sternly. "I am not your mother. I did not come to school to play with nobody else's kids."
"I don't know who [allows] you to act like this. But in my classroom, I don't allow it. I don't allow it. I'm not going to accept it. And I want you to get up and get out of my classroom," she added. "I'm not your type of time. I'm getting paid to do a job that I want to continue to do."
Finally, the security came to remove the student from her desk against her will. But the real question is — what took him so long?
Article continues below advertisement
The internet was outraged by the viral video of a student throwing her shoe at a teacher.
In the comment section, TikTok users voiced their opinions on the matter. "The teacher was doing way more talking than necessary. Security should have been there to remove her immediately," a user named Audrey wrote.
Article continues below advertisement
"That teacher doesn't get paid nearly enough to deal with that," another TikTok user said in a comment with more than 14,000 likes as of this writing.
Some were convinced that the video was just a skit to get people riled up. If so, the viral post did exactly that.