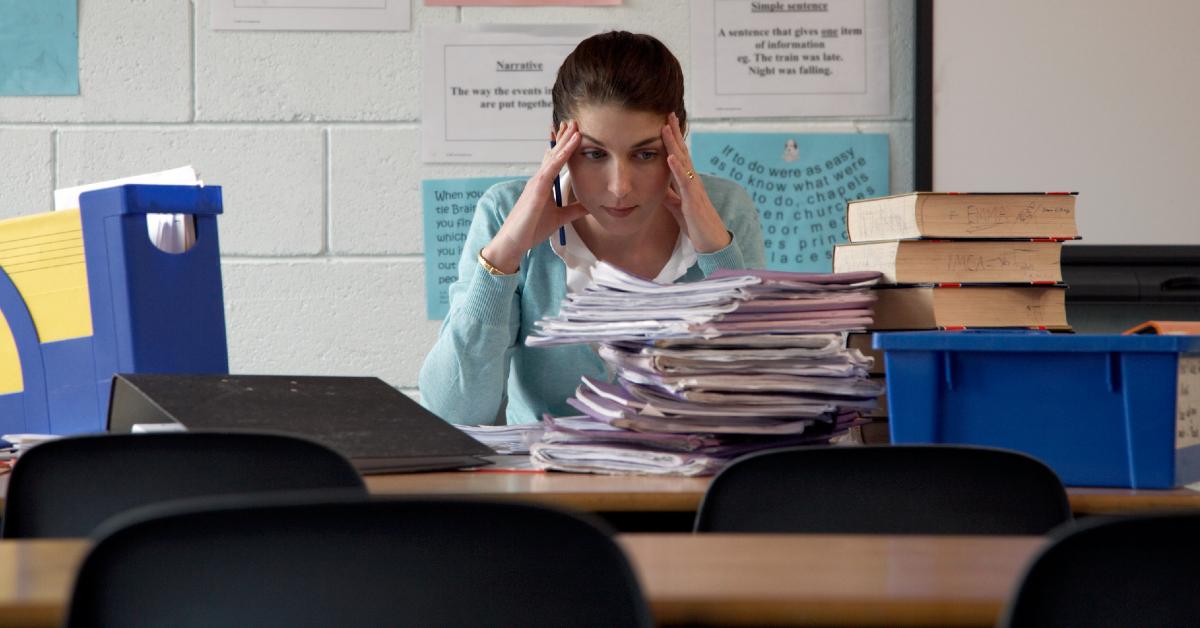 TikToker Blasts Parents of Disrespectful Students Who Made Teacher Walk Out on Class
The number of people deciding to become teachers is rapidly declining. Education Next states that "there are 20 to 30 percent fewer people going into teaching each year than there were a decade ago."
Edweek also highlighted a combination of factors as to why no one wants to teach anymore. And many TikTokers are saying that a recent video that's currently going viral on the platform is yet another reason why so few folks want to become educators these days.
Article continues below advertisement
In the clip, a female substitute teacher is standing behind a desk, speaking loudly to students in the room. "And people are laughing, I'm gonna go I don't even care if I don't get paid today. I'm just a stupid old white lady, that's all," she gathers her things from the desk, "yeah do whatever you want to do I don't care. You're gonna do it anyway."
Some of the students protest as she begins to leave, "I'm walking, I'm walking right out the door. I won't ever be back," she says as she exits the classroom. A text overlay in the clip reads: "They made the teacher leave."
Article continues below advertisement
The video sparked a litany of different reactions from folks on the platform, like this one from Clay Reels (@clayreels). In his reaction video, he states that he sympathized with the substitute teacher and put the onus of the students' poor behavior on their parents, stating that a generational poor approach to child-rearing is what causes situations like this.
Article continues below advertisement
Clay attributes the teacher shortage partly to students' inability to behave properly in the classroom.
"Y'all be wondering why there's such a big teacher shortage. Like yes, it could be attributed to the low wages that they get paid but it also has to do with the fact that these kids have no home training."
Article continues below advertisement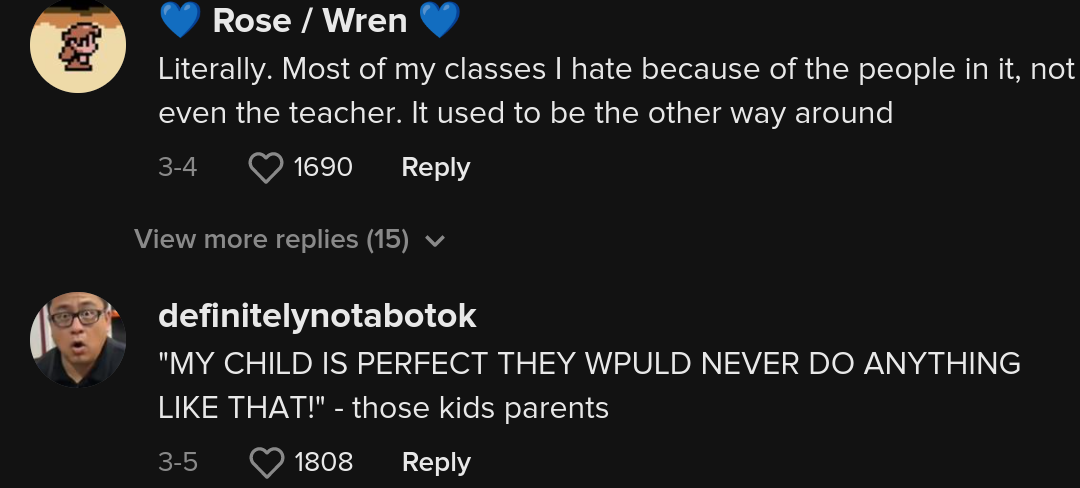 He continues, delineating how classroom scenarios eventually escalate to the point where the teacher in the above video ultimately decides to rage quit right in the middle of class. "And I know exactly how this type of stuff goes down. A teacher may piss a student off and a student wants to make it a big deal."
Article continues below advertisement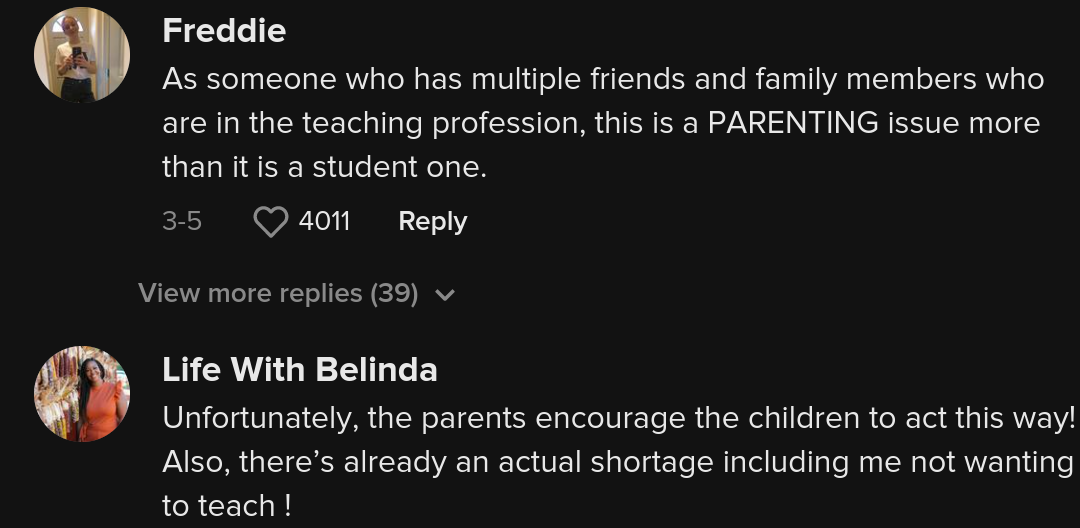 Clay went on, "So they start disrupting class and turning all the students against the teacher. And because it's like a one to 20 or 25 ratio you can't really control everyone if everyone's acting out."
Article continues below advertisement

He says that this is a concentrated effort from some students, "And the kid or kids that start this know this. Now in the past, it usually never gets to the level of the teacher wanting to walk out, but I personally feel like since after COVID, kids have just had less home training than usual."
Article continues below advertisement

The Cornell Healthcare Review suggests that the effects of government-mandated stay-at-home orders have potentially "ruined a generation of children" when it comes to how to behave in social environments, something that the TikToker is saying this video demonstrates.
Article continues below advertisement

Clay continued saying that the students have "more of a tendency to lash out and act out and antagonize teachers, and the parents ain't doing s*** about it. So there's anybody that needs to do better, it's not just the students, it's the people that parent them at home and teach them about how to treat others."
Article continues below advertisement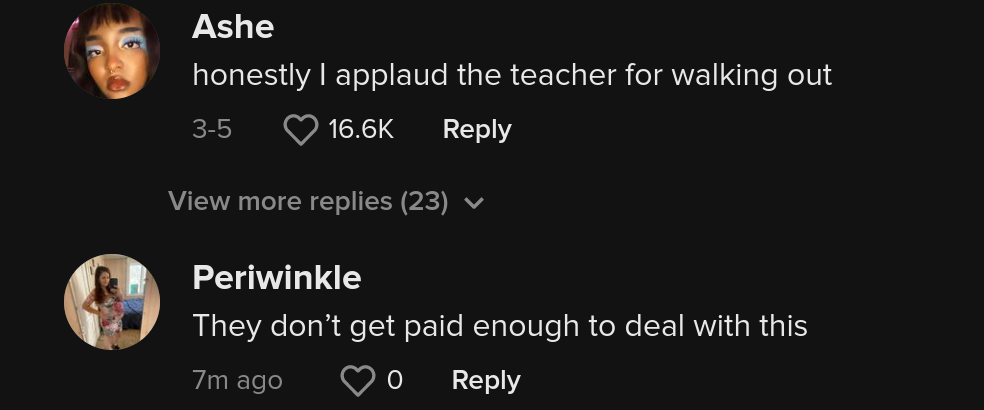 He concludes his video with a warning: "Because I'll tell you right now if you keep this up there's gonna be an actual crisis in the education system moreso than it already is."