"Just Ask for the Manager" — Subway Customer Blasted for Arguing with Teenage Workers
A Subway manager called out a customer for arguing with teenage employees before trying to talk to an adult staff member first.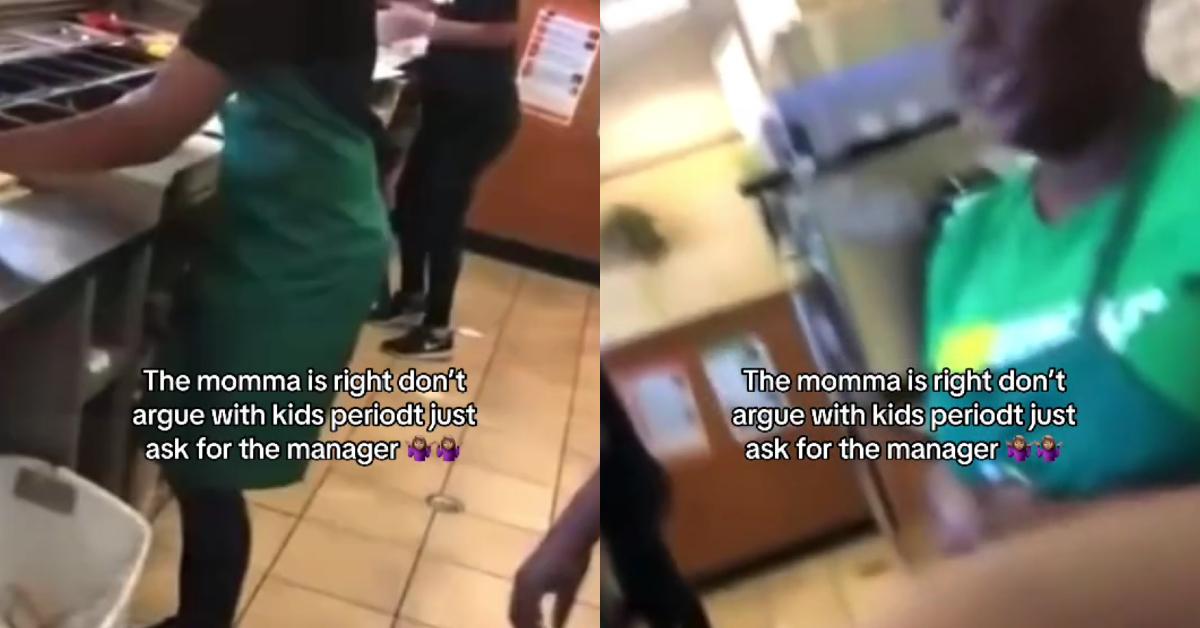 If you ever worked retail or customer service as a teenager and had to deal with an irate shopper who is significantly older than you, it's almost always a very, very uncomfortable feeling.
Article continues below advertisement
Getting screamed at or chastised by a strange adult can leave your stomach in knots and at a loss for words. Plus, it's just a bad look to see a grown-up screeching at, in some instances, a literal kid because the store doesn't carry the color of sneakers they want or their burger wasn't up to snuff.
It's this very phenomenon that a Subway manager reamed out one customer for in a viral TikTok. The employee asks the patron why they felt the need to embroil themselves in a dispute with teenage Subway staff members and not immediately talk to an older manager at the establishment.
Article continues below advertisement
The video begins with the manager talking about the process of cooking bacon for the customer's sandwich and then asking them what it is she can do for the person behind the camera.
Article continues below advertisement
The patron responds by saying, "better training, better training" presumably in response to perceived deficiencies in the workplace performance of the Subway employees in question. "You can have like a meeting on the weekends and be like this is what..."
The manager says something that redirects the customer's complaint and then suggests that maybe the restaurant staff itself with "new employees" instead.
The patron then says that she didn't want to take her gripes to "corporate" because she only shops "black-owned" businesses.
Article continues below advertisement

"You aren't managing your employees correctly," the customer says before the manager says while she understands her gripes, she believes the customer is going about her complaints the wrong way.
Article continues below advertisement
"What I'm trying to get you to see is you're like twice as old as my daughter."
The customer claps back and says that it shouldn't matter if she had a gripe with a worker just because she was the daughter of the Subway manager, but the manager says that the parentage of the employee isn't what's relevant to the point she's trying to make.
"She's a kid and grown ups don't argue with kids. So what you should have did was went to the grown up."
"I'd just hate to get your daughter fired," the customer said, before the manager invites the Subway customer to call corporate and lodge a complaint if they were that upset by the level of service they received.
Article continues below advertisement

"I am going to," the customer says, still recording their interaction. They continue to argue, with the customer telling the manager that now she needs training on how to perform her job better and that her employees should know how to communicate more effectively with customers.
Article continues below advertisement
A number of viewers in the comments section of the video remarked that they sided with the manager and couldn't understand why the customer was getting so up in arms and overly critical of teenagers.
"spartan kick that nobody out of the store please," one person penned.
Another remarked, "Hate ppl like this"
While someone else said: "Customer is the problem"
Article continues below advertisement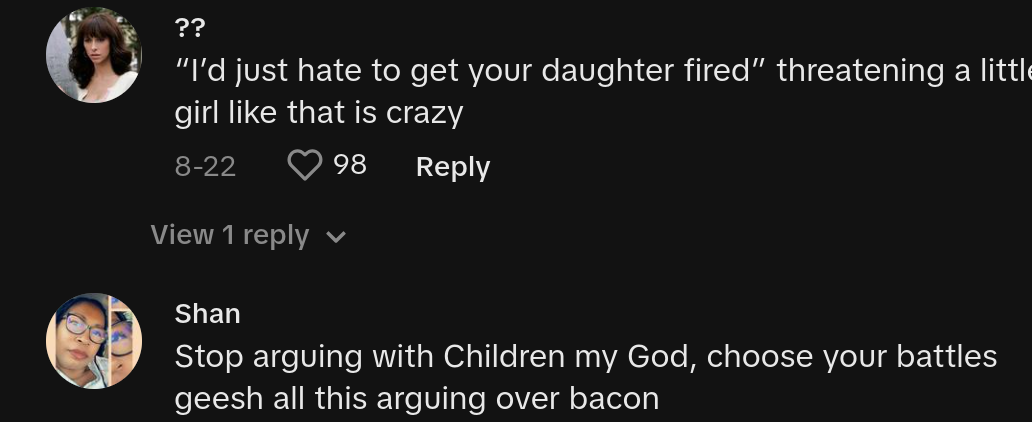 There was someone else who expressed that they didn't think Subway corporate would care about this situation either: "I promise you corporate doesn't care"
Article continues below advertisement

This was a sentiment echoed by someone else who wrote: "I hate these type of people. Go home and make your own subway"
And one individual was dumbfounded that such a debate erupted over bacon, of all things: "Stop arguing with Children my God, choose your battles geesh all this arguing over bacon"