The 2020 Super Bowl is right around the corner, and while we're excited to see which two teams will make it to NFL's biggest night, we can't help but obsess over which famous musical talents we're going to get to see at the popular football game. Since this year's halftime performers have already been announced, viewers are starting to wonder about who will sing the National Anthem at this year's event.
Who will sing the National Anthem at the 2020 Super Bowl?
It was announced on Jan. 16 that Demi Lovato will be performing "The Star-Spangled Banner" live at Super Bowl LIV. She took to Instagram to share the news with her fans, saying, "Singing the National Anthem at #SBLIV See you in Miami @NFL."
2020 has already been a big year for Demi. After going dark on Instagram back in December, the singer came back to report that she was performing at the 2020 Grammy Awards. She also made her debut on Will & Grace in January, as Will's surrogate.
Who has performed the National Anthem at past Super Bowls?
In the past, the National Anthem at the Super Bowl has been performed by a number of different celebs, some singers and some who aren't quite as well known for their singing, like Kathie Lee Gifford.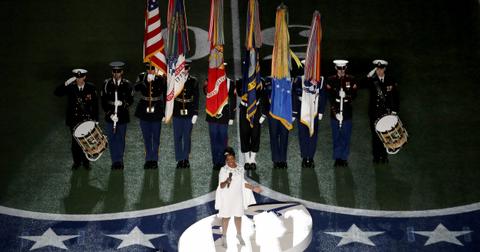 Some big named singers include Diana Ross, Barry Manilow, Neil Diamond, Billy Joel, Whitney Houston, Garth Brooks, Natalie Cole, , Harry Connick Jr., Luther Vandross, Vanessa Williams, Jewel, Cher, Faith Hill, Backstreet Boys, Mariah Carey, Dixie Chicks, Beyonce, Aretha Franklin, Jordin Sparks, Jennifer Hudson, Carrie Underwood, Christina Aguilera, Kelly Clarkson, Alicia Keys, Idina Menzel, Lady Gaga, Luke Bryan, Pink, and Gladys Knight.
Who is performing at the 2020 Super Bowl halftime show?
Fortunately for us, this year's half-time show is stacked with two of the best performers in the industry. The segment will be performed by Jennifer Lopez and Shakira, and to be honest, we're not worthy of a performance so good. This duet will come after last year's memorable medley by Maroon 5, Travis Scott, and Big Boi.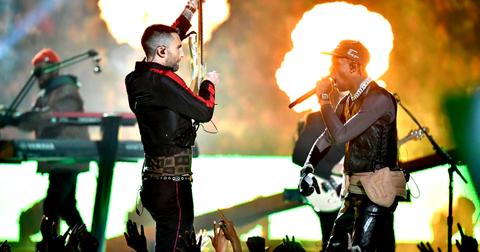 When is the 2020 Super Bowl?
The 2020 Super Bowl, and the 54th ever event, is on Sunday, February 2, 2020 at 6:30 p.m. EST. Aka it's right around the corner!
Where is the 2020 Super Bowl?
The 2020 Super Bowl is set to take place at Hard Rock Stadium in Miami Gardens, Florida. Anyone traveling to warmer weather for this event?
How can I watch the 2020 Super Bowl?
To watch the 2020 Super Bowl, head to FOX the night of the event to catch the game and the performances live! As of now, the two teams facing off are not yet known, but the final four are the Kansas City Chiefs, Green Bay Packers, Seattle Seahawks, and Tennessee Titans.
No matter who ends up playing, we're just excited to see Demi take the stage.