Drivers Work Together to Stop "Entitled" SUV From Cutting Into Lane, Sparking Debate
The internet's praising a group of drivers for coming together to block an "entitled" SUV from cutting into a long line of cars for an exit lane.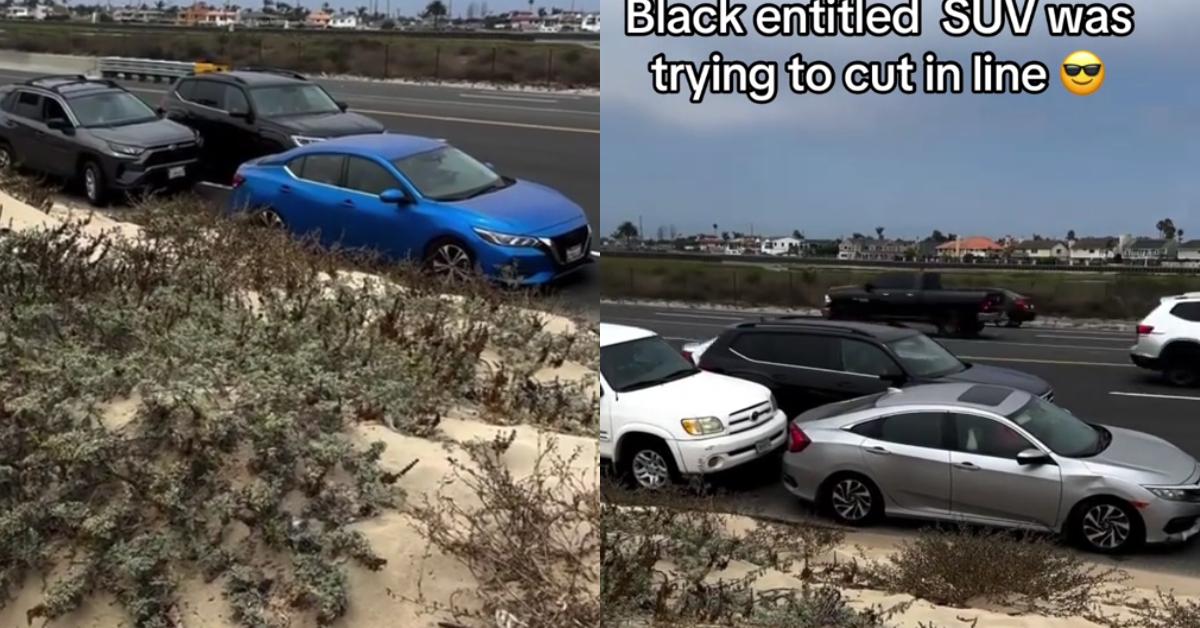 There are some folks who think that the rules of the road simply don't apply to them, that they can do whatever they want, whenever they want. Turn on red despite there being a sign that explicitly tells them not to during certain times? Whatever.
Article continues below advertisement
Turn signals? Just a suggestion, and in no way means necessary. Yellow lights? Oh, you mean speed-up indicators?
One of the more annoying "entitled" driver behaviors, however, are the folks who love creeping up on a shoulder or outer lane in order to bypass traffic so they can make it to the exit faster than everyone else.
They clearly see that there's a line of cars filled with people patiently waiting their turn to take a specific exit, so why do they think it's all right to just drive up and wedge themselves in there in front of everyone else?
Article continues below advertisement
As is often the case, however, these boorish folks who were probably raised by people who have no business procreating, usually get their way and are able to sneak their car into the line in order to save themselves a few minutes on the road, leaving everyone else to suffer.
But not for these commuters.
Article continues below advertisement
A viral TikTok uploaded by a user who goes by Steph (@therealme0809) features a black SUV attempting to cut into an exit lane between a gray Toyota crossover and a blue Nissan Sedan.
However, the vehicles who waited their turn in the lane won't give the black SUV any space and it appears that they coordinate their speed and distance to ensure that the person doesn't jam their way into the lane.
Article continues below advertisement
Another car behind the crossover, a maroon-colored sedan, trails closely behind it, also preventing the black SUV from entering the line. It's not long before it appears that folks start calling out the black SUV driver for trying to pull some funny business.

Article continues below advertisement
Cars start sounding off, honking like crazy, and all of the cars in the exit lane refuse to let the black SUV merge in a team effort that saw them blocked out.
Steph sums up the situation perfectly in a text overlay pasted onto the clip that reads: "Black entitled SUV was trying to cut in line"
Commenters who saw the clip were loving the group effort on display.
Article continues below advertisement
"That's Nascar quality tailgating! Nice job," one person wrote.
Another penned, "Lmfao i love this," while someone else hoped that this same type of technical acumen, and driving energy, existed in their area: "I be wishing my city would do this"

Article continues below advertisement
However, someone else who started a conversation about "zipper merging" said that it's this kind of behavior that is ultimately bad for the flow of traffic for everyone else and it's better to simply let the person in.
"why can't anyone do a proper zipper merge," they wrote, which led to a conversation about how much of a goober the guy was being for trying to cut in line. But one TikTok user argued: "I would let him in so the traffic can flow behind him. Refusing to let him in contributes to the problem."
Article continues below advertisement

Watching the vehicles in other lanes stutter and stop behind him in the clip, it's easy to see where the TikToker is coming from with this argument.
Article continues below advertisement

What do you think? Would you let the person in if they're refusing to move out of the other lane so as not to cause blockage for other drivers? Or do you think folks need to stand firm and let the person just re-route themselves further down the road?