Tiktoker Reveals Why Swim-up Pool Bars on Vacation Are the Worst Spot to Grab a Drink
A TikTok user collectively grossed out a ton of people on the platform after revealing a little-known, but obvious detail about swim-up bars.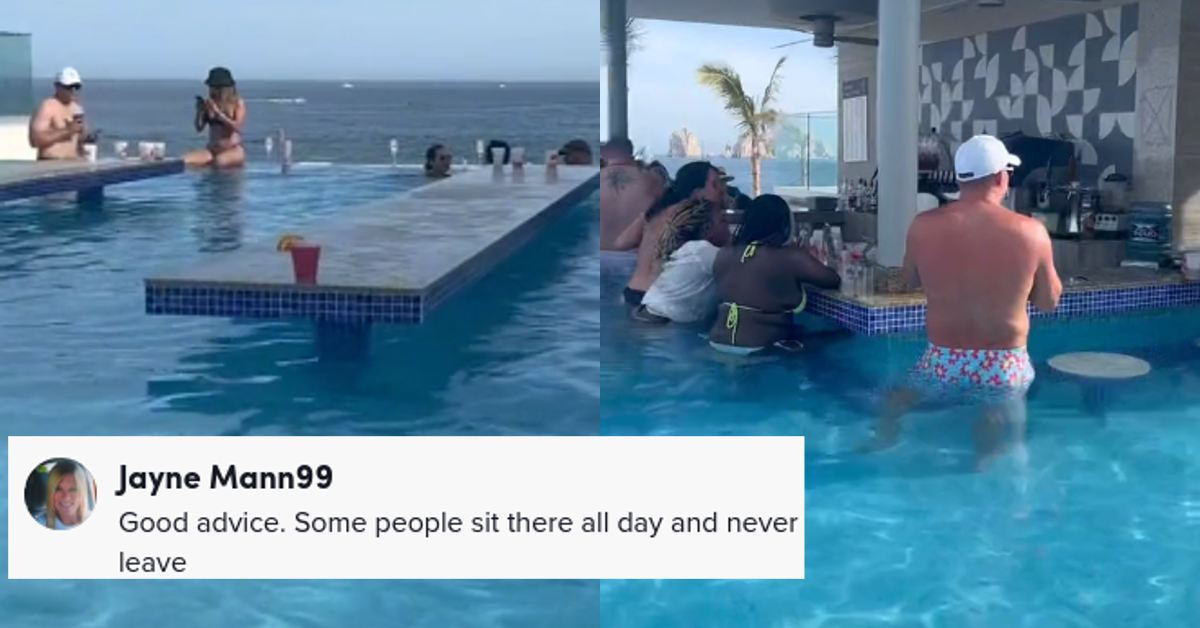 When you're scrolling through Instagram, it can be easy to see all of the wonderful lives that everyone who isn't you are living, and get down in the dumps.
From girls hopping on a mystery boat somewhere in Tulum, to dudes backflipping into see-through crystal blue waters off of rock formations in Santorini, to someone smoking the best-looking weed you've ever seen in a tiny house in the heart of Louisville, it's hard to feel like you're living in the glamorous life when you've hopped on a $5 Sphinx bus from Paterson to the Port Authority as you grind away at a job you hate.
Article continues below advertisement
Though, vacations aren't always what they're cracked up to be. Sure, you can have some absolutely magical times visiting all the cool-looking spots that keep popping up on your feeds because your gosh-darned phone is always listening and will someday bring about the ruination of our species. Still, there are a lot of other places that feature ideas that sound cool but weren't entirely thought through.
Take the concept of a swim-up bar. It's a combination of two well-loved vacation pass times: getting drunk and wading around in a swimming pool and doing nothing.
You don't have to leave the comfort of the water that you've become acclimated to in order to slam down your favorite alcoholic beverage, but one TikToker on vacation noted that the cost of convenience comes with another price.
Pee pee.
Article continues below advertisement
Sure the infinity pool with the floating tables for drinks seems like something of a utopian upper echelon of society dream, but think about the implications of being at an all-inclusive resort that serves guests up all the booze that they want.
Article continues below advertisement

What's ultimately going to end up happening is that people are going to consume a ton of beverages. Probably more than they would normally consume in an attempt to "get their money's worth."
Article continues below advertisement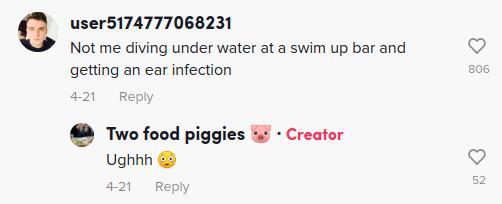 And when you drink a lot, especially when you're getting buzzed or drunk, the alcohol your consuming suppresses ADH, which means that you're going to pee a heck of a lot more than you normally would. Which also means that you're more likely to want to drink more because your body's releasing more water, you see how that works?
Article continues below advertisement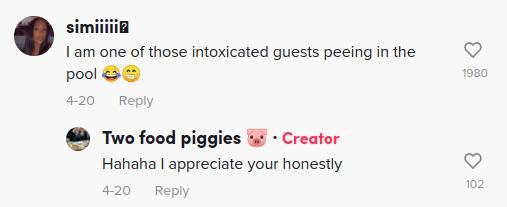 Now if you're the kind of person who's super turned on by the idea of not having to leave the pool every time you want to get a drink, then when you're nice and comfy in the water and are six appletinis deep, you're probably not going to suddenly become a responsible adult and leave the pool to go and urinate.
Article continues below advertisement

No, you're going to start doing the "drunk justification" in your head. Heck, I almost convinced myself it'd be cool to pee on a pile of dirty laundry in the corner of my room when I was drunk because "I'm just going to wash it tomorrow anyway." Thankfully, my college roommate convinced me to just go to the toilet which was 11 steps away outside of our room.
Article continues below advertisement

But some of the vacationers in this TikToker's video blatantly told @twofoodpiggies that they were peeing in the pool. I guess, because, chlorine cleans it or something?
"One girl didn't understand why some people were leaving the pool to use the washroom," the TikToker commented.
Article continues below advertisement

And while chlorine in a pool certainly kills bacteria, urine actually decreases its effectiveness and can lead to a litany of different illnesses like respiratory problems and skin irritation. But, when folks are drunk, they're probably going to relieve themselves in the swim-up pool area. So maybe think about that the next time you're booking a vacation.
Article continues below advertisement

Or maybe you're like the TikTokers in the comments section who don't really have a problem with peeing in the pool, like collegiate swimmers and polo players who said that they did it every single day. Just sloshing around in diluted pee. Nice.