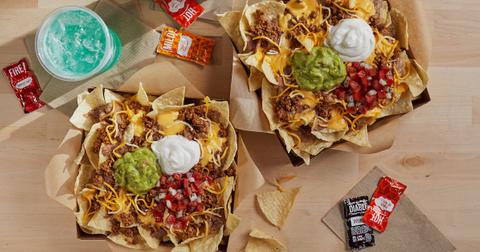 Taco Bell Fans Are Ready to Live Más With the Chain's New $10 Nacho Cravings Packs
By Lizzy Rosenberg

Updated
Although Taco Bell is typically praised for its classic bean burritos, refreshing Baja Blasts, and dangerously cheesy Doritos Locos Tacos, the chain has introduced a new menu item that's about to fuel all of our late-night endeavors, hungover adventures, and Tex Mex cravings on the cheap. Meet Taco Bell's $10 Nacho Cravings Pack.
Twitter user @ryson definitively said, "i will order this and eat it by myself" — despite recommendations not to do so — and @WillKroll1 mulled over the fact that he will probably "never financially recover from this." Needless to say, Taco Bell enthusiasts are psyched about the chain's latest creation, and so are we.
What is Taco Bell's $10 Nacho Cravings Pack, and what does it come with?
Taco Bell's $10 Nacho Cravings Pack is essentially everything you could ever want for the price of a tenner. According to the chain, it includes two Grande Nacho Boxes (in your choice of either chicken, beef, or one of each), as well as two medium fountain drinks of your choice, which do — in fact — include Baja Blasts.
The nachos feature everything you could ever want — warm, crunchy tortilla chips, nacho cheese, seasoned beef or chicken, refried beans, shredded cheese, guacamole, sour cream, and, of course, a healthy portion of pico de gallo. We also recommend adding a buttload of Fire Sauce, but if you're the sensitive type, you can forgo the Fire for Mild.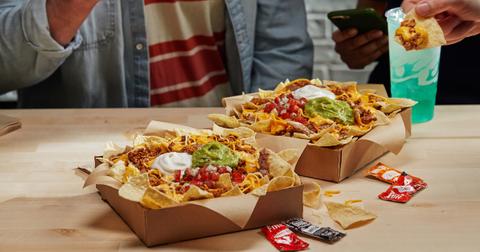 Taco Bell enthusiasts are hyped beyond belief.
Longtime Taco Bell fans are absolutely loving the concept of the chain's new $10 Cravings Nacho Pack, and really, why wouldn't they? Check out what longtime fans of the fast food biz have said about it below and get psyched for your next trip to The Bell.
Wait your suppose to share those?!......

— 🕊 (@Palmtree2023) May 22, 2020
This isn't Taco Bell's first Cravings Pack rodeo.
The only way to truly "live más" is by ordering more food for less, so it should come as no surprise that this isn't Taco Bell's first Cravings Pack. The chain also offers Taco Cravings Packs which come with four customizable tacos that are already filled with seasoned beef, cheese, and lettuce.
If you're looking for a little more oomph, per se, the California-based chain also offers the delectable Burrito Cravings Pack, which offers four Beefy 5-Layer Burritos. These include four burritos filled to the brim with beef, cheese, sour cream, refried beans, cheese, and nacho cheese. Both options start at $10 unless you decide to add additional toppings, of course.