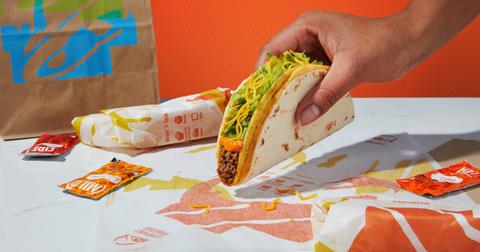 Double Stacked Tacos Were Just Added to Taco Bell's Cravings Value Menu and I'm Hyped
By Lizzy Rosenberg

Updated
I already know 2020 is going to be a really solid year, and I'm solely basing that off the fact that Taco Bell just released some really incredible news for next year — the fast food chain is adding new items to their Cravings Value menu, which actually includes three different flavors of the fan-favorite Double Stacked Tacos. 
And if you, too, are dying to know more about the popular Tex Mex chain's growing value menu, you definitely aren't alone — stay tuned for some additional tasty deets.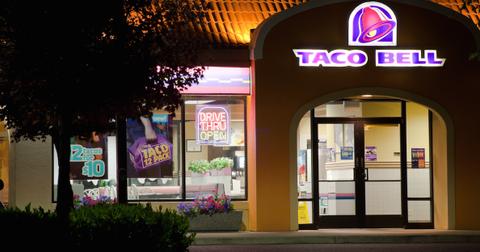 Taco Bell's Cravings Value Menu will gain three new items, rounding out to 21 $1 items.
That's right — the roarin' '20s are starting out strong with 21 delectable dollar bites. The Cravings Value Menu is warmly welcoming $1 Double Stacked Tacos. According to the brand, they include both a hard shell and a soft tortilla, and you'll be able to choose between three delicious flavors, including: Nacho Crunch, Chipotle Cheddar, and Reaper Ranch.
You'll be able to order any of the new Double Stacked Tacos a la carte or in a $5 Cravings box, which includes one Double Stacked Taco, one Chalupa Supreme and one Crunchy Taco with a medium soft drink. They will be available across the country for a limited time, as of Dec. 26. So it kind of goes without saying that Santa Claus is definitely coming to town this holiday season... if not for all the new dollar menu items, at least in the name of Double Stacked Tacos.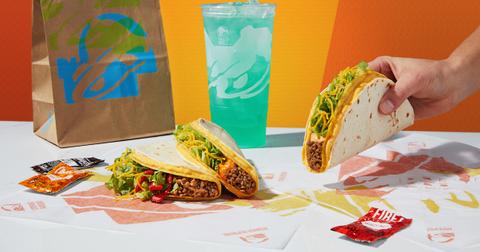 Double Stacked Tacos aside, the Cravings Value Menu is seriously to die for.
If Nacho Crunch, Chipotle Cheddar, and Reaper Ranch Double Stacked Tacos aren't quite your vibe, there are so many other delicious Cravings Value Menu items available this next year. The other items on the list, minus the three Double Stacked Taco varieties — include the following:
Beefy FritosⓇ Burrito
Cheesy Bean and Rice Burrito
Shredded Chicken Quesadilla Melt
Cheesy Roll Up 
Cinnamon Twists
Spicy Potato Soft Taco
Spicy Tostada 
Triple Layer Nachos
Cinnabon Delights 2 pack 
Grilled Breakfast Burrito - Sausage
Grilled Breakfast Burrito - Bacon
Grilled Breakfast Burrito Fiesta Potato
Breakfast Soft Taco - Sausage
Breakfast Soft Taco - Bacon
Sausage Flatbread Quesadilla
Hash Brown
Mini Skillet Bowl
Mountain Dew Kickstart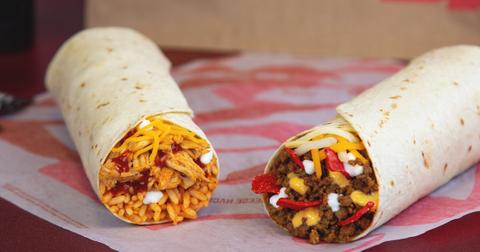 The limit truly does not exist, y'all. In the press release, Taco Bell's SVP of Brand Marketing and Consumer Insights, Melissa Friebe, reiterated the fact that the chain wants fans to access as much cheap and highly craveable food as possible. She said:
"It's more important than ever before that we give fans the craveable food they not only want, but can afford, and we've built our menu with some of our most innovative items from $1 to $5 to ensure there is something for everyone. Committing to the $1 is a priority for us and we're excited to bring back the hugely popular Double Stacked Tacos."
Things are looking up for the New Year, and honestly, my stomach is already grumbling. 2020's massive Tex Mex food coma seriously could not come sooner.